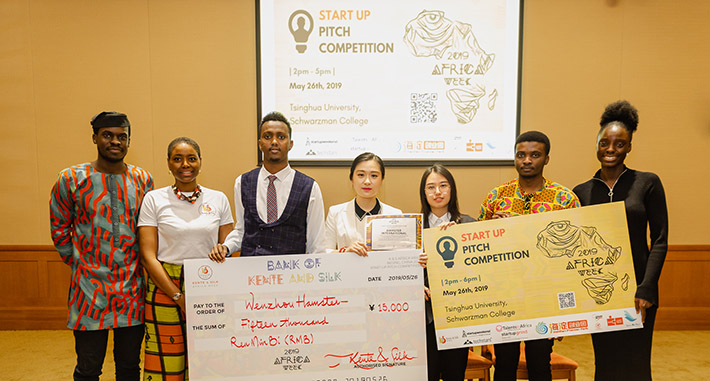 George Solomon Njau (second right) accepts the award with other team members (COURTESY PHOTO)
Tsinghua University's Schwarzman College buzzed with academics, professionals, entrepreneurs and investors on May 26 this year. They were all there for the final of Kente & Silk Africa Week: African Startup Pitch Competition, where business solution ideas with impact on China-Africa development were on show.
From May 17-26, Africa Week delivered exciting and engaging activities ranging from youth driven interactive China-Africa workshops, designed to develop better digital partnerships, to an art exhibition used to showcase contemporary African artists in China.
Over 1,000 people attended 11 activities that celebrated African cultures in China. Kente & Silk is a non-profit initiative aimed at improving China-Africa relations. Funds raised during Africa Week were awarded to the winner of the pitch competition. All five startup competition semi-finalists presented brilliant deve­lopment solutions. ChinAfrica reports on Hamster International app, the eventual winner, along with two semi-finalists.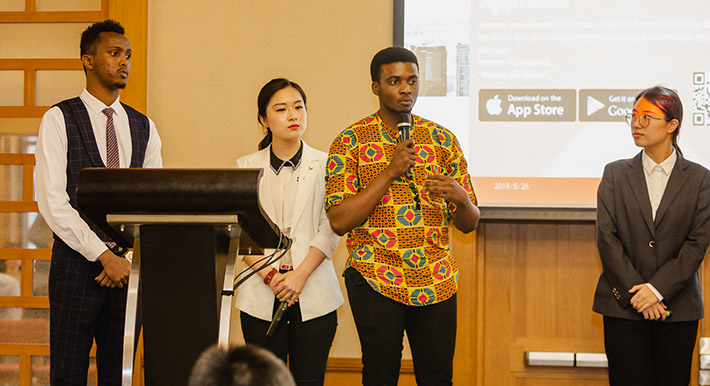 George Solomon Njau (second right) participates in the competition (COURTESY PHOTO)
Crossing Language Barriers
Tanzanian student serves food to foreigners in China with e-commerce platform
With the well-established giants in China's food delivery sector Meituan and Eleme dominating the market, it is hard to imagine there are any other opportunities for startups.
But George Solomon Njau, a 20-year old Tanzanian student majoring in computer science at Wenzhou-Kean University, located in east China's Zhejiang Province, spotted a niche market and developed his Hamster International app. It is named hamster because though small in size, this animal has great power in terms of saving food. That is what Njau wants his business to be: small but with great potential.
Targeting foreigners living in China, the app features food ordering and sharing of useful information in English. "The idea came from difficulties that most foreigners have regarding language barriers when using Chinese apps," Njau told ChinAfrica.
Although almost negligible compared to the large Chinese population, the number of foreigners living in China is large enough to become a target consumer group for innovative entrepreneurs like Njau. According to China's Ministry of Education, there were about 500,000 foreign students studying in the country in 2018. The potential of Njau's app has been given the thumbs up by the market. In the past three months, his team has raised more than 200,000 yuan ($29, 000) for the initiative from investors, government support funds, shareholders and profit. "This is a good start for our business and it will motivate us to keep on pushing harder," he said, adding that his company has grown from a team of three to 46.
Hamster International recently completed a beta testing period of three months to collect data and investigate customer demand and purchasing power. The testing targeted only users within Wenzhou-Kean University, but there have also been a large number of downloads from outside the university. The company's next step is to release a full version of the app for the entire Wenzhou City and also other cities in China, including Beijing, Nanjing, Hangzhou, Guangzhou, Shanghai and Ningbo. Njau said he is grateful to the university, his colleagues and friends for their support and believes the Chinese Government has created a good environment for foreign businesses.
"Foreigners starting a business have enormous potential [in China] as the government welcomes foreigners to do business in China. The government provides as much investment [to foreign businesses] as they do to Chinese companies," he said.
With the slogan "making life easier," Njau and his team believe their app will have positive impact on foreigners living in China. While the app is currently related to food ordering, the goal is to develop a comprehensive e-commerce platform. However, Njau said he wants to let the users decide the direction the company will take in the future.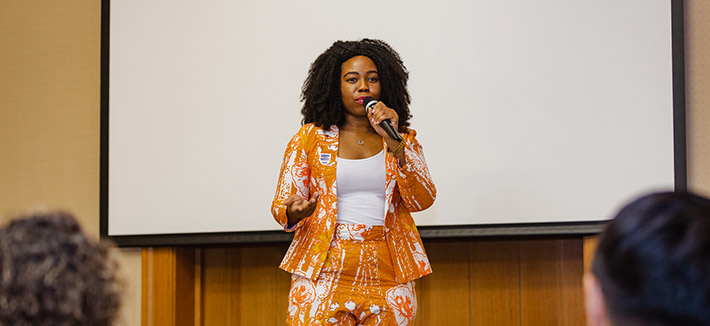 Stephanie Idio at the competition (COURTESY PHOTO)
Groomed for Fad
Nigerian entrepreneur develops hair products for the African women community in China
Stephanie Idio has always wanted to have her own business. When she was five years old, she envisioned herself standing at the head of a boardroom table, speaking to her employees. An American-Nigerian, she moved from Texas to China four years ago and started her business with the brand name Hair by Akoni, which provides hair extensions and products for Africans.
The idea of doing business in the hair industry was driven by the wanting to help other African women. "Although 60 percent of African women wear wigs every day, there was not a lot of ownership [by Africans] in African wig manufacturing companies," she told ChinAfrica.
Because of the growth and success of African businesses in Guangzhou, south China's Guangdong Province, Idio decided to set up her shop there.
"It is more convenient and inexpensive to start doing business in China than in Nigeria, because a lot of materials come from China," she said.
Most of the world's wigs are produced in China. The largest production base in China is located in Xuchang, central China's Henan Province, where wig manufacturers supply almost half of the world's wigs.
She is currently cooperating with Chinese suppliers to provide various wig products to African buyers. Though it was not easy for her to go through government procedures to get her business running, she believed entrepreneurship in China is accessible because "there are vast opportunities in almost every industry available here."
However, surviving in the wig business is not easy in China. In Xuchang, wig manufacturers are facing rising labor costs and difficulty in collecting long human hair from neighboring countries. Some businesses even have to relocate their factories to Africa for lower labor costs and cheaper raw materials.
Idio's solution is to provide something different, or market differently, with building up a brand being the first step. She said Akoni in the brand name came from the combination of her middle names Akon and Idara. She especially targeted people with natural African hair as her potential clients, for whom there are not enough suppliers of hair products. Idio developed a detangling/shampoo brush that can gently detangle curly hair, and called this the starting point of a range of products and services for Africans.
Idio definitely knows how to market her products via various social media outlets. With rich knowledge and experience in the hair industry, she provides text and video tips for hair care via these online outlets.
She describes herself as a person with the skill of networking. "This project helps me continue to network and establish relationships with Chinese businesses and creates more opportunity for me," she said.
The company is currently busy with research and development and sourcing investment. For the future, Idio wants to make her business sustainable and grow the scale, but her ambition goes further than that. "We ultimately want to develop a human hair factory in Nigeria," she said.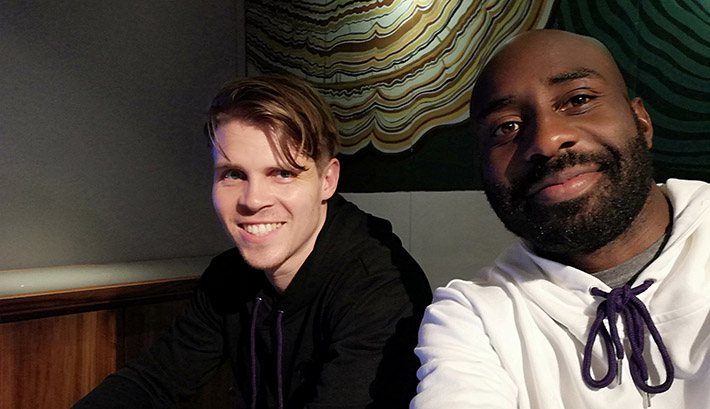 Vickus Nel and Nii-Odartey Mills (COURTESY PHOTO)
You Are What You Wear
Two friends start up a unique clothing business
From the time they met in school, the two friends knew they had a shared destiny. South African Nii-Odartey Mills and New Zealander Vickus Nel first met in the high school in South Africa 16 years ago and over the past decade, they kept in close contact, despite their different life experiences at different corners of the world. In 2018, as fate would have it, they both ended up in China and decided that it was time to work on a project together. Mills and Nel had always shared the same love for clothing, so it was logical place to start.
In order to provide an opportunity for Chinese and Africans to foster dialogue in terms of how to relate to each other through art, poetry and business, the two entrepreneurs came up with the idea Chefobear. Chefobear is a fashion and lifestyle brand with the spirit of friendship, collaboration and community, offering premium street apparel for both men and women. The idea is infused with the African Ubuntu spirit of humanity. Chefobear's businesses are currently operating in China, South Africa, New Zealand, Australia and the UK. However, Mills and Nel would like to get a larger Chinese customer base, due to the huge potential of the Chinese market. The other important reason is that they found that many Chinese living in other countries haven't really been able to integrate with the locals and this is something they are hoping to close the gap on.
While the clothing market offers a lot of opportunities, challenges still persist.
"On the one hand, the entrepreneurship environment is really good here in China. We can get so many different ideas and wonderful startup support from the government to help grow our business," Mills told ChinAfrica. "On the other hand, building a brand is a lot harder as there are many unexpected things that can happen."
For the future, Chefobear plans to come out with more innovative solutions for the textile industry and also continue to bring out more unique items to the current clothing line they have.
(Comments to hufan@chinafrica.cn)