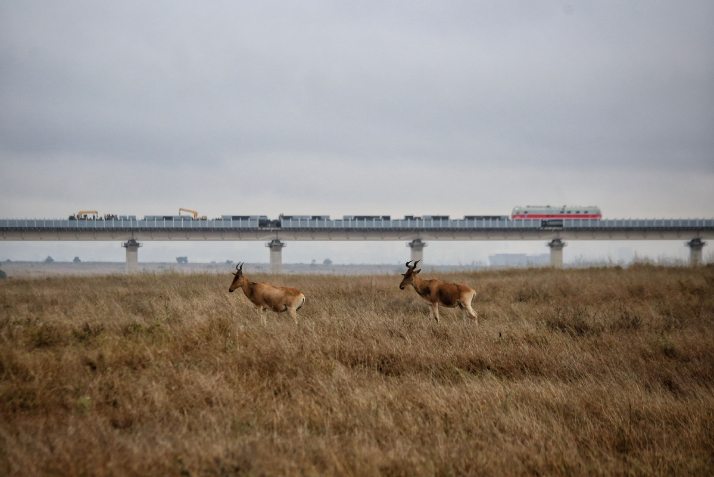 Animals are seen near a bridge of the Mombasa-Nairobi Standard Gauge Railway near Nairobi, Kenya (CUI LIU_FOR CHINA DAILY)
During the 70 years since the People's Republic of China was established in 1949, the country has made great achievements in transportation construction. In addition, China has also successfully carried out a number of international cooperation projects on railway development. In Africa, China has played a crucial role in improving its transport system, giving a much-needed boost to the continent's efforts to achieve regional integration. A major part of it is the increase of Chinese-built railway lines traversing the continent.
According to Chen Fenjian, Party Secretary of China Railway Construction Corp. Ltd. (CRCC), the total length of railways and urban railroads that have been built by the company and its subsidiaries in Africa exceeds 10,600 km. Many of these lines were constructed under the Belt and Road Initiative across the continent. In the past five years since the initiative was proposed in 2013, four railways built by China in Africa were completed, consisting of the Mombasa-Nairobi Standard Gauge Railway (SGR), the Addis Ababa-Djibouti Railway, the Abuja-Kaduna Railway in Nigeria and the Benguela Railway in Angola.
Railways have become Africa's new flagship projects that will better connect nations on the continent and are a highlight of China-Africa friendship which is bringing tangible benefits to local people.
History of friendship
The cooperation between China and Africa in railway construction began with the Tanzania-Zambia Railway (TAZARA) project in the 1970s.
In 1965, conflict in the Central African region left Zambia isolated. As a landlocked country, it had no way to transport its huge copper output by sea. To address Zambia's plight, China built a railway line from Kapiri Mposhi of Zambia to the port city of Dar es Salaam of Tanzania, measuring 1,850 km.
This railway, built by China Civil Engineering Construction Corp. (CCECC), a wholly owned subsidiary of CRCC, was the biggest project China had built overseas at the time and was formally transferred to the governments of Zambia and Tanzania on July 14, 1976.
Mark Mwandosya, former Minister of Communication and Transport of Tanzania, said, "Those of us who are fortunate enough to have witnessed the construction will forever be grateful to China."
Official figures from CCECC show that TAZARA has transported more than 30 million tons of cargo and over 40 million passengers since it started operation in 1976. During this time, China has offered technical support to enable the authorities to operate it well.
TAZARA is not the only railway playing a big role in Africa; the China-funded Mombasa-Nairobi SGR is serving as a new engine of Kenya's economic growth and making the whole East African region more dynamic.
As the largest port in East Africa, the port of Mombasa is constantly developing. It is estimated that by 2030, the annual throughput of the port will increase to more than 30 million tons. However, the original meter-gauge railway connecting the port has been in disrepair for a long time, and it has long been unable to meet the demand, making a new line an imperative.
In December 2014, at a cost of about $3.8 billion, the Mombasa-Nairobi SGR began its construction. In 2017, the railway, which was built by CRCC, was completed two and a half years ahead of schedule. During the past two years of successful operations from Mombasa to Nairobi, Kenya's SGR has serviced 3 million passengers, and transported more than 4.4 million tons of cargo.
Improving livelihoods
"If you ask any Kenyan about China, the first thing that comes to mind is the SGR linking Mombasa and Nairobi," Raphael Tuju, Secretary General of the ruling Jubilee Party of Kenya, told Xinhua News Agency.
Indeed, Chinese-build railways have not only promoted China's image in the country but also been instrumental in transforming the regional commerce and bringing various benefits to local people.
In July 2017, the China Railway 20th Bureau Group Co. Ltd. signed a railway handover agreement with the Benguela Railway Bureau, marking the completion of Angola's Benguela Railway - the second-longest railroad built by China overseas after TAZARA.
The Benguela Railway, which connects Angola's Atlantic port of Lobito to the eastern border town of Luau, and further to the rail network of the Democratic Republic of the Congo, is the first railway line crossing the African continent from the west to east and plays an important role in local economic development.
China has rebuilt the railway with all equipment sourced from the country. With a total length of 1,344 km and a speed of 90 km per hour, the Benguela Railway is the longest, fastest modern railway project ever built in Angola. It is reported that the passenger transportation capacity of the Benguela Railway rose from 125,000 in 2011 to 584,000 in the first half of 2018, while the freight volume increased from 7,000 tons to 210,000 tons during this period.
In addition, the railway infrastructure projects have the potential to create more job opportunities for local people. Tilahun Sarka, Director General of the Addis Ababa-Djibouti SGR Share Co. Ltd. that operates and maintains the Addis Ababa-Djibouti Railway, said the company employed 1,000 Ethiopians and 200 Djiboutians.
Besides, these projects empower locals. In recent years, according to CRCC, since its construction projects began in Africa, more than 450,000 locals have been employed on the continent, and more than 300,000 employees received professional training.
Wildlife protection
While the Chinese-built railways bring about much convenience and efficiency in African countries, they also succeed in accommodating wildlife movement, thus causing minimal interference to animals.
The 480-km Mombasa-Nairobi SGR has 79 bridges and 33 stations. What used to be a more than 10-hour drive is now a very convenient four-hour journey. However, the railway's construction originally raised concerns among environmentalists and wildlife conservationists, who feared the line would obstruct wildlife migration.
One hundred years ago, the UK laid a meter-gauge railway in Kenya, whose route was largely similar to the SGR, which also passed through the Tsavo National Park. However, with no protection measures, there have been many train accidents involving animals, so it was dubbed the "Lunatic Express" by locals.
To overcome this situation and protect wildlife, Chinese builders have designed nine migration corridors for wild animals, with six animal channels and three culverts.
(Comments to xyy@chinafrica.cn)