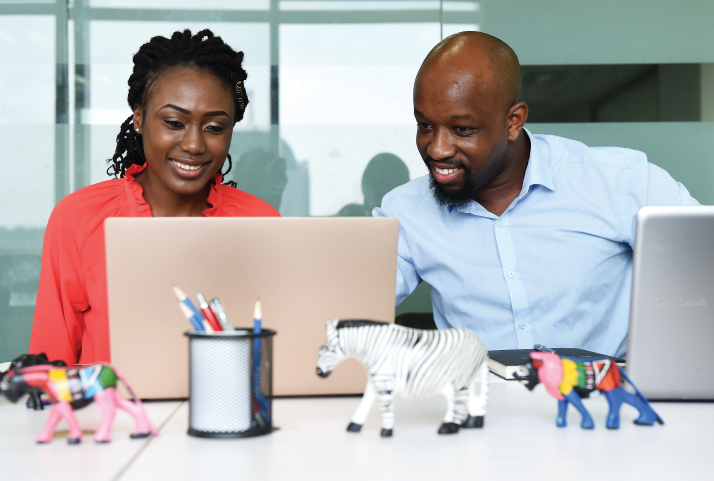 Kenyan young entrepreneur Edwin Mwenda (right) and his partner Nelly Njoroge have a discussion on their entrepreneurial project at a business incubator in Beijing on August 17, 2018 (XINHUA)
Kenyan entrepreneurs keen to start up in China are smiling all the way to departure lounge. A windfall from the Kenyan Government will see a loan scheme worth $100 million per year set aside specifically to assist them to set up shop in the Asian giant.
The much-needed initiative was launched during Kenya's annual budget for the 2019 financial year issued in June. It is aimed at empowering people aged between 18 and 44, and is the result of a number of bilateral agreements on trade signed between Kenya and China in the past 12 months.
"The funds will be provided to eligible applicants who have a good credit record, and no collateral is needed. The amount of money disbursed [to each successful applicant] will average between $5,000 and $10,000, but it could be higher or lower based on the contents of proposals that will be submitted," said Margaret Kobia, Cabinet Secretary of the Ministry of Public Service, Gender and Youth Affairs.
According to Kobia, the deadline for issuing funds will be on a rolling basis and applicants will be informed on the status of their application by the last Friday of every month.
"We have already disbursed about 1.4 billion shillings ($13.5 million) since June to about 800 applicants. We receive a lot of applications. We cannot fund every project, but we try to do what we can," she said.
The loans are paid back usually at 5-percent interest rate, after the agreed contractual payment period. This can vary between six months to three years depending on the success of the business. Although loan preference is given to businesses already at least six months old, new innovative business ideas with clear business plans are also considered.
Proposed annual initiative
Improving trade relations between China and Kenya has prompted the initiative, which is expected to be held annually.
"A growing number of Kenyans are investing in China, mostly in Beijing and Shanghai. Every year, there are at least 11 startup businesses, mostly in the horticulture industry," said Kobia, adding that loans were not given to all of these investors, as some get their funding elsewhere. If this initiative succeeds, as all signs indicate it will, it is planned to offer even larger amounts of funding in the future.
"We always encourage female applicants to apply," said Kobia.
She confirmed that the Kenyan Government has hired consultants to study market trends in China so as to make wiser decisions on potential investments. The funds are distributed to the entrepreneurs through various financial agencies managed by her ministry.
Kobia said while a lot of the funding is from different international donors, such as the African Development Bank and the World Bank, Kenya also uses its own internal funds. "We mostly distribute the money through the Youth Enterprise Development Fund (a state corporation under the Ministry of Public Service, Gender and Youth Affairs)," she said.
Success stories
Daniel Kamau, aged 30, is a Kenyan who owns two restaurants and a bar in Beijing. He recently received almost $5,600 from the initiative to expand his business. He hopes to expand his business all the way to Shanghai. The father of three makes about $15,000 per year in revenue generated from his business.
"I market Kenya in China and it is a good thing. For example in my bar, I sell Kenyan beers such as Tusker, Pilsner and Balozi and Kenya Cane Spirits. The 500 milliliter bottles are highly sought after here. The Chinese like Kenyan drinks, but half of my customers are Kenyans living and working in Beijing, mostly diplomats and businessmen," said Kamau.
Kenya Airways is rapidly making inroads into the cities of Beijing and Guangzhou, transporting almost 100 Kenyans to each city weekly, with the operation of twice-a-week flights to the cities.
Dzochera Warrakah, a pilot with Kenya Airways said the interest of Kenyans wanting to invest in China is real.
"As a Kenya Airways pilot, I fly twice a week to Beijing. Most of my passengers are Kenyans," he said, projecting that even more Kenyans will visit Beijing in future.
"My brother owns a fruit shop in Beijing and his business is doing well despite challenges during the first six months of operation," said Warrakah. A lot of hotels also have subsidized costs, making the investment opportunities for Kenyans even friendlier, he said.
Another Kenyan with big business interests in Beijing is Peter Onyango. The 29-year-old Kenyan has invested heavily in the leather industry. He exports to China high-quality handbags, jackets and women's shoes, all manufactured in Kenya.
"I sell the products for nearly five times as much as I would sell them in Kenya. I can say that the business environment is good. I hope to open up a leather processing factory in Beijing in the future," he said, adding that he would apply for more funds being offered by the Kenyan Government. Apart from working in the fashion sector, he also exports high-quality tomatoes and bananas to China."
Focus on youth
According to the Kenyan National Chamber of Commerce and Industry, there are about 5,000 Kenyans with business interests in China, including agriculture, restaurants, bars, liquor stores, and fashion. Businesses range in size from small to medium. According to the chamber, Kenya exports about $1.38 billion worth of goods globally, with a quarter of that going to China.
"We have hired consultants to conduct a market study of investments in China. This will enable us to make even wiser decisions on loan amounts to disburse. It will make the project even bigger and lenders will have more confidence in our work," said Kobia. The study report is expected to be available early next year.
Kobia said that despite the loan target group being people younger than 35, consideration is given to people aged up to 44.
"We know the unemployment problem in Kenya is big and we have to reduce the poverty trap affecting our society, especially the youth who are filled with energy and desire to succeed," said Kobia.
Despite the Kenyan economy growing by about 6.3 percent to $99 billion last year according to the World Bank, most Kenyans have not felt the growth as issues such as cost of living and unemployment continues to affect most of the population. The World Bank estimates that the country is the 65th largest economy in the world and the sixth largest in Africa. Only Nigeria, South Africa, Egypt, Morocco and Algeria have larger economies.
"Corruption is a major concern if this [loan] project is to continue. But I am happy to hear that applications are judged on merit. So far so good and the trend should continue. Corruption has [previously] stalled some major projects in this country," said Anne Mueni, aged 34, who is in the process of submitting her application to the fund.
Kobia said that there will be more funds available in the future so that larger funds can be given to more people.
(Reporting from Kenya)
(Comments to niyanshuo@chinafrica.cn)