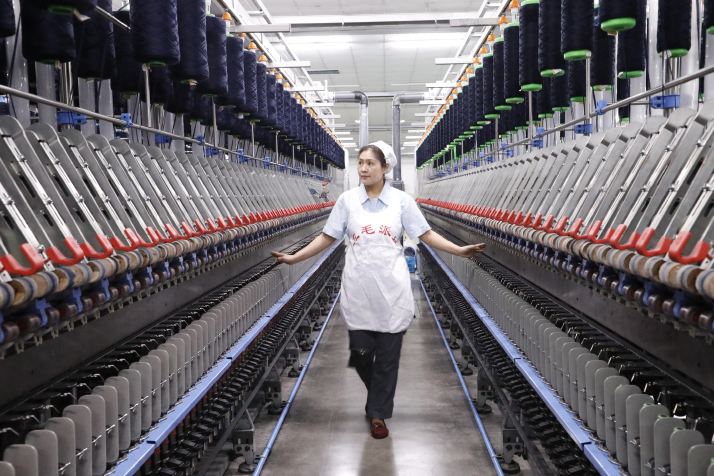 Fan Dongyun in the spinning factory of Lanzhou Sanmao Textile Group Co. Ltd. (XINHUA)
At this year's Two Sessions, the annual meetings of the National People's Congress (NPC), China's top legislature, and the National Committee of the Chinese People's Political Consultative Conference (CPPCC), top political advisory body of the country, that began on May 22 and May 21, respectively, NPC deputies and CPPCC National Committee members from across the country got down to work. They put forward suggestions, proposals and opinions on China's economic and social development, reflecting people's voices from all walks of life.
Improving public health system
Zhang Wei, President of the First Affiliated Hospital of Nanchang University in Jiangxi Province in east China and NPC deputy, has fought two difficult battles in her career as a doctor. In 2003, she was selected to lead a team to combat the severe acute respiratory syndrome (SARS) in her hometown in Jiangxi. Seventeen years later, she again served as the leader of a team of specialists fighting the COVID-19 epidemic in the province.
Zhang submitted five suggestions to the NPC, including setting up public health centers and enhancing the combination of treatment and prevention.
"After going through SARS and COVID-19, every province, municipality and region should set up a public healthcare clinical center," Zhang said. "It can help us explore abnormal symptoms in advance and get ready ahead of time."
The centers can perform functions such as infectious disease diagnosis and treatment, public health education and stock of medical materials and supplies, said Zhang. "During an epidemic, they can carry out emergency treatment and scientific research."
Hu Yu, President of Wuhan Union Hospital affiliated with the Tongji Medical College of Huazhong University of Science and Technology, had many similar ideas after being on the frontline of COVID-19 for over 50 days. As a member of the 13th National Committee of the CPPCC, he proposed that some hospitals upgrade specific personnel to treat patients with severe disease symptoms and strengthen the construction of comprehensive ICUs. The extreme shortage of materials and equipment in the early stage of the epidemic indicated that some adjustments need to be made in hospital space and materials stock, he said.
For example, Hu suggested hospitals should set up a branch in a suburban area which can accept patients with infectious diseases during emergencies. In this vein, Wuhan Union Hospital will add a new facility to its operation. A new building specifically for infectious diseases has been included, meaning the hospital can better meet the need of future emergencies.
Hu conducted in-depth discussions on epidemic prevention and control mechanisms and the national public health system with other members of the CPPCC National Committee in Beijing.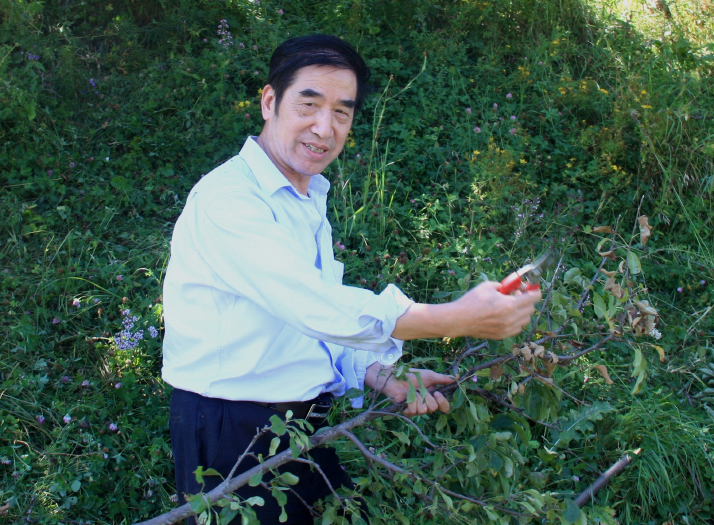 Yang Zhongqi does research in the field (COUTRESY)
Ecology plus poverty-alleviation
As a senior expert of the Chinese Academy of Forestry and a member of the 13th National Committee of the CPPCC, Yang Zhongqi focuses on ecological protection in his proposals. More than 10 ecological proposals he put forward before were adopted by relevant departments. He holds that proposals must be based on intensive field investigation and solid research. One of his proposals this year is to develop the raw lacquer industry in the central and western mountainous regions to help overcome poverty.
Yang said that China's central and western regions have large mountainous areas. Due to the natural environment and historical reasons, economic development in those areas has been slow for some time, and the people there are relatively poor. With the government's anti-poverty policy, these regions will basically be able to get rid of poverty as scheduled under the current standards by the end of 2020.
However, due to the weak economic conditions and the lack of support from pillar industries, the people of those places lack a long-term stable source of income. After researching how to consolidate the results of poverty alleviation so that the people in mountainous areas could escape the shackles of poverty, he found that developing the lacquer industry was the way forward.
According to Yang, a lacquer tree has a yield period of more than 30 years, requires little water and assists with soil conservation. Therefore, the development of the raw lacquer industry not only ensures poverty alleviation, but also takes ecological protection into consideration.
Yang said that Junlian County in Sichuan Province has planted lacquer trees on a large scale since 2013. Currently, the cultivated area has reached 160,000 mu (10,667 hectares), benefiting 20,000 households, with an output value of 10,000 yuan ($1,403) per mu, contributing to the poverty alleviation and prosperity of farmers in the county.
"Now we emphasize the importance of protecting ecological environment and realizing ecological benefits. Lucid waters and lush mountains are invaluable assets. That means we must plant trees. Among them, the lacquer tree is a good choice," Yang said.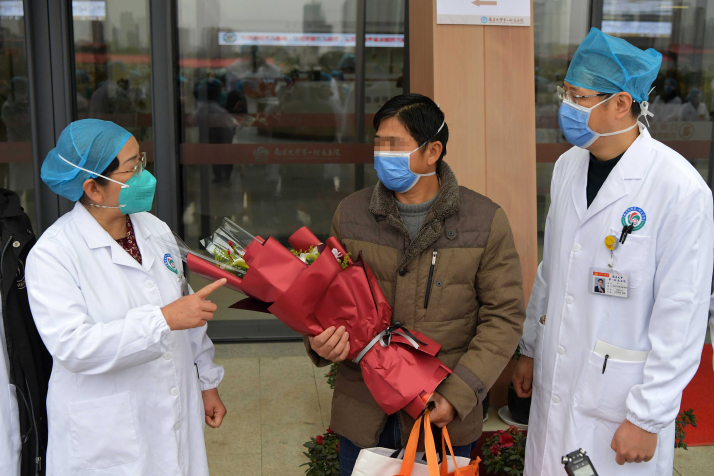 Zhang Wei (left), President of the First Affiliated Hospital of Nanchang University in Jiangxi Province and a deputy to the 13th National People's Congress, talks with a discharged patient in the hospital on January 27 (XINHUA)
Cultivating craftsman spirit
Fan Dongyun is a spinner at Lanzhou Sanmao Textile Group Co. Ltd. in Gansu Province. She joined the company in 1991 and gradually mastered the spinning technique after much practice. She became a master of her craft and now has a 100-percent success rate for connecting broken thread. Along the way Fan developed a unique "S-shaped" spinning method, which improved production efficiency.
The COVID-19 outbreak increased Fan's workload. "I have been working on the night shift recently, from 8 p.m. to 8 a.m.," she said, explaining that 11 staff members were stuck in other places in lockdown and were not able to return to work. At that time, Fan volunteered and took the initiative to do more work. She also offered to train four new workers while working overtime in order to complete the work load.
Fan is also a deputy to the 13th NPC. As a deputy, she focuses on the textile industry and training of craftsmen. "To improve the quality of products made in China, the textile industry needs not only scientific research and development, financial investment and advanced machinery, but also spirited craftsmen and high-quality skilled workers," she said.
Before this year's Two Sessions, Fan used her spare time to conduct research and prepare for the sessions. She learned that a technical worker in her industry in Gansu had earned promotion to the position of senior engineer. It led her to believe that the career development path for skilled workers now has increased potential. She therefore drafted a proposal on helping more frontline top-level skilled staff become trainers.
"Summarizing and sharing the experience of every skilled worker in the industry is also an issue that needs more attention as we reform the industry," she said.
(Print Edition Title: Having Their Say)
Comments to zanjifang@chinafrica.cn