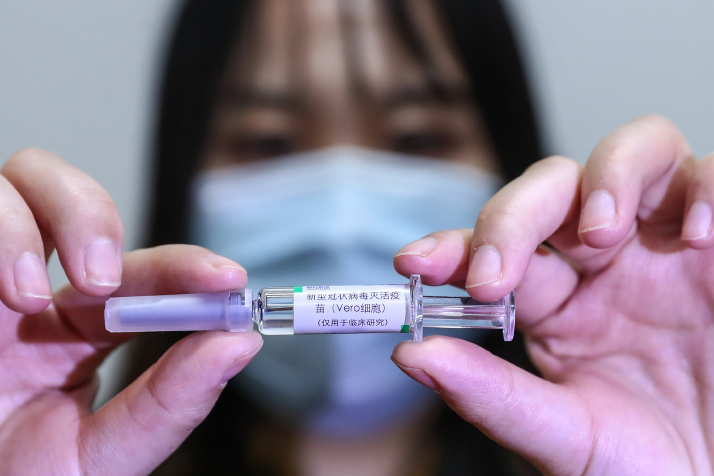 A staff member shows a sample of novel coronavirus inactivated vaccine at China National Pharmaceutical Group Co. Ltd. on April 10 (XINHUA)
Egypt is set to become a vaccine manufacturing center for the African market, mass producing one of five COVID-19 vaccines developed in China. The vaccine, not yet identified, is under trial and production will begin after its safety and efficacy is proven, according to the outcome of a meeting between high-ranking officials in Cairo headed by Egypt's Minister of Health and Population Hala Zayed and the Chinese Ambassador to Egypt Liao Liqiang on July 20.
Khaled Megahed, Spokesperson of the Ministry of Health and Population, said Egypt could potentially begin manufacturing the COVID-19 vaccine within three months (after the meeting), reiterating that the vaccine has already passed two phases of clinical tests and is currently in the final phase.
Making preparations
Reflecting on the Egyptian Government's relentless efforts to enhance the capacity of vaccine factories tasked with the mass production, Zayed has chaired a meeting at VACSERA (Egypt's state-run producer of vaccines) to follow up on the company's latest preparations aimed at manufacturing COVID-19 vaccine in cooperation with Beijing-based Sinovac Biotech Co. Ltd.
A statement by the Egyptian cabinet on July 8 said the COVID-19 vaccine comes within the framework of an agreement between Egyptian and Chinese governments, making Egypt "the African hub for manufacturing China's vaccine for COVID-19."
Related to Zayed's meeting with VACSERA, Megahed said, "The minister inspected and followed up on the company's infrastructure and equipment to gain a deeper understanding of the company's various factories and determine all their needs and any challenges that they might face to work to solve them immediately."
The minister discussed the vaccine's required doses and production capacity to meet domestic needs, as well as exporting the vaccine to other African countries, according to Megahed. He has underlined the importance of increasing the production capacity of the company and restructuring the production lines.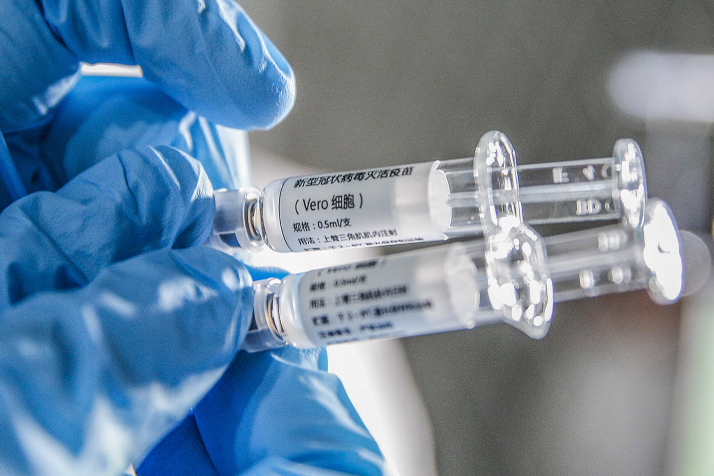 Samples of novel coronavirus inactivated vaccine are shown at Sinovac Life Sciences Co. Ltd. on March 16 (XINHUA)
Commenting on Egypt's preparation and capacity to produce the Chinese COVID-19 vaccine, Ahmad Qandil, an expert at the state-run National Research Center said that the center has transformed into a beehive, working around the clock as directed by Egyptian President Abdul Fattah al-Sisi, awaiting the Chinese outcomes regarding the new vaccine.
Researchers around the world are working on more than 165 vaccines to combat COVID-19, and 27 vaccines are in human trials. Vaccines of this kind typically require years of research and testing before reaching the clinic. But governments and scientists globally are desperately racing against time to produce a safe and effective vaccine by next year to end the pandemic that has affected every country.
Amr Abdul Hamid, 46, who works as a welder at a car factory, was diagnosed with COVID-19 in June - after developing related symptoms ranging from diarrhea and fever to coughing for almost four days. "It is likely I got the virus at work," he said.
Three weeks later, Hamid recovered after self-quarantine at home. He said that although he kept taking frequent cold and flu medicines, the drugs were not crucial to his recovery, but rather the diet he followed. This included drinking lots of liquids and eating nutritious, immunity-enhancing foods.
For him, a novel coronavirus vaccine, no matter where it is manufactured or by whom, will save thousands of lives. This is especially beneficial to the elderly in developing countries such as Egypt.
As of August 13, Egypt had around 95,960 cases of COVID-19, which included 5,085 deaths and 55,901 recoveries, according to latest official statistics.
"Patients in Egypt have been using antivirus drugs such as Remdesivir," said Alaa Awad, a local liver and digestive system physician, confirming that most of the drugs used by COVID-19 patients are antivirus medicine used to treat other types of viruses by isolating the virus inside the cell and preventing it from reproducting.
Speaking about the Chinese vaccine, he said that clinical trials are required to prove its safety and efficiency with COVID-19 patients, indicating the need to ensure the Chinese vaccine is not just similar to the already existing drugs in terms of only isolating the virus inside the body's cell.
The Egyptian cabinet statement of July 8 did not identify the Chinese company which is carrying out tests on the vaccine. But Liao said at a press conference that the vaccine is developed in China by Beijing-based Sinovac Biotech Co. Ltd., reiterating that Chinese President Xi Jinping has pledged at the Extraordinary China-Africa Summit on Solidarity Against COVID-19, held via video link on June 17, to give priority to African countries as the first beneficiaries of the vaccine.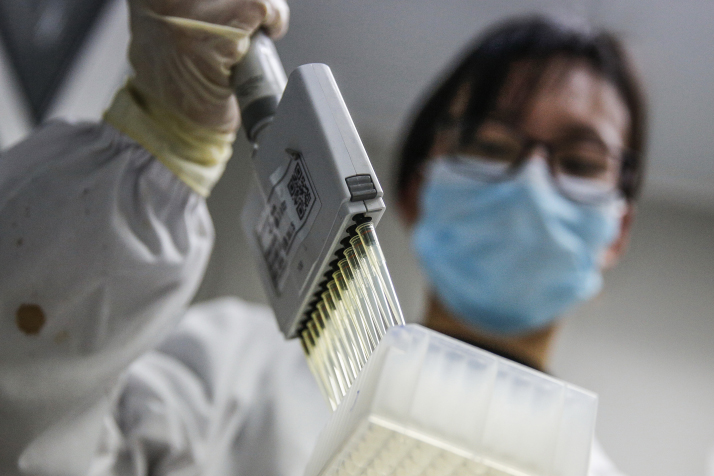 A staff member carries out the IgG antibody titer test of the novel coronavirus inactiveated vaccine at Sinovac Life Sciences Co. Ltd. on March 16 (XINHUA)
Testing vaccines
In mid-April, China approved a clinical trial for a candidate COVID-19 vaccine developed by Sinovac. The vaccine, called CoronaVac, is a chemically-inactivated whole virus vaccine for COVID-19.
The World Health Organization (WHO) has highlighted the leading role of China in the global vaccine market, which has been traditionally dominated by a few multinational companies, citing Zhang Jiankang, a representative for PATH's China Programs, as saying that the growth of China's vaccine industry is "a very positive development for global health, as governments and international procurement agencies will be able to afford more life-saving vaccines and thus protect more lives."
Supported by a broad and diverse group of funders, PATH's programs work to accelerate health equity worldwide, so that all people and communities can thrive.
Another leading candidate in the global competition for a vaccine is AstraZeneca, which is currently in the third phase of clinical trials. AstraZeneca's vaccine has already garnered the commitment of several manufacturing companies around the world.
The WHO says a total of 23 COVID-19 vaccines are being tested and the vaccine made by experts at Oxford in the UK showed positive results as it proved to be "safe" according to a medical study. The solid Chinese-Egyptian ties were reflected in a landmark visit by the Egyptian health minister in the beginning of March. Back then, Zayed visited China to convey Egypt's solidarity with China in combating the novel coronavirus. This happened at a time when Egypt had identified only two cases of foreigners infected with COVID-19, and China was witnessing a peak of the pandemic.
"Had it not been for the very strong precautionary measures taken by the Chinese Government, the situation could've been different worldwide and the outbreak could've been larger," Zayed said.
(Reporting from Egypt)
(Print Edition Title:Vaccine Countdown)
Comments to zanjifang@chinafrica.cn