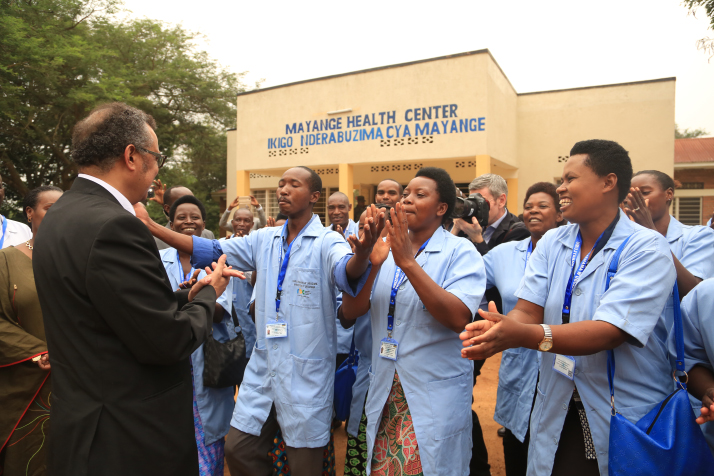 Rwandan Community Health Workers give a warm welcome to Tedros Adhanom Ghebreyesus, the Director General of World Health Organization at Mayange Health Center on January 11, 2018 (Sam Ngendahimana)
When Tereza Nikuze, 63, a resident of Kigali tested positive for COVID-19 in January this year, she was relieved to know from the authorities that she could quarantine and receive treatment at her home, instead of being confined to a hospital.
However, the relief was short-lived. Authorities showed up at her home two days later and attached a watch-like tracking device to her wrist, which was disturbing to her as she felt the authorities didn't see her as person who will willfully follow the quarantine guidelines.
For the rest of the days of her recovery, she had to wear the tracker on her arm 24 hours a day. She would bathe with it, sleep with it, eat with it, and so on.
"I even forgot about the virus, and started to think about the tracker. It caused so much stress," she told ChinAfrica.
Such trackers have been used on a number of people in Rwanda, and for some, there were challenges. So, it became essential for authorities to explain to the patients more about such initiatives, in addition to offering psychological support during the unusual times of quarantine.
To do this, Rwanda made use of its Community Health Workers (CHWs), a home-grown program that has been in place in the country for years, and has saved many lives.
CHW system
Rwanda is one of the few countries in the world that have effective CHW systems. With over 40,000 people enrolled as voluntary CHWs, it is estimated that 83 percent of health conditions in the country are treated at the primary healthcare level, partly due to community interventions.
CHWs provide malaria testing and treatment, deworm children and give nutritional advice, among other things.
When the country started registering a high number of COVID-19 cases in mid-2020, medics were afraid that at some point hospitals would get overwhelmed with patients.
To deal with the looming challenge, the Ministry of Health launched home-based care for asymptomatic cases, and here, it allocated a role to the CHWs to follow up on the cases and remind them to stay under quarantine and take medication.
The CHWs were also required to offer psychological support to the patients, for example, verbal encouragement and advice on their way to recovery.
Effective solution
When the COVID-19 pandemic hit Rwanda in March 2020, the government was reluctant to throw the CHWs onto the frontline.
This was partly due to the fact that the coronavirus was a new disease about which little was known, and it was infectious. Thus, it would be rather imprudent to hastily tell people with no real medical education (the CHWs) to go out and start dealing with cases.
However, about four months later, the CHWs were included in the response plan, and they seem to be making some impact.
Godibereta Ngaboyamariya, a CHW and resident of Kigali City, shared the touching story of a patient she followed up on who was facing some emotional challenges.
"This patient was having a difficult time, not only because of COVID-19, but also because of other factors. He was stressed about the fact that he had gotten sick in a rental house, not in his home area. We provided care, and he got better," she told ChinAfrica.
By September 2020, home-based care was working in various parts of the country, and figures from Rwanda Biomedical Center showed that 762 patients had been admitted into the system by September 20, 2020.
In January 2021, majority of people diagnosed with COVID-19 in Rwanda were being treated under home-based care.
"Out of more than 4,000 COVID-19 cases in the country, 95 percent are getting treatment at their homes. Only a few are admitted in different hospitals and other treatment centers," said Health Minister Daniel Ngamije in January 2021.
People receiving care at home are being monitored with the assistance of CHWs to ensure they take medication, go for follow-up tests, and don't violate quarantine rules.
Clementine Ufitinema, another CHW member in Kigali, has followed up on about 25 patients, including primary and secondary school children.
"The patients that I followed up on fared well. As CHWs, we visit them, talk to them, tell them what they may need to know. But we always observe social distancing while interacting with each other," she told ChinAfrica.
"We encouraged them to stay under quarantine. We also encourage them, showing that being infected with the coronavirus does not make them stop being human, and that it is not the end of life," she added.
Like Ufitinema, a number of CHWs have been assisting patients in various parts of Rwanda, and they may well be given credit in the achievements that the country has made in the fight against the virus.
Emotional stress
So, CHWs have played a role in providing psychological support to patients. But is psychological stress during the pandemic a global phenomenon?
According to a recent report by the Red Cross and Red Crescent Movement Project on Addressing Mental Health and Psychosocial Consequences of Armed Conflicts, Natural Disasters and other Emergencies (MOMENT), the effect of the COVID-19 pandemic on people was not smaller as far as psychological challenges are concerned.
The report found that 51 percent of adults thought COVID-19 negatively affected their mental health; and almost two-thirds of respondents across seven countries surveyed agreed that taking care both of mental and physical health had become more important since the onset of the COVID-19 crisis.
"The strong stigma associated with COVID-19 affects people who have contracted the virus and their families, and has serious consequences for people who are already marginalized because they live with mental health concerns. Combined, these factors prevent people from accessing mental health and psychosocial support services, and make it more difficult for service providers," the report said. CA
Reporting from Rwanda
(Print Edition Title: Localized Care)
Comments to zanjifang@chinafrica.cn