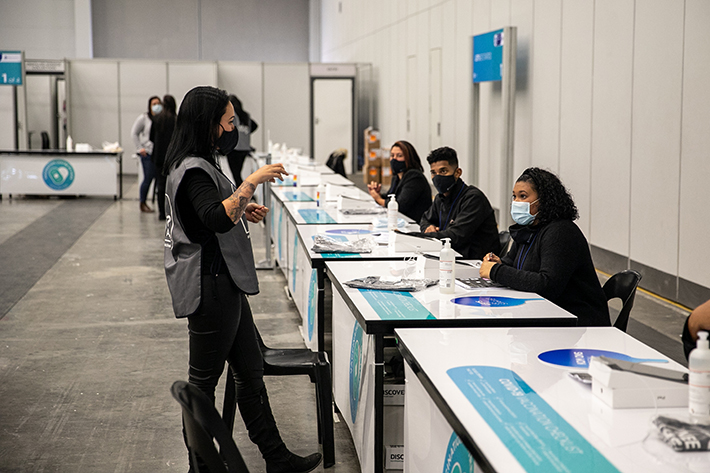 Workers prepare for opening a vaccination center in Johannesburg, South Africa, on July 6 (XINHUA)
On July 20, Phoenix TV broadcast on morning news and on other main news programs of the day an interview with Professor Salim Abdool Karim, a well-known South African epidemiologist and former chairman of South Africa's Ministerial Advisory Committee on COVID-19. Professor Karim expressed his views on 3 topics: the conditional emergency use of the Chinese Coronavac vaccine in South Africa, the impact of SARS-Cov-2 variants, and the issue of COVID-19 source tracing.
According to the reports, the South African Health Products Regulatory Authority (SAHPRA) issued a statement recently to authorize the Coronavac vaccine, produced by the Chinese company Sinovac, with conditions in South Africa. Professor Karim indicated that the Sinovac's vaccine is high-quality, safe and effective. He added that South Africa has a rigorous regulatory process to ensure that approved medications are of high-quality, safe and effective. He assumed no difference for this vaccine from any of the other coronavirus vaccines.
Facing the emergence of more variants of the SARS-Cov-2 around the world, Professor Karim said that the world must remain vigilant and monitor every new variant. He stressed that the variants have essentially changed the game. "We no longer can vaccinate in the hope that everything's going to return to normal. We have to be assured that the new variants do not escape immunity, if we are to aim at any semblance of normality," he said.
Professor Karim called on the international community to treat the issue of COVID-19 source-tracing in a science-based, objective and fair manner, and to oppose the politicization of it. He said it must be done in a scientifically rigorous way. He added this is not a time for political posturing and finger pointing, but this is a time for cool heads to ensure scientific evidence is collected.
Professor Karim also pointed out that the Delta variant seeks fertile soil in Africa with a rapid increase in the number of confirmed cases on the continent. In order to expand vaccination programs, he said Africa expects the international community to come forward and provide vaccines to poor countries on the continent.