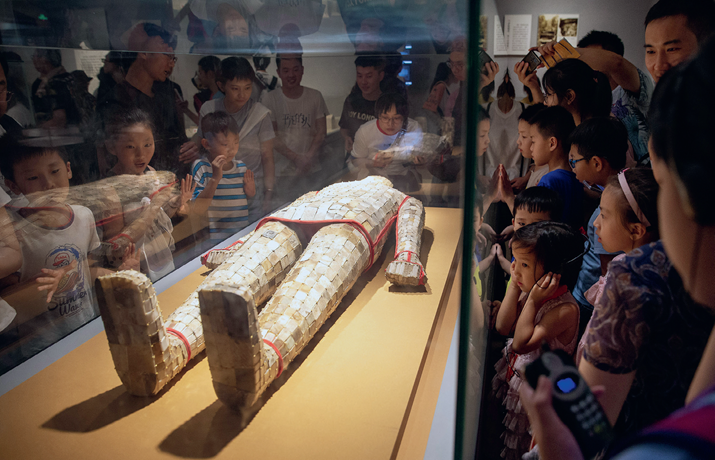 Visitors view jade clothes sewn with gold wire at the Nanjing Museum in Nanjing, Jiangsu Province, on August 22, 2019 (VISUAL PEOPLE)
Checking the ticket-reservation strategy, setting an alarm clock, staying up late to check the messages ... Liang Yu never thought that she will have to wake up in the middle of the night to "grab tickets" for a museum visit.
"I used to be able to easily buy tickets for concerts and musicals, but now I can't get tickets to the Palace Museum," Liang told ChinAfrica.
It is not just tickets for the Palace Museum that are difficult to get. Nowadays, during the peak tourist seasons, people lament that it's hard to get tickets for many museums in China.
According to data from the travel reservation site Ctrip.com, museum ticket bookings during the first five months of this year grew 75 percent when compared to 2019.
"The public's enthusiasm for museums reflects cultural self-confidence. People enter the museum to experience the rich history and colorful civilization for their spiritual advancement. Only by understanding the past can we better create the future," said Sun Yingmin, President of the Henan Provincial Institute of Cultural Relics and Archaeology.
Thriving museums
China was among the fastest growing countries when it comes to the museum industry over the past few years, which provides a basis for bringing more visitors to museums.
An average of one new museum was opened every two days across China between 2016 and 2020, Deputy Minister of Culture and Tourism Li Qun said. By the end of 2020, China was home to 5,788 registered museums, with 1,224 at the state level.
Despite the fallout of the COVID-19 epidemic, figures from the National Cultural Heritage Administration show that museums across the country held more than 29,000 exhibitions and over 225,000 educational activities in 2020, receiving 540 million visits.
"A system of museums with abundant varieties has been basically established in China," Li said. "Continuous efforts will be made to further improve the quality of these venues and present a full variety of collections to meet people's need for a good life."
Meanwhile, the number of non-state-owned museums has also grown from 23.7 percent to 30.9 percent. Jianchuan Museum Cluster is so far the largest non-state museum project in China. There are 32 pavilions that are part of the museum cluster throughout Dayi County in Chengdu City.
"Without the opportunities of the times, how can I build so many museums," Fan Jianchuan, curator of the Jianchuan Museum Cluster explained. Now the museum has become a national patriotic education base and a humanities and social sciences base in Chongqing, receiving over one million visitors every year.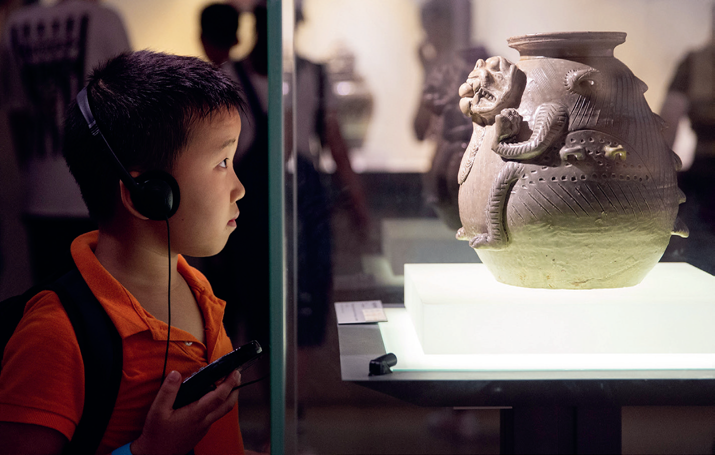 A visitor views Celadon Glazed Porcelain Zun with design of a monster in Nanjing Museum (VISUAL PEOPLE)
Into the public
One of the reasons behind the increased museum visits is a renewed interest in museums fueled by popular TV shows and documentaries on cultural heritage, such as National Treasure, Masters in the Forbidden City, Every Treasure Tells a Story and the dance performance Night Banquet in Palace of Tang Dynasty (618-907), a highlight of the 2021 Henan Spring Festival gala that went viral on social media.
These programs were all big hits among the modern generation. They strike a good balance between rigorous knowledge and entertainment, ensuring cultural relics resonate with young viewers.
Taking National Treasure for an example, it quickly rose to the top of the country's national television ratings as well as social media platform Sina Weibo after it debuted in December 2017 on the China Central Television (CCTV). The show focused on introducing the stories and history surrounding 27 rare antiques from nine key museums in China, but introduced a reality-show twist, as nine treasures were chosen through audience voting to be included in an exhibition at the Palace Museum in Beijing in 2020, on the 600th anniversary of the Forbidden City.
A follower of National Treasure, 32-year-old web designer Liu Ning described the show as innovative, informative and fun. He said it successfully aroused his interest in traditional culture show by presenting museums and ancient relics in a vivid way.
Learning history in a fun way
Another happiness museum-goers recently experienced was through an activity involving digging cultural relics as an archaeologist, which many Chinese museums launched in the growing trend for archaeological blind boxes.
Henan Museum, the provincial museum of central China's Henan Province, integrated the blind box concept with cultural relics, allowing visitors to dig up the earth piece by piece to see replicas of bronze pots, jade, and other cultural relics from dynasties ago.
The blind boxes recreate the excitement of an archaeological dig. Using a Luoyang shovel, and a brush to sweep away the dirt, by digging an archaeological mystery box, buyers could find a piece of bronzeware from the Shang Dynasty (1600 B.C.-1046 B.C.) or a China bottle from the Song Dynasty (960-1279). Henan Museum's online store on Taobao shows that the boxes come in different sizes with prices starting at around 40 yuan (around $6.15). The idea has proved wildly popular with many young people, and most of the boxes are sold out as soon as they are put on sale every day.
The museum is not the only one to sell blind boxes with replica relics from Chinese history. On May 18, which is the International Museum Day, the museum launched a store on online shopping site Tmall to sell cultural and creative products. It announced that it would launch a "super new product" during the shopping festival on June 18 - archaeological mystery boxes containing soil. The boxes come with shovels, hammers and glasses to deliver an "immersive excavation experience."
In addition, museums also have rolled out ice cream bars in the shape of cultural relics in an attempt to promote ancient culture through food. In 2020, the National Museum of China rolled out ice cream bars in chocolate and matcha flavors, which are molded from Pottery Story-teller Beating a Drum and Rhinoceros-shaped Bronze Zun, both of which date back to the Han Dynasty (206 B.C.-220 A.D.) and are displayed at the museum's ancient China hall. The ice creams attracted about 20 million Weibo users to have a taste.
Besides the National Museum of China, museums and historical sites across China, such as Suzhou Museum, Sanxingdui Museum and the Summer Palace, have also introduced creative food and products to expand their cultural reach.
"The trendy, unique and creative cultural products like the ice cream have won over many younger-generation consumers," said Zhou Yunqing, a sociology professor at Wuhan University. "It is also a manifestation of China's growing cultural confidence."
(Print Edition Title: Treasures Return to Life)
Comments to xyy@chinafrica.cn