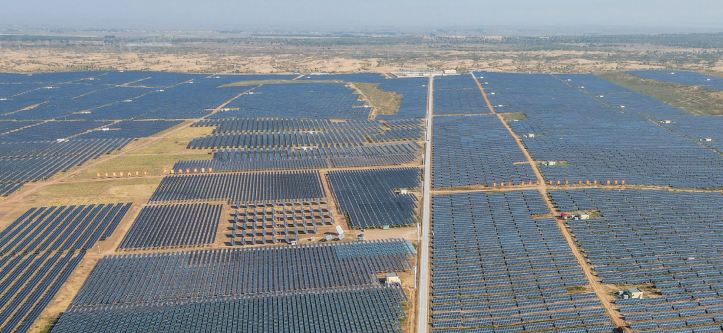 An aerial view of the Light Hydrogen Industrial Base of Elion Group in Ordos, north China's Inner Mongolia Autonomous Region, on September 27 (
CHANG XIAOJIAO)
Shrinbabu has all along lived in the Kubuqi Desert, north China's Inner Mongolia Autonomous Region. For the 43-year-old herdman, life in the desert has been a potent mixture of joy and hardship. He has experienced the difficulties caused by formidable natural conditions and also witnessed transformation of the land from desert to oasis.
Life used to be tough in Kubuqi, he says. "There was no electricity here. So we had to rely on the fan blades on the house to provide electricity for a day in the past, and we only raised sheep and sold liquorice that we dug in the desert to make a living," Shrinbabu told ChinAfrica.
Covering an area of 18,600 square km, the Kubuqi Desert was once known as the "Sea of Death" due to desertification caused by indiscriminate and uncontrolled slashing and grazing. It did not even have roads and vegetation. The severe desertification threatened the lives of the local community as well as production.
A big change
However, things changed for the better for Shrinbabu and other locals in 2006 when energy company, Elion Group, embarked on a massive program for reforestation and restoration of Kubuqi desert.
In Shrinbabu's village, Elion invested more than 20 million yuan ($3.1 million) in infrastructure in 2006.
Benefiting from the greening and restoration program, the ecological environment of Kubuqi has significantly improved following the treatment of 6,000 square km. The greening area now reaches more than 3,200 square km, covering one-third of the desert.
It has built a village covering an area of 500 mu (33.3 hectare), and completed supporting infrastructure such as water, electricity, roads and communications for the benefit of Shrinbabu and 35 other herdsmen who are scattered in the hinterland of Kubuqi. They have since joined hands and started a new life in the revamped Kubuqi.
With the tourism boom that followed the infrastructure investment in Kubuqi, Shrinbabu seized the opportunity to engage in desert tourism.
In 2013, he opened a restaurant and contracted two small tourist attractions in the area. And Shrinbabu has been smiling all the way to the bank ever since.
Wang Wenbiao, Chairman of Elion Group, said that the restored desertified land can also be used to build large-scale wind and light energy bases. This can increase the proportion of clean energy and feed the energy consumption required for ecological restoration.
"At present, the restoration and greening part of Kubuqi covers an area of 9.69 million mu (0.65 million hectare), and the vegetation coverage has reached over 53 percent. The number of biological species has increased from 123 to 530 and water conservation has grown from almost zero to over 25 billion cubic meters. The carbon sequestration has increased from almost zero to 15.4 million tons," Wang said.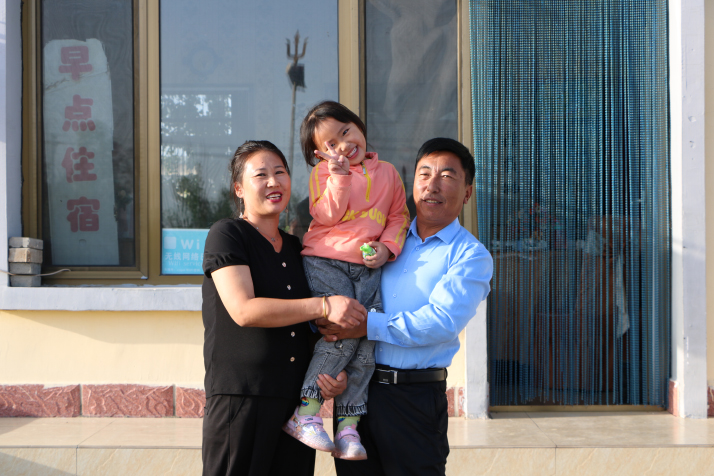 Shrinbabu with his wife and one of their daughters (LI KAIZHI)
Green energy generation
In Elion Light Hydrogen Industrial Base in the Kubuqi Desert, pieces of photovoltaic panels can be seen neatly laid one after another, bathing in the sunlight. Potatoes, pumpkins and other crops are growing underneath the panels as goats are raised nearby.
"Kubuqi Desert is rich in solar resources, with an average of 3,180 hours of effective light throughout the year. Relying on the advantages of resources, a 710 MW of photovoltaic solar plant has been built. The annual power generation is about 1.25 billion KWH, with sales revenue of 800 million yuan ($124.2 million). Local poor households are invited to participate in the circular system and enjoy the industrial dividends. [At least] 102,000 farmers and herdsmen in the areas have been lifted out of poverty," Zhang Yongchun, President of Photovoltaic New Energy Department of Elion Group, said.
Zhang added that the group has also launched a key technology platform that serves ecological restoration with specific focus on Internet, artificial intelligence and other technology applications.
Numerous advanced sensors are deployed in five major sand areas in China to collect temperature, humidity, light, wind speed and other indicators in real time. They are then transmitted back to its ecological platform to provide guidelines for digital management of deserts.
Share of experience
The restoration and greening program in Kubuqi was one of the topics of the Eighth Kubuqi International Desert Forum in Ordos, where the desert is located, on September 27-29.
The forum, which brought together energy and environment experts from around the world, took place under the theme on seeking carbon emission peak and carbon neutrality toward a community of life for man and nature.
"Various experiences in history show that desertification control not only can improve the living environment of human beings, but also will make an important contribution to achieving carbon peaking and carbon neutrality," Sha Zukang, former UN Under Secretary General, said at the forum.
According to Sha, over the years, China has made remarkable achievements in desertification control. China's experience shows that two conditions are necessary to achieve carbon emission peak and carbon neutrality: plant trees to increase carbon sinks and save energy to reduce emissions.
UN statistics show that the global desertification of land exceeds 36 million square km. At least 50,000 to 70,000 square km of desertified land is added every year. This is the equivalent to 10 soccer fields of land turning into desert every minute. About 52 percent of the world's agricultural land is suffering from moderate or severe soil degradation, which will directly threaten the survival of 2 billion people worldwide.
According to China's Ministry of Ecology and Environment, there are around 2.161 million square km of desertified land in the country, accounting for more than 27 percent of the national land area.
UN Secretary General Antonio Guterres said that China is the first country in the world to achieve the UN goal of zero growth in land degradation, and the area of desertified land and sandy land continues to decrease.
"We in Africa suffer a lot from desertification. We have many deserts in Africa, especially the grand deserts of North Africa, which extends from Senegal to Sudan, eastern side of the continent. I'm from Sudan and, in my country, it encroaches about 10 km every year, and it covers cultivable land. So it has caused a great loss," Rahamtalla Mohamed Osman Elnor, Permanent Representative of the African Union to China, told ChinAfrica.
According to Osman, China and Africa have deepened cooperation in addressing climate change and environmental protection within the framework of the Forum on China-Africa Cooperation (FOCAC).
"Through the FOCAC meetings which have been held over the years since 2000, we have come to many agreements, especially in the area of new energy and infrastructure in general. We are very much impressed by what we have seen in Kubuqi. We would like to benefit from this experience and look forward to more cooperation in the future," said Osman. CA
(Print Edition Title: From Desert to Economic Gem)
Comments to likzh@chinafrica.cn