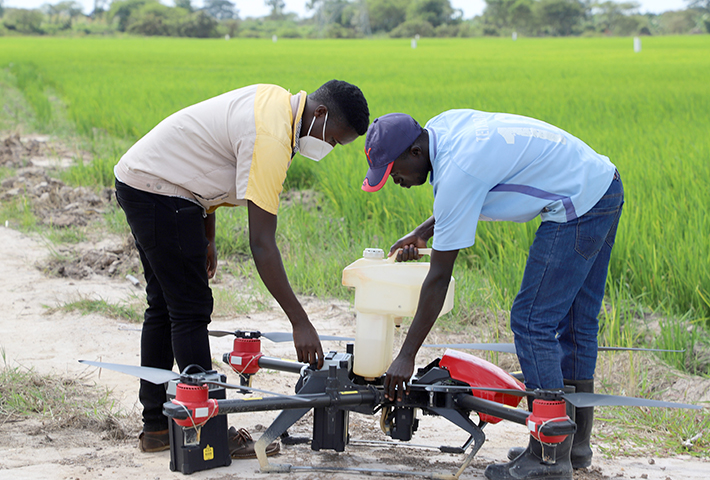 Local technicians replace the battery and medicine box of a drone at a Chinese-run rice farm in Lukaya, Kalungu District in Uganda, on 2 June 2021
Eighty percent of Uganda's economy depends on agriculture, according to the Uganda Bureau of Statistics. For this reason, Frank Tumwebaze, Uganda's minister of agriculture, animal industry and fisheries, said in an interview recently that since the majority of the country's population is involved in agriculture, the government held in high regard any country or organisation that promotes agriculture in the country.
The President of Uganda Yoweri Museveni, while addressing farmers and their partners at Munyonyo Resort Hotel in the country's capital Kampala, said, "We have a lot to learn from China, especially in the agriculture sector. It is good that China, in collaboration with the Food and Agriculture Organisation (FAO) of the United Nations, through the South-South Cooperation (SSC) projects, has helped many of our farmers to acquire modern agricultural knowledge, which will go a long way in increasing food production in the country."
He said he was happy to learn that a good number of agriculture experts from China were in Uganda, teaching local farmers how to improve food production.
SSC drives Uganda's food production
Back in 1973, China sent experts to start up the Kibimba Rice Scheme located in Bugiiri District in east Uganda, about 17 km away from the capital Kampala. Up to today, it is the biggest rice farm in the county, covering an area of 4 km in length and 2 km in width.
Currently, China, in collaboration with FAO in the SSC projects, has led Uganda into becoming self-sustaining in food production and becoming the food basket in the region.
The SSC is a mutual sharing mechanism that allows for the exchange of development solutions, knowledge, experiences and good practices, policies, technologies and resources between and among countries in the global South.
FAO, Uganda and China have been implementing SSC projects since 2009 to address constraints affecting key agricultural sub-sectors of crops, fisheries and livestock, and the commodities within those sub-sectors.
According to Charlotte Kemigisha, spokesperson of the Ministry of Agriculture, Animal Industry and Fisheries of Uganda, ever since 2009 when the SSC projects implementation began, it has to date yielded remarkable results.
Rice production increased four-fold, from 2.5 tonnes to 10 tonnes per hectare and milk production rose from 2 to 7 litres per cow per day in some of the project areas. The project increased aquaculture production through low-cost fish-feeding techniques and helped to increase the incomes of rice-fish culture farmers, foxtail millet and mushroom farmers, through better production.
Stanley Mukwasi, a commercial officer in the Ministry of Trade, Industry and Cooperatives, said, "China and FAO have made us become good at producing food. Currently there is a shortage of food in Kenya and other neighbouring countries due to drought, and a lot of food, mostly maize and beans, are being exported daily from Uganda to Kenya. Uganda is the main food supplier to South Sudan and the Democratic Republic of the Congo. We also supply maize to Tanzania."
Uganda is strategically located at the head of the Nile River and extremely rich in natural resources, with fertile soil and consistent rainfall across much of the country. "It is not surprising that it is referred to as the food basket of the region," said Mukwasi.
According to the East African Community, the latest population of East Africa, including Uganda, Kenya, Tanzania, Rwanda and Burundi, is estimated to be 283.7 million, which is a fairly big enough market for food produced in Uganda.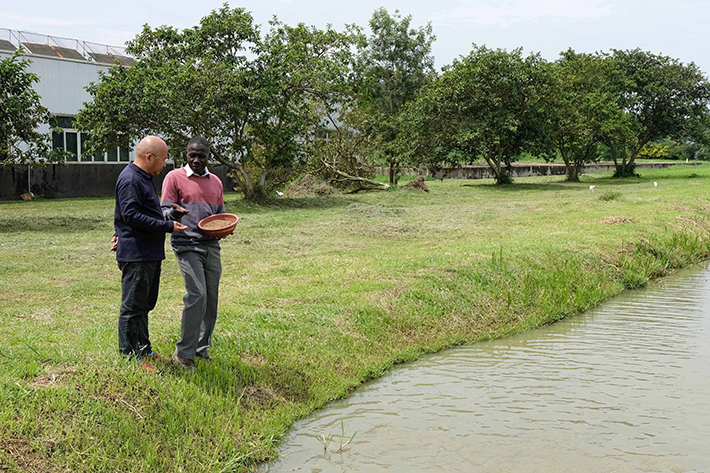 A local employee communicates with an aquatic expert from China at the Aquaculture Research and Development Centre on the outskirts of Kampala, capitalof Uganda, on 21 December 2022
Recent FAO developments
On 20 January, FAO, the Ugandan government and the Chinese government launched the third phase of the FAO-China-Uganda SSC Programme.
A joint statement of FAO said Uganda will benefit from funding, worth $12.6 million, aimed to support the development of the agriculture sector in the country.
Speaking at the launch and inception workshop of the project at the Kajjansi Aquaculture Research and Development Centre, Vice President of Uganda Jessica Alupo thanked FAO and the Chinese government for promoting the development and commercialisation of the agriculture sector in Uganda. She said, "This aspiration has been pre-determined to be actualised through seven pillars, namely, financial inclusion, production, storage, processing and marketing, as well as infrastructure and economic services."
"This is the longest running and most successful national project implemented under the FAO-China SSC programme," said FAO Deputy Director General Beth Bechdol.
In this new phase, the project will reach over 9,600 beneficiaries across 20 districts, including about 7,000 small-scale crop farmers of mainly rice and foxtail millet, 1,000 livestock farmers and hundreds of fish farmers in eastern, western and northern parts of Uganda.
Uganda's State Minister for Animal Industry Bright Rwamirama said, "The technical assistance projects under the SSC project benefitted over 11,000 farmers. I believe that with the support of the Chinese cooperants and FAO's coordination, the Ministry of Agriculture, Animal Industry and Fisheries and its local counterparts will upscale and commercialise Chinese hybrid rice production, foxtail millet production, and livestock and aquaculture production."
China welcomes more high value-added products from Uganda and will support Uganda in making good use of the latest zero-tariff policy to expand its export to China, said Zhang Lizhong, Chinese ambassador to Uganda. "China will provide Africa with new opportunities through Chinese modernisation, and support African countries in pursuing development paths suited to their national conditions," he added.
"In this new phase [III], we will work closely with the private sector to ensure outcomes that encourage value addition, facilitate domestic, regional and international trade and contribute to Uganda's agro-industrialisation agenda, leaving no one behind," said Priya Gujadhur, deputy representative of FAO in Uganda .
Phases I and II were carried out under a cost-sharing arrangement between the governments of China and Uganda and FAO. China provided financial resources and technical support, such as hands-on training and on-site demonstrations, that enabled farmers in Uganda to improve the technologies used to produce rice, foxtail millet, maize, grapes, apples and cherry tomatoes, as well as for animal reproduction (e.g. goats, pigs, sheep and fish).
Uganda provided in-kind contributions, including lodging, transportation, medical services and health insurance for the visiting experts, while FAO provided technical support, as well as project supervision and monitoring.
In 2009, under the wider SSC umbrella, an FAO-China-SSC Programme was established with a $30 million contribution from China, followed by two further $50 million pledges in 2014 and 2020 respectively. The programme has seen a total of 25 national, regional, inter-regional and global projects implemented to support agricultural development and food security. It has reached more than 100,000 direct beneficiaries and several hundred thousand indirect beneficiaries at grassroots level in rural areas.
One of these SSC beneficiaries is farmer Abdu Munakole, 42. "I am now a wealthy man after being taught the necessary skills by Chinese fish and pig farming experts, along with fellow villagers who were taught similar skills," he said.