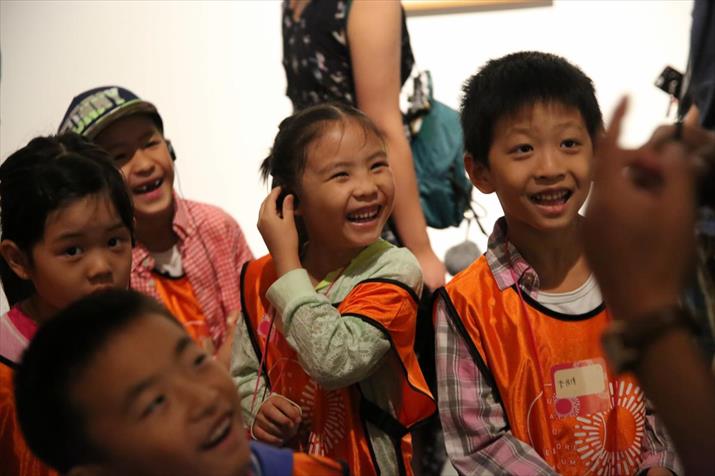 Children visit Tsinghua University Art Museum
Despite her childish looks, eight-year-old Meng Ziyu isn't like other girls her age - infatuated with Barbie dolls or the latest Disney film. What she really gets a kick out of is visiting a museum with her mother on weekends.
Pointing at a painting at Tsinghua University Art Museum in Beijing, the young connoisseur appreciates the nuances in French artist Pierre Soulages' masterpieces.
"Soulages is so imaginative," said Meng. "Though the painting is abstract, I can understand it because the docent explained to us how and why he created this kind of painting. It gives me a lot of inspiration."
Traditionally, museums in China are austere places where collections of artifacts are displayed for public viewing through exhibits. But their potential as platforms for educating the young public is increasingly being recognized, thanks to companies like Xinyang Shenghuo. The Beijing-based business organizes custom-made educational museum visits for schoolchildren, including Meng.
"Children should have free and full access to cultural life from birth," said Pu Hong, founder of Xinyang Shenghuo, whose name literally means "a life of fresh air."
Museums capture the essence of human civilization and are perfect places for children with a bottomless thirst for knowledge. Museums can not only quench that thirst, but also stimulate interests and inspire children for their future life, said Pu.
Sleeping treasure
For a long time this has not been the case. Chinese museums' effective role in children's education has been hampered by inadequate advertising and poor public education services, explained Pu.
"I saw many museums in Beijing hosting some very rare exhibitions, yet the number of visitors was low because no one was spreading the word about these events," Pu told ChinAfrica. "Besides, no one is able to tell the stories behind the masterpieces, while the volunteer tours are boring and outdated."
This is what led him to establish Xinyang Shenghuo two years ago. His goal is to bring back the fun in museum. "We provide professional guide services for families and schoolchildren and design curriculum for each specific exhibit," Pu said.
It is not easy to explain the stories behind the paintings or relics in an engaging way. It takes Huang Ming, a docent at Xinyang Shenghuo, a lot of time and thought to find out how to engage children and families in joyful discovery experiences in museums.
"For children, the guide should be more interesting and focus on storytelling. I need to use communication and games to catch their attention. And they appreciate humor," said Huang.
Every time a valuable exhibit comes to Beijing, Pu and his team make a detailed introduction to parents and encourage them to participate with their kids. They charge $29 on average per head, including custom-made guiding services and ticket fee.
Far-reaching benefits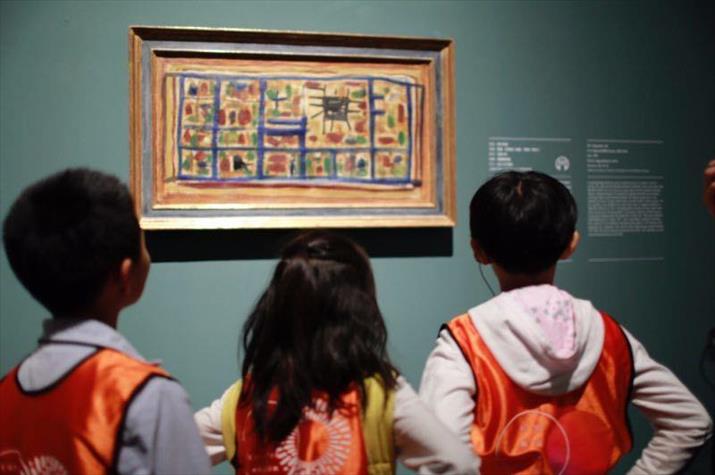 Custom-made tours are an engaging way for children to enjoy museums
Over the years, China has seen a growing trend of parents sending their kids to attend after-school programs to ensure that they do not "lose at the starting line." However, Pu disagrees with this philosophy.
"Instead of losing at the starting line, the child may just lose interest in life," said Pu. Force-feeding knowledge creates unnecessary stress that simply aggravates academic pressure. This may discourage youngsters from their real passions such as hobbies, sports and arts.
"However, visiting museums can instill an appreciation of our world, develop foundational skills, and spark a lifelong love of learning in kids," said Pu.
Cui Wei, the mother of a participating young girl, agrees. Together with her daughter, she visited many museums in Beijing with Xinyang Shenghuo, and saw first-hand the changes in her daughter.
"These tours have a profound influence on children. It cultivates their innate talents and aptitudes. After visiting museums, she knows more about other cultures, and it helps to broaden her horizon and her field of interests," Cui told ChinAfrica.
Young children make personal connections with what they see in museums, and they respond especially well when stories and their imagination are part of the experience, explained Pu.
"I can see the real things in museums, which gives me a different feeling from what I saw in my textbook," seven-year-old Wang Yudong told ChinAfrica.
Higher expectations
As a contemporary art major from Tsinghua University, 30-year-old Pu feels a special connection with museums. He prefers to describe his work as a bridge between museums and the public, who are first and foremost schoolchildren.
After graduating, Pu worked as a curator in Shanghai, Shenzhen and Beijing. Everywhere, he found that Chinese museums were facing a common problem - they were cut off from the people. Many museums give more importance to researching and displaying than to educating the public.
"Most of the museums in China have weak and short-staffed public education department," Pu said. "Nowadays, we need to be skillful and tell stories through displays to explain why historical events happened the way they did. For this, creative-minded curators need to assume a very important role."
By the end of 2015, the number of registered museums in China had reached 4,692, of which 85.5 percent were free of charge, according to the State Administration of Cultural Heritage. However, the misconception that museums are research institutions only good for the so-called social elite is enduring. This has led to a severe lack of public engagement.
Figures in 2015 showed that 76.3 percent of Chinese museums were state-owned, which also explains part of this disconnection. "When a museum is funded by the state, it tends to pay less attention to its visitors' needs," said Huang Chen, Director of Education and Publicity Department at National Museum of China.
Increasingly aware of these problems, Chinese museums are making changes to develop a closer relationship with the public. The country's first regulation for museums took effect in March 2015, which gives top priority to function of education for the first time.
"This emphasizes museums' role in public education," said Guo Qingsheng, Director of Education Department in Shanghai Museum. Since then, the State Administration of Cultural Heritage has raised the weight of public education in the assessment of a museum to more than 60 percent.
Pu welcomes this new focus. "It shows a sign of cognitive advancement on museums in China and I feel my work will be more promising in the future," he said.