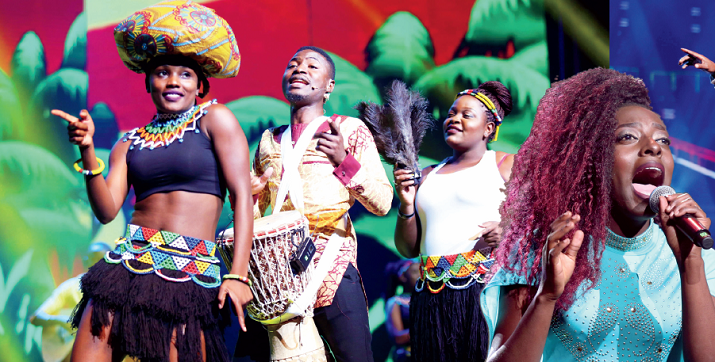 On November 8, a group of artists from Zimbabwe caused a sensation at Beijing Tianqiao Performing Arts Center. Performing as part of the Zimbabwe DreamStar Arts Troupe, the young artists showcased their talents through singing, beatboxing, dancing and speed painting, effectively blending modern influences with traditional instruments such as djembe, marimba and kalimba.
"From a very tender age, I have always seen myself on stage, under the spotlights and on red carpets. And I feel my dream is playing out very well so far and I am getting there one step at a time," 21-year-old singer Cleopatra Arigondia told ChinAfrica. "I feel this is the beginning of my dream."
Cleopatra, like the other 33 troupe members, is a winner of the DreamStar Zimbabwe Talent Show, an annual large-scale public welfare talent show organized by the Chinese community in Zimbabwe with the support of the Chinese Embassy there. Since its creation in 2014, the event has been successfully held four times, each time with a warm response from the public.
"The competition is very popular with locals and has become a local brand event where young people gain confidence and motivation because they can finally demonstrate their talents on stage," Executive Vice President of Zimbabwe Federation of Overseas Chinese and head of the troupe Zhao Ke told ChinAfrica.
Never give up
Unlike other talent shows in Zimbabwe, winners of DreamStar can take part in a number of follow-up activities, including a performing tour in China, and receive scholarships from Chinese enterprises based in Zimbabwe.
Cleopatra has been singing soft R&B music, as well as pop and Afro-pop, for the last five years. As part of the China tour, she performs the song You Raise Me Up, a touching and powerful R&B ballad that resonates with the audience.
Before their premiere in Beijing, Cleopatra and the troupe had already performed four shows in east China's Nanjing City. As a first-time performer in China, she was in for a surprise.
"It's different from what I am used to. In Zimbabwe, people are screaming and singing, the audience is more loud and expressive. Here, they are much calmer, but I like it. It makes me feel they pay more attention to what I am singing. It shows that they are taking note of the song's emotions," she said.
Going forward, the organizers plan to invite even more Chinese enterprises to support the show, enabling more Zimbabwean young people to pursue their dreams in China, said Zhao.
"Whether you're a girl or a guy, whether you're from a poor or a rich family, don't let that stop your dream. I grew up in a very poor family, and look at me now, I am in China. So never give up," said Cleopatra.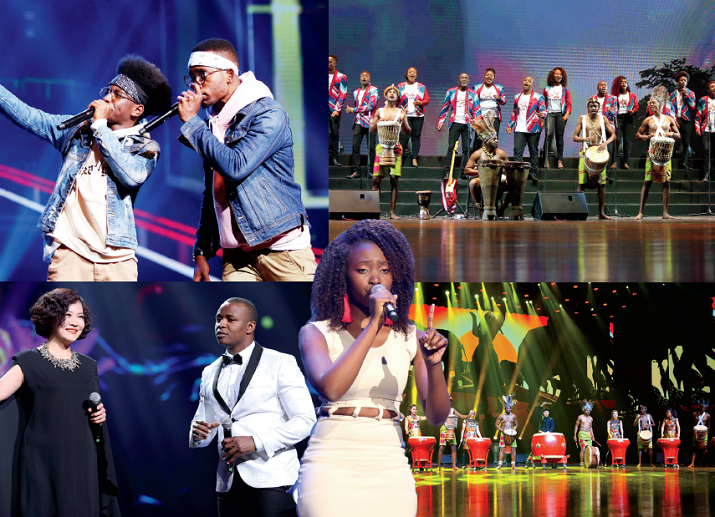 Inspiring experience
Tafara Dondo, 19, the grand winner of the 2016 competition, stole the show with his exceptional beatboxing skills.
"I have been beatboxing all my life. I could never really sing well, so when a song came up on radio, I would imitate the beat instead of singing. Over time it became a thing I did as a habit. Later, I looked up on YouTube and realized this is something recognized all over the world. I've been doing it for about five years now," he said.
This is Dondo's second trip to China, after his first tour in 2015, which made a lasting impression on him.
"It was mind-blowing. I would not put Zimbabwe in the same league as China. China is ahead of most other big countries, so when I looked at the place, how they operate, how efficient they are, it was pretty amazing," he said.
In addition to beatbox, Dondo is also a rapper. He writes his own songs and finds inspiration from his life and experience as a youth in Harare, Zimbabwe's capital. Will the young man draw inspiration from his experience here to write a song about China in the future?
"I definitely would. I think it would be a song about admiration and about how much I enjoyed my experience here. I think I will have a lot to write about," he said.
If all the artists have said they enjoy their experience in China so far, no one is happier than speed painter Keith Chituku. Once the tour is finished, the young artists will go back home to Zimbabwe, except for Keith, who will remain in China to work for a one-year internship.
"I am very excited to be given this rare opportunity. Art is a big part of my life and I am grateful to DreamStar for giving me the exposure. I was studying with National Arts Gallery and now I get to use my talent for something productive and beneficial to my family," he said.
"DreamStar is a very good bridge for non-governmental exchanges between China and Zimbabwe. We set up this platform to help young people to realize their dreams and broaden their career paths. At the same time, we are also nurturing ambassadors of Sino-Zimbabwean friendship," Chinese Ambassador to Zimbabwe Huang Ping, who attended the show, told ChinAfrica.