For some, football is about winning the game. But for Medard Privat Koya, football is all about winning friends.
Differences of color, language or origin disappear under the whistling, cheering and laughter, he said on the sidelines of a friendly game involving African and Chinese players in Shek Kip Mei Park in Hong Kong Special Administrative Region, in southern China.
"Whether we're from Africa, Europe or Asia, when we're playing football, we know that we can simply have fun, run, jump, and even fall together," Koya, born in the Central African Republic, told ChinAfrica.
Koya is the founder and coach of All Black FC, Hong Kong's first and only football club made up solely of Africans. The team currently has 30 players from 10 countries, including Nigeria, Somalia, Cameroon, Uganda and Liberia.
But beyond their African origins, something else unites the players: all of them are asylum-seekers who fled their country of origin to seek refuge in Hong Kong. Under each jersey lies a story of uprooting and exile, but also a strong desire to integrate and start anew.
The idea of setting up an African football club in China stemmed from a desire to help African asylum seekers interact with their host society and dispel negative stereotypes often associated with refugees, explained Koya.
"We use football to fight all forms of social and community discrimination by building bridges with the host community, regardless of origin, skin color, legal status or religion," he said.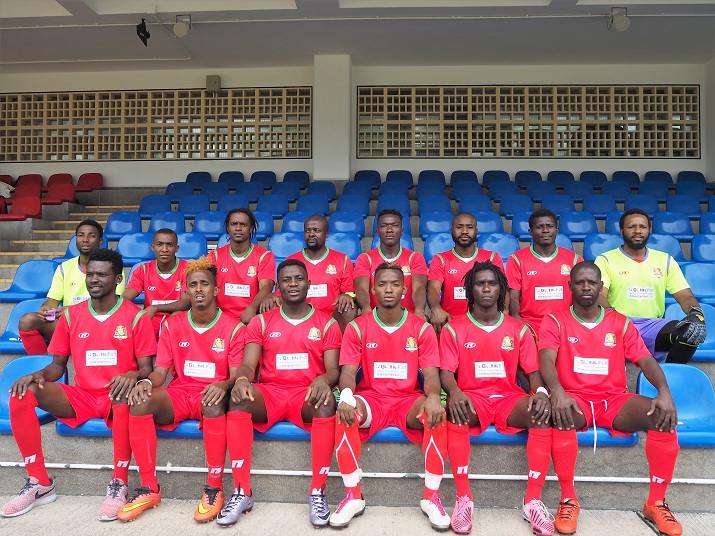 All Black FC players proudly wear their new red jersey
A common background
It all began three years ago, when a tragedy struck Koya's home country, who then worked as the head coach of Chelsea FC Soccer School in Hong Kong.
"In 2012, a war broke out in my country, the Central African Republic, and I heard that some of my compatriots had taken refuge in Hong Kong. I immediately contacted them to see how I could help them. Based on my personal experience here, I knew that they would have to face many hardships," he said.
Prohibited from finding employment and facing problems of exclusion and isolation, asylum seekers in Hong Kong often have to wait several years before their case is examined by the courts. Subject to despair and idleness, many refugees slip into apathy as the best years of their life are wasted.
It was then that the idea of using football as a method of integration was born. Koya first started organizing weekly matches with his compatriots. Other African refugees soon joined the team, leading to the official creation of All Black FC in May 2016.
"We believe in the power of football as a common language that can erase social, cultural and ethnic differences. We are all united in our joy and respect for life, and in our conviction that all humans are born equal," said Koya.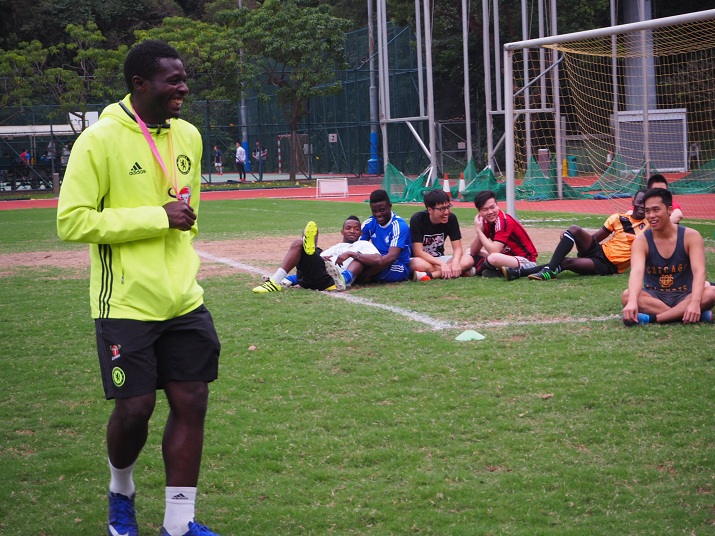 Medard Privat Koya during an exchange workshop with Chinese students
Hearts of lions
Since its creation, the team has proved its worth, winning several of his friendly matches against teams from the Premier League of Hong Kong. The club has forged its reputation as a fierce but always honest team, which is best embodied in their moto - "hearts of lions."
"Although we are not professionals, I do my best to provide our team with the best opportunities and excellent equipment. I want to value these people, I want them to feel special and know that no matter what people say or think of us as refugees or Africans, we are above all people that matter," said Koya.
The team trains three times a week with the support of Chelsea FC Soccer School, which supplies the equipment and helps the team book football fields. However, the club's potential remains limited. Without formal funding, All Black FC is unable to join a professional league and can only participate in friendly matches.
The composition of the team also creates unique challenges, according to Koya. Some players are Christians while others are Muslims, with notable differences in education, language and age.
"It's obvious that managing this kind of team is not easy. We must be patient and attentive to the players. But we are able to manage the club because we help them develop their sense of leadership and responsibility," explained Koya.
By uniting the players around a common goal, Koya was able to foster them a spirit of cohesion and solidarity. The football club has since become a kind of second family away from the African continent, said the players.
"All Black FC is the best platform for African refugees in Hong Kong to express themselves as individuals and showcase their potential as football players," said Koya.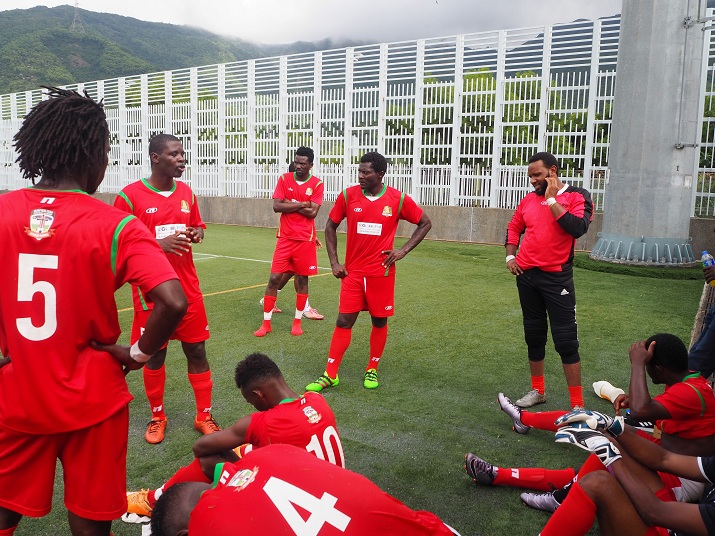 All Black FC players preparing before a friendly game
Off the field
Between two games, the team also conducts outreach activities in local churches and schools, like Hong Kong Baptist University (HKBU) and Lingnan University. In these workshops, players talk to students about their refugee status and share with them African food, music and culture.
"We want to show the local people that Hong Kong is our second home and that we are grateful to be welcomed here. Even if living conditions can be very difficult, we appreciate what we have and do our best to better integrate into society. The most important thing for us is to give the people of the city a good impression," said Koya.
Players were delighted by the positive feedback they received from Chinese students, who are curious to discover their culture. These friendly sports activities and cultural exchanges are an unforgettable experience for both sides, said Koya.
"When you choose to open up to others, everything changes. I hope we can continue to be ourselves and that Hong Kong will continue to be a multicultural city," said a student from HKBU, following an exchange workshop with All Black FC players.