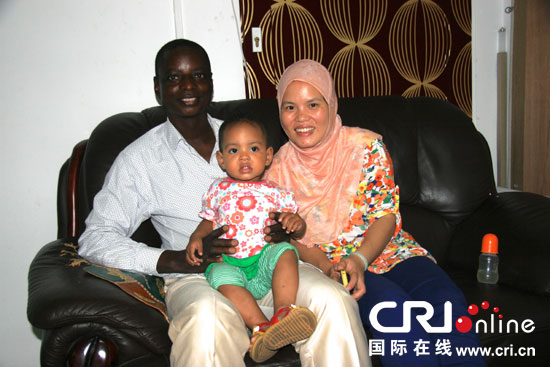 Zhong Liangxing's familiy photo (CRI)
Embracing our Differences
Chinese businesswoman Zhong Liangxing, married in 2011 to a Nigerian national.
I have been married with a Nigerian man for the past six years and we have a five-year-old daughter. We first met each other in an airline ticket sales company where I worked. Later, I resigned and went to work in my husband's foreign trade company where we fell in love.
The language barrier was the first problem we encountered. My parents and brothers could not speak English, so they could not communicate directly with my husband. Most of time, my parents were silent around him. In order to better communicate with my husband, I taught myself Hausa language.
The cultural differences have also been a big challenge. For example, I converted to Islam to better understand my husband. However, I feel he places too much emphasis on religion and worships many times a day, believing religion can change everything. Although I am now a Muslim, I still think it depends on human beings themselves to change things.
Different life habits are also a problem for inter-marriage between Chinese and Africans. As a Chinese, we have a tradition of being diligent and thrifty. But my husband wants to spend tomorrow's money today. I tried to change his spending habits, but it is in vain. In addition, my husband used to feel hen-pecked as I usually call him to find out where he is and what time he will be home. But he now understands me and knows I do that because I love and care about him. Love is blind and marriage should happen between people who really fall in love with each other. It does not matter whether they are from different religions, cultures, colors or social classes. Sometimes, embracing differen­ces is the best way to solve the differences.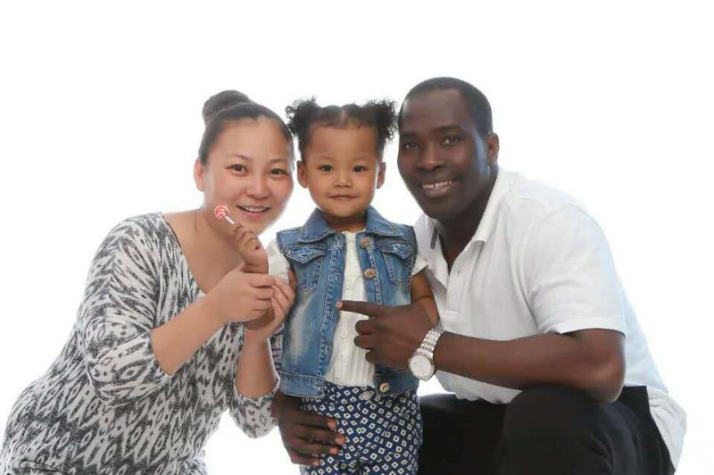 Edwin Mmari's family photo (courtesy)
Tolerating Family Contrasts
Tanzanian project manager Edwin Mmari, married in 2013 to a Beijing resident.
I have been in marriage with a Chinese woman for more than four years. I met my wife in 2011 while I was studying for my Master's degree at Renmin University of China and she was working at Beijing Capital International Airport.
We have been happily married for more than four years and have a three-year-old daughter called Emma. Although we love each other, we faced some difficulties in the beginning of our relationship mostly due to the language barrier and cultural differences.
Now I can speak good Chinese, but it was difficult to express myself fully to her in the beginning because her English was very poor. I remember the first time she took me to meet her parents, she had to act as an interpreter, which was very frustrating. The biggest challenge that I face in my marriage is my wife's parents want to control us and dominate key decision making. Based on Chinese culture, most of the children's decisions are made by their parents even after they are married, and thus my wife always shares everything with her parents. This is very different from marriage in Africa, where generally parents do not involve themselves much in their children's affairs to avoid any misunderstanding.
Another challenge I am facing is how to discipline our daughter. As an African, I grew up in the environment that teaches us to "spare the rod and spoil the child" which means I have my own way of disciplining the child. This is totally different from the Chinese way.
The discipline method back in Africa in most cases is to beat or yell at a child who misbehaves, but it is different in China. Most parents do not beat a child even though the child is impolite or misbehaving. I continually try my best to improve my Chinese language skills while teaching my wife English and Swahili language. Through this, we are reducing the language barrier. Also, I have tried to educate my wife and her parents about African culture especially when it comes to family decision making and child discipline.