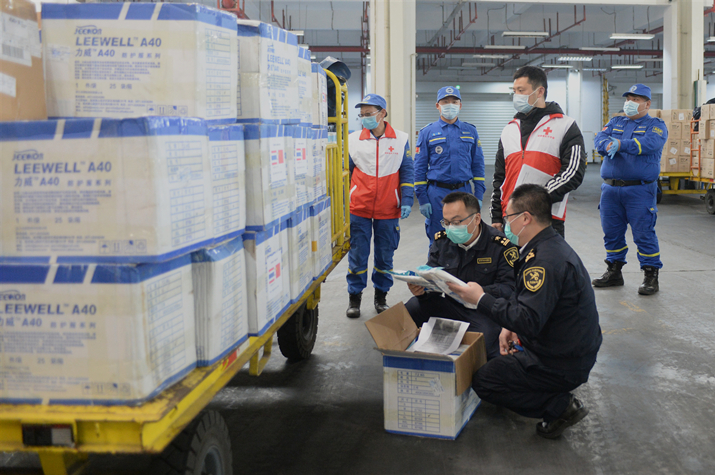 Customs officials inspect protective suits donated by foreign governments and companies at the Changsha Huanghua International Airport in central China's Hunan Province on February 3 (XINHUA)
It has been nearly seven years since Beijing launched its far-reaching and comprehensive global development framework, the Belt and Road Initiative, in 2013. The World Bank acknowledged the initiative as a "China-led effort to improve connectivity and regional cooperation on a trans-continental scale, through large scale investments."
Some estimates suggest that over $900 billion of financing in grants and concessional loans for the Belt and Road projects, has been, or is about to be, spent in more than 160 countries that make up 60 percent of the world population.
Unlocking trade
China's contribution to global economic growth from 2013-2018 on average was 28.1 percent, ranking first in the world. It is also the largest trading partner for more than 120 countries in the world. According to a report issued last July from the Mckinsey Global Institute, from a market perspective, depending on China's engagement with the world in the coming years, an economic value of between $22 trillion to $37 trillion could be added or subtracted to or from the global economy by 2040.
In the report, which analyzed 186 countries, China was found to be the largest export destination for 33 countries and the largest source of imports for 65 countries. In addition to its huge presence in trade, China has also grown over the years to become a major player in global investment flows. From 2015 to 2017, it was the world's largest source of outbound foreign direct investment and second-largest recipient of inbound investment, said the report.
At the center of further unlocking trade and enabling the strategic connectivity through which it could mutually and beneficially engage with the international community, the World Bank has acknowledged that the Belt and Road Initiative would reduce the time and cost of international trade. In addition, the initiative contributes considerably to shared prosperity and human prospects, despite the existing vicissitudes of the contemporary international system.
Africa has particularly charted a brilliant course by exploring opportunities presented by which are filling the gap of the continent's vacuum in building a network of critical infrastructure. These opportunities are opening key prospects in regional economies of scale and optimizing the comparative advantages of the respective national economies in the region.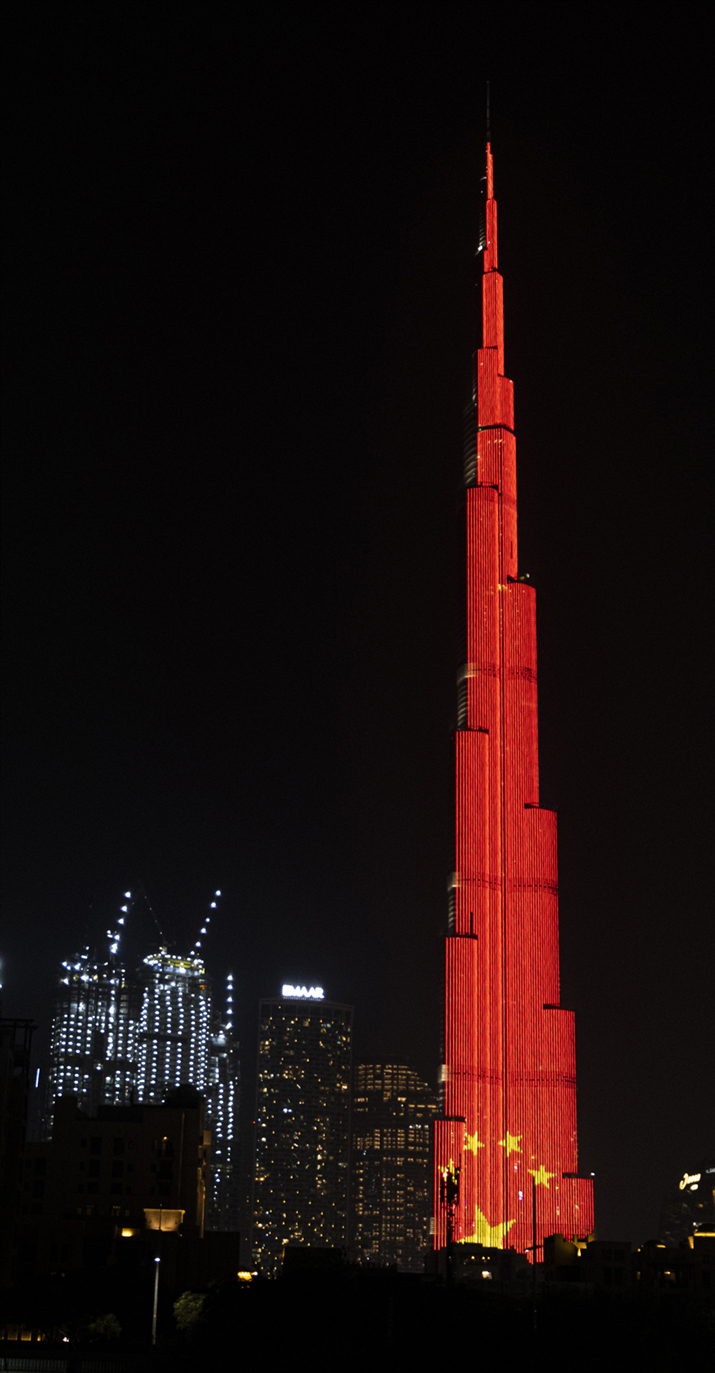 On February 2, the United Arab Emirates' landmark building the Burj Khalifa in Dubai is lit up in the color of Chinese flag, carrying a message of solidarity and hope (XINHUA)
Coronavirus reaction
There is no other international partnership with post-colonial states in Africa, that has brought tangible results and outcomes, like Africa-China cooperation, whose concrete institutional expression has been the phenomenal Forum on China-Africa Cooperation (FOCAC) founded in 2000.
With China's enigmatic engagement with the world and the prospects it portends, how would the international community react to the outbreak of the coronavirus, which surfaced last December and dominated world news from January?
The deadly virus that first appeared in Wuhan, capital city of China's Hubei Province, did not just threaten China but the entire global community. The World Health Organization (WHO) urged caution and restraint in reaction to the virus, and also gave Chinese authorities a clean bill of health in transparency and competence in managing and containing the spread of the virus, declaring that it was, "a public health emergency of international concern."
The WHO added that, "The only way we will defeat this outbreak is for all countries to work together in a spirit of solidarity and cooperation. We are all in this together and we can only stop it together. This is the time for facts, not fear. This is the time for science, not rumors. This is the time for solidarity, not stigma." Even with a clarion call for concerted international efforts to rein in the virus, some Western, and more specifically U.S. politicians, looked to take advantage of the epidemic. Speaking to Fox television, U.S. Secretary of Commerce, Wilbur Ross said that the outbreak would "give businesses another thing to consider when they go through their review of their supply chain," and "a risk factor that people need to take into account," cynically adding that, "I think it will help to accelerate the return of jobs to North America."
This attitude is certainly below the universal value of our common humanity.
Prepared for emergencies
For two consecutive years, China has organized two world import expos, bringing the opportunities of its huge market to the world, along with a range of reform measures to open its market even wider. A virus is actually therefore not needed to pull down the Chinese economy so that others can add jobs or other opportunities to their economies.
As the Chinese Ambassador to Nigeria Zhou Pingjian said recently at a dialogue forum organized by an Abuja-based Think Tank, "It is understandable that some countries have taken necessary and appropriate preventive measures." However Zhou added, "we disapprove of measures out of proportion," because "as the WHO insists, there is no pandemic yet and there is no reason for measures that unnecessarily interfere with international travel and trade."
Zhou further assured that guided by a vision of a community with a shared future for humanity, China is fulfilling its responsibility for the life and health of its own people and for global public health.
China's governance outlook is primed to anticipate emergencies using its huge national reservoir of human and material contingencies, which are always in place to deal with and contain these, before they disrupt social order and threaten stability.
Therefore, the outbreak of the coronavirus is not outside the realm of emergencies anticipated by the China's system of eternal vigilance.

(Comments to zanjifang@chinafrica.cn)