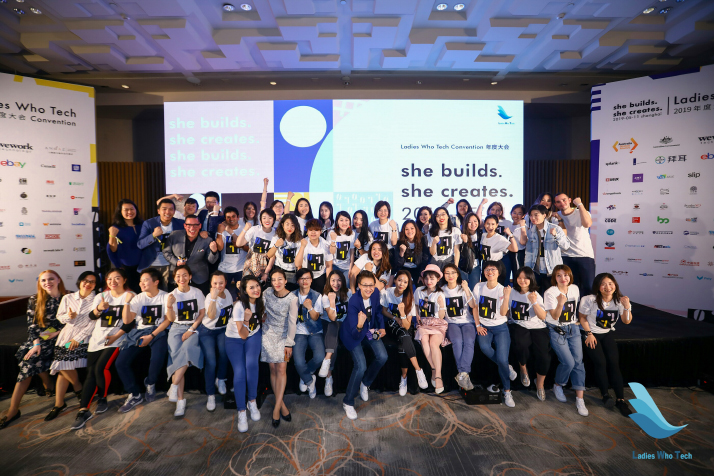 Jill Tang (front row, seventh from left) and Charlene Liu (front row, eighth from right) at the Ladies Who Tech 2019 Convention held in Shanghai on May 11, 2019 (COURTESY PHOTO)
Early 2020 will undoubtedly be an unforgettable period left in the memory of all Chinese people. Up until mid-February, a battle had been raging for several weeks: the one against the new coronavirus epidemic. At the heart of it, the silhouette of a woman in her 70s stands out among all – that of Professor Li Lanjuan, epidemiologist and member of the Chinese Academy of Engineering. She has already been on the front line, at the very forefront, before, when SARS broke out in 2003. Drawing on this experience, her team succeeded in identifying the coronavirus strain at the end of January.
It's true that the number of women scientists is on the rise today, but their role is often underestimated in reality. Therefore, on the occasion of this year's International Day of Women and Girls in Science, which, designated by the UN General Assembly in December 2015, falls on February 11 each year, UN Secretary General Antonio Guterres called for efforts to promote women and girls in science, saying that to rise to the challenges in the 21st century "requires dismantling gender stereotypes."
Charlene Liu and Jill Tang, co-founders of Ladies Who Tech, a social enterprise, are among those who have been striving to encourage more women to discover their potential in the world of STEM (science, technology, engineering and mathematics) by highlighting female role models, like Professor Li.
Tech has no gender
Born in Malaysia, Charlene Liu graduated in electrical engineering. She has 20 years of experience in the semiconductor and electronics industry. In September 2015, on the eve of her wedding, she attended an all-female technical conference in San Francisco in the U.S. More than 1,000 women working in STEM attended, including rocket specialists, computer scientists and engineers. She came out surprised of this event – and with the idea of organizing a similar meeting in China.
"We have Li Feifei, who was scientific director for artificial intelligence at Google before leaving her position there; we also have Jean Liu, President of Didi Chuxing," said Charlene Liu. "Who knows if the next big thing won't come from a woman? So, we should not limit ourselves."
Her idea came to fruition with the creation of the social enterprise Ladies Who Tech in March 2017, which she set up together with Jill Tang, a Chinese serial entrepreneur. The idea behind Ladies Who Tech is to "show everyone that women also have a role to play in STEM. If you put your mind to it and you want to be part of this world, gender shouldn't be a barrier."
Their calls are legitimate and well-founded. Women are underrepresented in STEM higher education, as shown in the OECD (Organization for Economic Cooperation and Development) report published in October 2017, titled The Pursuit of Gender Equality - An Uphill Battle. To date, women account for only 19 percent of the workforce in OECD countries. In addition, those who have entered the tech world are twice as likely as men to leave it.
"Companies need to understand that if they lack diversity, they will be missing 50 percent of the world's perspective. We aim to inspire women to take jobs in STEM fields, which are stereotypically pictured as masculine jobs," said Tang.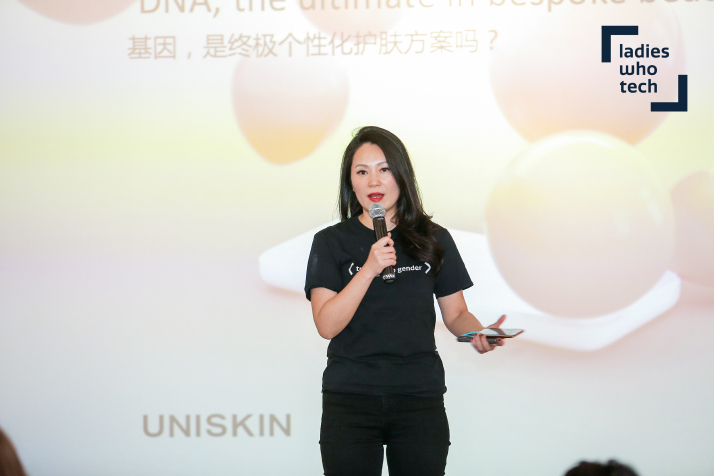 Jill Tang at an event in Shanghai on January 14 (COURTESY PHOTO)
Breaking the stereotype
But taking the first step is always the hardest part. In the first six months, they organized only two events. "We were just two people and we didn't really know where to start," recalled Tang. On the other hand, they are very experienced in building communities. Tang co-founded two other companies. Charlene Liu has over 10 years of experience in event management. They did market research to find out how to tailor different services to fit specific groups of women. They realized that they could partner with companies to launch their initiatives. This has proven to be a good lead as large companies generally have resources that allow them to reach their target audience, and many share their vision of diversity and inclusion.
Since then, Ladies Who Tech has regularly launched events in collaboration with large companies such as Bayer, an international life sciences company. They use these opportunities to highlight female role-models in the STEM world, like Celina Chew, former President of Bayer Group in Greater China.
"Women must take part in technology so that they can help to shape our future and also enjoy the benefits technology brings. The diversity that women bring to technology will generate more innovation and better solutions," Chew told her audience at a monthly Ladies Who Tech event.
Ladies Who Tech also aims to be a platform for women entrepreneurs in the STEM world. In fact, only 7 percent of startups created by women manage to receive the funding they need, and women's access to positions of management is quite limited, according to Tang. In the tech world, such obstacles are even more numerous.
Through its Founders Series, Ladies Who Tech tries to facilitate connections between technological founders, IT freelancers, partners and potential clients. At each event, two entrepreneurs share their journey of business creation, followed by startup creators pitching their projects in search of women co-founders.
An extended hand to Africa
Since its creation, Ladies Who Tech usually holds one event per month. Its community now brings together more than 30,000 people in Shanghai, Beijing, Chengdu, Wuhan, Xi'an, Hong Kong and Taipei, as well as in Singapore. Its dynamics make it a partner of the UN in its research on women in technology in China.
The social enterprise is also joined by volunteers. It currently has around 80 volunteers in eight cities. "It is amazing that Ladies Who Tech is based on volunteerism. The members are extremely dedicated because they are convinced that the fight against the prejudice that women are not good at tech will bring huge benefits in the future," said Radio Beijing International Anchor Chloe Liu.
One of these volunteers is Miatta Momoh, Director of Ladies Who Tech Beijing. She is also co-founder of Kente & Silk, a social enterprise shaping Sino-African relations. For her, volunteering with Ladies Who Tech is a great way to further enrich her experience in the STEM world. "Kente & Silk has developed platforms like Africa China Tech for Social Impact, so Ladies Who Tech has a good synergy with what we are building in China," said Momoh.
She said Beijing is a good source of African entrepreneurs, engineers and other STEM experts keen to showcase their work. Universities like Beihang and Tsinghua have also been influential in boosting the current pool of African STEM talent in Beijing. It is therefore easy for Ladies Who Tech to engage this audience and mobilize resources via the work Kente & Silk does in the Africa-China space.
Ladies Who Tech is currently expanding in China and Asia, but its two co-founders believe that Africa offers exciting STEM opportunities due to its varied and rapidly growing technology clusters in countries like Nigeria and Kenya. Momoh said she wants to support its future expansion in Africa. In fact, she has already had similar communities on the continent who are showing interest in potential future partnerships.
(Comments to lixiaoyu@chinafrica.cn)