Toyamara Da Vera Cruz is all ears when Peng Yansen, her teacher, gives instructions. Although she has extensive experience in farming herself, coming from a long line of livestock breeders, Cruz is now learning a new skill from Peng, a Chinese agricultural expert, how to produce organic fodder.
"I am very interested in the technique that the Chinese agricultural expert wants to introduce here and I am already using it on my family farm. Our livestock is growing best when fed with this more nutritious fodder," said Cruz, who works at the Animal Husbandry Directorate of São Tomé and Príncipe.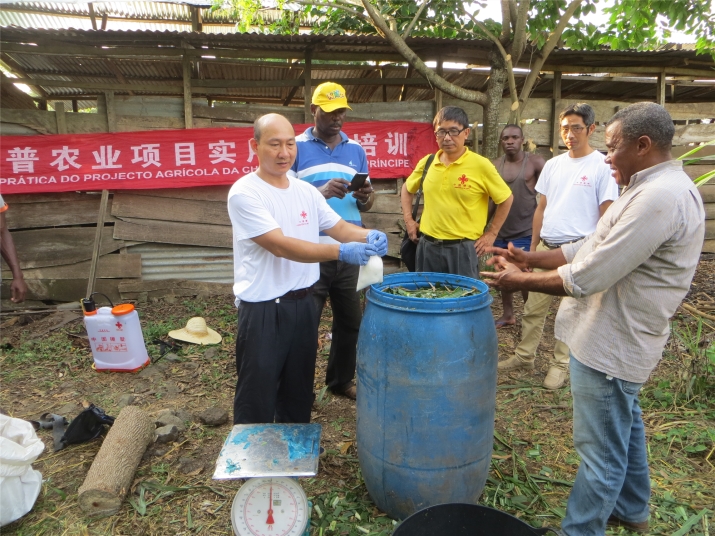 Peng Yansen (left) demonstrates how to produce organic fodder (COURTESY PHOTO)
Peng first arrived in São Tomé and Príncipe on May 5, 2017, as a member of a mission of Chinese agricultural experts dispatched to help the country develop its agriculture for a year. This agricultural cooperation project was set up at the island country's request following the resumption of its diplomatic relations with China on December 26, 2016.
Peng comes from Rongxian County of south China's Guangxi Zhuang Autonomous Region. In 2016, Rongxian County has been selected as one of China's first demonstration areas for green livestock farming, an organic farming method characterized by the use of organic fodder and fertilizers. Working at the Animal Husbandry, Aquaculture and Veterinary Bureau of Rongxian County, Peng researched the best methods to popularize the use of green livestock farming there.
"We want to replicate the success we had in China here in São Tomé and Príncipe. There have been many setbacks during the development of green livestock breeding in China, and we don't want to repeat the same mistakes here," Peng said to ChinAfrica.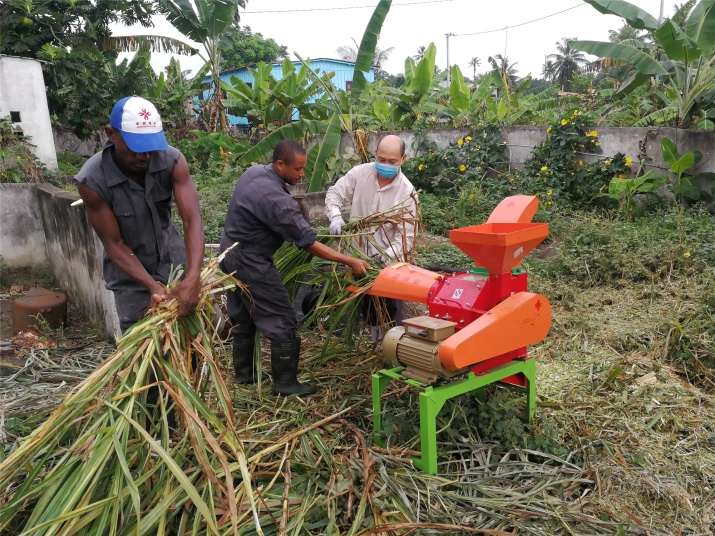 Forge grasses are being processed by the Chinese expert and his partners (COURTESY PHOTO)
Ecosystem protection
Livestock farming is closely linked to agriculture. After his arrival, Peng realized that the country needed to better develop its organic farming. Indeed, as an archipelago of islands, São Tomé and Príncipe's ecosystem is very fragile. It is therefore impossible to use chemical fertilizers for agriculture. The island of Príncipe has completely banned the use of pesticides. "Therefore, our cooperation on fodder production had to fit local needs and conditions," explained Peng. Organic fodder cultivation, he added, had to make full use local resources such as taro, maize, soybeans and fodder grass.
Farming development can go hand in hand with environmental protection. Peng used the same methods applied in his hometown. "It is a type of natural and ecological breeding. Fodder crops are grown without using pesticides or chemical fertilizers. All fertilizers come from fermented manure. Of course, this only allows for low production, but local people accept it because they are aware of the importance of protecting the environment," he said.
Moreover, according to Peng, it is not appropriate to produce fodder in an industrialized manner on a large scale on the island nation. On the one hand, local industry and industrial chain are too weak. On the other hand, the temperature on the islands is high and the climate is humid, which hinders conservation of fodder. "The fodder is likely to rot quickly. The cost of production is therefore very high," he added.
As a result, achieving local production of organic fodder using the islands' rich resources was a more appropriate choice. Following the country's independence in 1975, relevant experiments had already been carried out, but all of these projects eventually failed, mostly because of the lack of technique and government support. The introduction of new, locally-adapted techniques was therefore a more practical and realistic path.
Cruz now masters a whole series of techniques related to green livestock farming: She can cultivate, process and conserve organic fodder as well as manufacture nutritional packages, in particular crab-based fodder, which are so numerous on the islands. She is now able to fully meet the needs of her family farm, which means that she no longer has to buy fodder. Obviously happy with the results, she spares no effort to encourage other farmers to adopt the new techniques.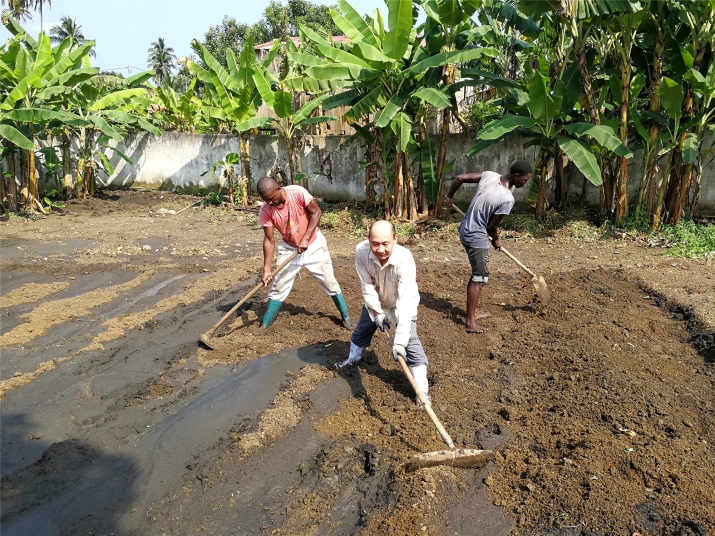 Using organic means to grow vegetables (COURTESY PHOTO)
A recognized process
In fact, the introduction of these new techniques in a foreign country did not initially go well. Inspired by the belief that it is better to teach people how to fish than only give them fish, Peng encountered some resistance among ordinary farmers as well as local organizations. Despite these issues, he did not back down and carried on his project. With government support, he started giving training courses to farmers and cooperatives. His first batch of "apprentices" went back to their communities and played the role of "seeds," convincing and training even more farmers. He also held green livestock demonstrations, with obvious results.
"Socializing with farmers in villages has become common practice for me. In different regions, I have different working approaches. For instance, in areas where taro is the main crop, I put more taros in the fodder ingredients," he said. To date, he has trained over 200 people and conducted more than 50 demonstrations.
The Animal Husbandry Directorate of São Tomé and Príncipe is also active in popularizing green farming throughout the country. According to figures released by the directorate, these new techniques could reduce fodder imports by 80 percent and increase the country's annual fodder production by about 50,000 tons, 20 times more than the volume imported each year. Livestock fed with such fodder could increase their current average weight by more than 20 percent.
People from Príncipe Island who have heard of Peng and his techniques even came to São Tomé to learn from him. Among them is Eduardo Male, head of local animal breeders' association. Seeing that greenhouses can help dry fodder more quickly while preventing it from rotting, he was quick to introduce this technique among members of his association. Facing a great demand from the inhabitants of Príncipe Island, Peng also decided to give courses via Internet during his spare time.
"Local fodder production is in line with São Tomé and Príncipe's agricultural development strategy and green livestock farming will give new momentum to local agricultural development," said Peng.
(Comments to: glj@chinafrica.cn)