Frank Opoku Acheampong had a dream as a young boy - to shoot for goal whenever possible. Today that dream is coming true, not in his native Ghana, but in faraway China.
After arriving in Tianjin, a major metropolis in north China about 30 minutes by high-speed train from Beijing, Acheampong was quick to showcase his skills, going from a "promising" to a "talented" player. Fans of the Tianjin TEDA football club where he plays often describe Acheampong as the new "Messi" - or Messiah - of Chinese football. It seems this is not mere partisanship when one takes a look at his performances on the field and impressive statistics.
In his first official match of the season on March 18 against Tianjin Quanjian F.C., which fielded Brazilian Alexandre Pato and Frenchman Anthony Modeste, Acheampong excelled by scoring three goals (in the 16th, 84th and 90th minute), thus bringing a victory (3-2) for his team. Acheampong was also on hand to score, allowing Tianjin TEDA to snatch two draws (1-1) from Beijing Guoan on April 6 and from Shanghai SIPG, leaders of the Chinese Super League, on April 22.
On May 6, he played an active role in Tianjin TEDA's victory against Guizhou Hengfeng (5-1) by scoring a double (in the 81st and 84th minute). Acheampong then delivered two assists in the same match, allowing Hui Jiakang, his forward teammate, to also score a double. In nine games played in the 2018 season, Acheampong has scored nine goals.
For many football fans, only the tightening of Chinese football's regulations in a bid to nurture Chinese native players prevented Acheampong from participating in all the 11 Chinese Super League games this season. According to the regulations of Chinese Football Association, the number of foreign players on the field should not be more than that of U23 Chinese players in each game.
Tianjin TEDA is currently ranked 10th among a group of four clubs each with 15 points, behind top clubs such as Shanghai SIPG and Shandong Luneng Taishan, current coleaders of the Chinese Super League with 23 points each.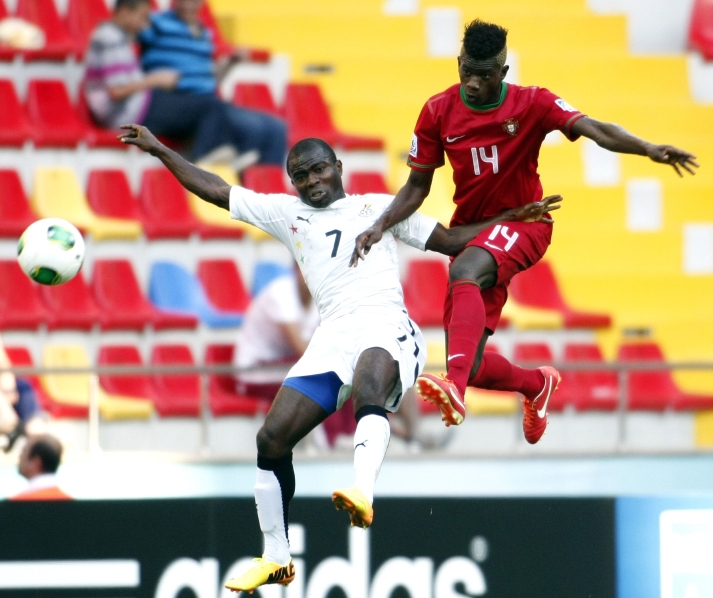 Acheampong (left) in action for the Ghanian national football Team in July 2013 (XINHUA)
Born to score
Waiting for the resumption of the Chinese Super League matches scheduled for July 18, Acheampong - nicknamed the "Ghanaian bullet train" because of his rocket-like running skills - says he is happy to play in China. Despite being an early fan of English football who dreamed of playing in the Premier League, he has already forgotten his failed transfer to Hull City in January 2017. Acheampong then patiently waited in Belgium for six months, until a golden offer came from China.
In July 2017, he finally left Belgium, accepting an attractive offer from the Chinese Super League. Tianjin TEDA offered him a contract of 300,000 euros ($350,000) per month, which is four times more than his previous paycheck in Europe. In the fast-paced world of football, this is an offer no one can refuse.
"I was able to make a good deal with Tianjin TEDA. If I manage my finances well, I won't have to worry about money anymore. My goal is that my friends and family also benefit from what I will have won. If they are happy, I am too," said the affable Ghanaian.
His move to China is coincidentally linked to his debut in the Ghanaian national team. It was during a friendly match on August 15, 2012, against China. He was just 19 years old at the time, but was already touted as the future star of the Ghanaian Black Stars. His team finished third at the FIFA U20 World Cup and became a finalist for the Africa Cup of Nations in 2015.
But no doubt, Acheampong will not be satisfied with that, both in his national team and in the Chinese league. His track record proves that the young player is hungry for glory. No sooner did he complete his football training and start his career with King Faisal Babes F.C. of Kumasi (2009-10) that he became involved with Berekum Chelsea (2010-11), and finished champion of Ghana. He then moved to Thailand, where he added to his trophy collection. With Buriram United (2011-13), he played 65 matches and scored 32 goals, winning the Thailand Championship Cup and Supercup twice each.
Having proven his worth, Acheampong then looked to new horizons to satisfy his thirst for trophies. He joined the Royal Sporting Club in Anderlecht, Belgium, where he played from 2013 to 2017. With the Mauves - as the team is nicknamed - this versatile left-footer played offensive midfielder in 165 games, scoring 22 goals and delivering 21 assists. That was enough to help his club win two Belgian Championships (2014 and 2017), three Supercups (2013, 2014 and 2017), as well as one King's Cup (2015). On this high note, he left Belgium for China.
In China, with the Tianjin TEDA, Acheampong was initially on loan for six months. His performance quickly convinced his managers to buy him. He currently figures among the best African scorers in the Chinese Super League, leading Cédric Bakambu (eight goals) and behind Wu Lei, who scored 12 goals in 11 games with the Shanghai SIPG. The duel to determine who will be the highest scorer is far from over, and everyone eagerly awaits the rest of the Chinese Super League season.
(Reporting from Cameroon)
(Comments to niyanshuo@chinafrica.cn)