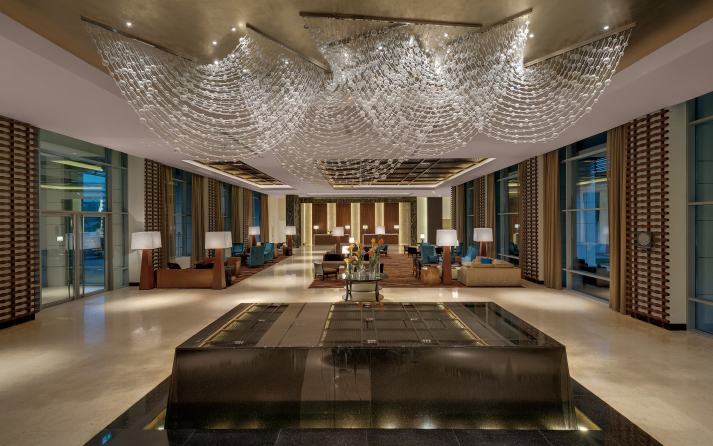 Kempinski Accra
The West African country of Ghana is not necessarily a destination featuring high on many people's bucket lists. But it should be, and not least for the capital Accra's vibrant art scene. The Kempinski Hotel in the so-called Gold Coast City of Accra has recently welcomed both local audiences and international visitors to discover their new Accra "Art Safari" experience. Based at this unique five-star property, the hotel acts as a hub for visitors to experience a journey of cultural and artistic experiences, available throughout the hotel and within the capital.
The hotel showcases its passion for promoting emerging talent through Gallery 1957, which is dedicated to contemporary art. The gallery presents a program of exhibitions, installations and performances by the country's most significant artists. In addition to this, the hotel has curated an art safari to guide visitors around Accra's most interesting art locations, allowing a deeper understanding of this fascinating and rapidly evolving art scene.
New art and design locations are being created and evolving incredibly quickly in Accra, such as Untamed Empire, a new concept store combining luxury fashion, art collaboration collections and design, one of the "African Centers of Excellence" created by the Songhai Trust. The art safari offers an insight into some of the incredible offerings.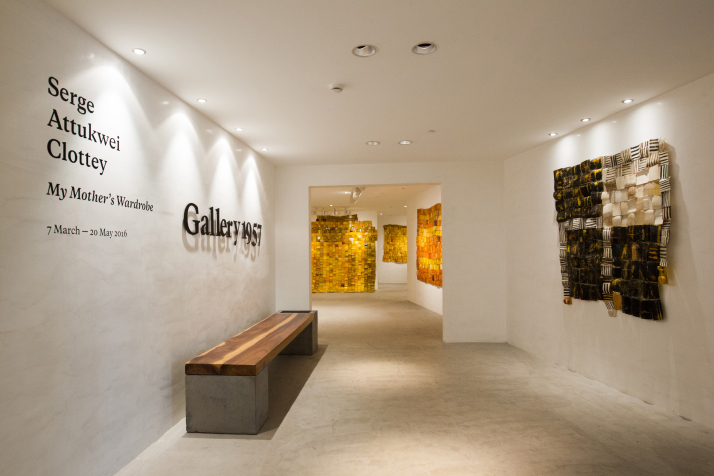 Serge Attukwei Clottey, My Mother's Wardrobe, installation view at Gallery 1957, Accra. Courtesy the artist and Gallery 1957. Photo Nii Odzenma
Gallery 1957
Starting within the Kempinski Hotel Gold Coast City Accra, explore the art work throughout the hotel before stepping into Gallery 1957. Gallery 1957 recently announced a four-month residency with mixed-media artist Florine Demosthene, which opened in November. This will be followed by a solo show of new works at Gallery 1957 in February 2018, marking the artist's first exhibition in Ghana.
Demosthene's work explores themes surrounding race and gender. The artist uses her own identity to re-evaluate the socio-political structures and conditions that surround black female sexuality and physicality today.
Also, Gallery 1957 opened a second space in Accra in September. A year after launching, the gallery's new expansion allows it to commission larger site-specific projects enabling their growing roster of West African artists to engage with an entirely new space. The new location is an exhibition and project space of 220 square meters in Accra's new Galleria Mall and compliments the gallery's existing location at the nearby Kempinski Hotel.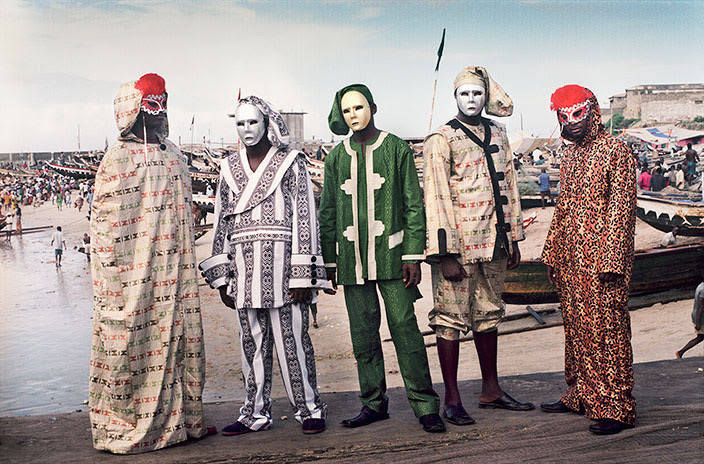 Godfried Donkor, Jamestown Masquerade XI, 2006, fine art print, 50 cm X 70 cm (paper size) and 40 cm X 60 cm (image size). Courtesy the artist
Nubuke Foundation
The Nubuke Foundation is situated in the leafy Suburb of East Legon and offers a space dedicated to the promotion of Ghanaian culture, heritage and history with art workshops, poetry and drama. Collaborations with the University of Ghana ensures fresh and interesting exhibitions whilst community programs help to encourage traditional art practitioners, design mentoring and young actors and poets who recite during the EhaLakasa poetry programs.
Accra's Artist Alliance Gallery
The Artist Alliance Gallery offers three floors of art and design to enjoy, overlooking the ocean. From established artists such as Owusu Ankomah to new up and coming artists, this space is a melting pot of imagination. From furniture and woven cloths to painted coffins shaped into crabs and Nike trainers, the various mediums offer a fascinating insight.
The Arts Center
Take a walk through The Arts Center, which offers carvings, baskets, fabrics and an Aladdin's cave of unique handmade items to work through. The accompanying art gallery showcases regional art at reasonable prices.
The Foundation for Contemporary Art
Established in 2005, FCA-Ghana offers a platform for the promotion and development of contemporary art in Ghana. Offering the most extensive art library in Accra, some of the collection was unfortunately destroyed, however the offering is still an important resource on the contemporary art, culture and history of Ghana.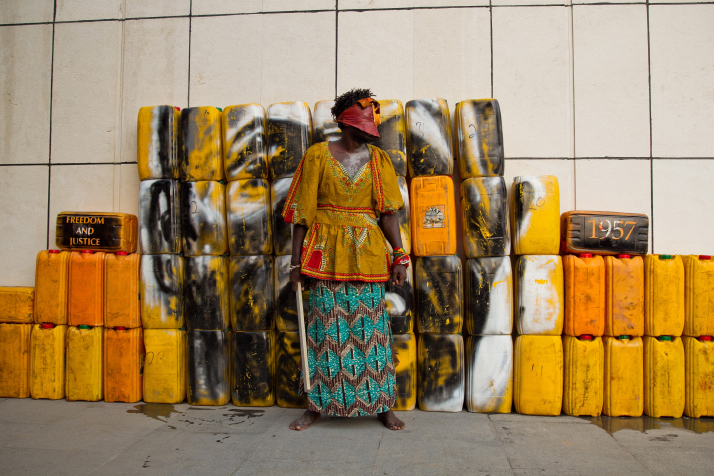 Serge Attukwei Clottey and GoLokal, My Mother's Wardrobe, performance at Gallery 1957, 6 March 2016. Courtesy the artist and Gallery 1957. Photo Nii Odzenma
Jamestown Tour
Explore Ghana's oldest suburb, set on the coast of downtown Accra. Jamestown boasts a fascinating history and vibrant local community. Brazil House is a restored museum and gallery and the center of modern youth art. This area is a hub of cultural activity with the Accra Dot Alt housed within Brazil House, a key space for emerging artists in Accra and the oldest photographic studio in Accra nearby. This offers the perfect space to enjoy rare and antique imagery of Ghana through the ages.
Kempinski Gold Coast City Accra (www.kempinski.com/en/accra/hotel-gold-coast-city) offers the guided Art Safari from $300 per group per day based on a minimum of two sharing, including entry fees, driver for the day (10 hours) and private tour guide.
About Kempinski Hotel Gold Coast City Accra
Located in the heart of Ghana's thriving cultural scene is the five-star luxury Kempinski Hotel Gold Coast City, Accra. The vibrant property features 269 incredible rooms, including 22 suites and two stunning presidential suites. Art is a key focus for the property and this is reflected in the unique pieces located throughout the hotel and in the independent contemporary art gallery located inside the hotel known as Gallery 1957.
Kempinski Hotel Gold Coast City (+233 (0) 242 436 000) offers rooms from around $300 per room, per night.
Getting there:
There are currently no direct flights available from China to Ghana but Emirates, together with Ethiopian Airlines offer stopover flights.