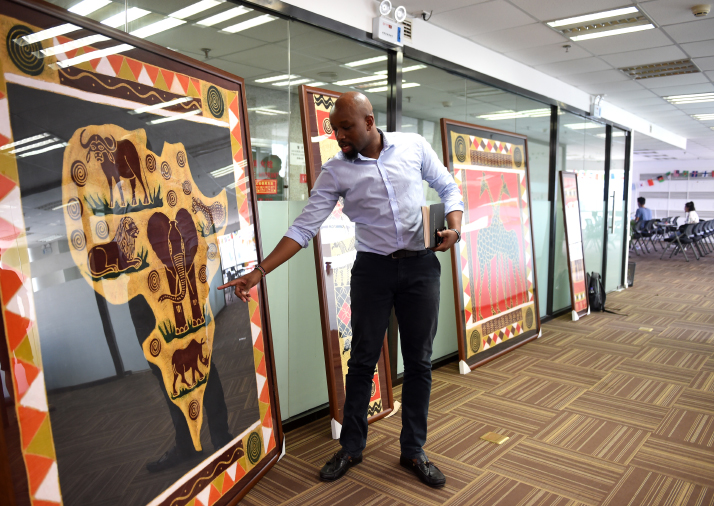 Kenyan young man Edwin Mwenda is busy preparing his startup in Beijing, in April 2018 (LUO XIAOGUANG)
Nowadays, entrepreneurship inspires those who want to carve out their own destiny and dream of changing the world. But they require a lot of courage and perseverance - especially for those who seek to do business in a foreign country, such as African entrepreneurs in China.
According to Denis Hulagu Zhong, International Cooperation and Industry Investment Promotion Team Manager with Beijing (Haidian) High-Tech Pioneer Park, a business incubator for Chinese and foreign entrepreneurs, with increasingly closer China-Africa relations in the past decade, more and more African people come to China to study and start up businesses. Many of them are in Guangzhou in south China's Guangdong Province. In addition, cities with flourishing business sector of east China's Zhejiang Province such as Ningbo, Wenzhou and Yiwu are also popular locations for Africans, as are the major cities of Shanghai and Beijing.
According to Amahah Justice, a researcher at China Service Industry Research Center of the University of International Business and Economics, thousands of African startups are now being operated in China.
Leveling the playing field
"While the United States is gradually slowing down its initiatives to attract and retain foreign entrepreneurs, China has stepped up its efforts in this regard," said Justice, adding that this gives African startups the opportunity to flourish.
This is a view supported by the World Bank. In its annual report Doing Business 2019, published in October 2018, the organization noted the efforts of China in improving its business climate last year. By adopting reforms, such as the streamlining administration, the country is now among the 10 countries that have made the most significant improvements in ease of doing business.
According to Zhong, it now takes seven days, on average, to start a business in China. At Beijing (Haidian) High-Tech Pioneer Park, the waiting period is only three days.
In addition, the market access threshold for services and manufacturing has been lowered, and procedures for foreigners have been eased in some regions, including the pilot free trade areas set up across China in recent years. First launched in Shanghai in 2013, the establishment of the pilot free trade areas aims to better integrate international business practices in China.
In these pilot free trade areas, the negative list is applied. All sectors are open to foreign investors, except for those on the list. China upgraded its negative list in late June last year, with the number of special control measures reduced to 45, compared to 95 in the previous list. Foreign companies now have easier access to sectors such as finance, transport, automotive, logistics, energy and agriculture.
The Foreign Investment Law, which was adopted in March this year and will come into effect on January 1, 2020, will see China's business climate further improved, said Justice. "Foreign investors will be able to compete with Chinese companies on a more equal footing," he said.
Cities like Changsha, in central China's Hunan Province, which has just hosted the First China-Africa Economic and Trade Expo, have even announced tax exemptions and government subsidies for high-end African entrepreneurs to start business there.
Talent factory
For Justice, who is also co-founder of three startups in China, language is the main obstacle for foreigners doing business in China. According to his observation, most policies are promulgated in Chinese. Foreign entrepreneurs therefore have to do more work to get the information they need, and the policies that the government seeks to continually optimize can also be difficult to track.
In order to overcome these problems, Justice proposed that competent department release policies related to foreign investors in several languages ​​(not only in Chinese and English) and from a specific digital portal to which foreign entrepreneurs would easily have easy access. Zhong also suggested African en­trepreneurs have in-depth research of the Chinese market before coming to China for investment. "Some of the sectors in the Chinese market are saturated, and it would be dangerous for African entrepreneurs to venture into them," he said. This is the reason why he recommended using the public business incubators that can be found in almost every Chinese city. These incubators are sponsored by local government and startups can use them free of charge.
Beijing (Haidian) High-Tech Pioneer Park, the startup accelerator that Zhong is working for, is one of these public business incubators. Founded in 1997, it was initially designed by the local government to welcome foreign-educated Chinese students with entrepreneurial projects. In recent years, the business incubator has begun to expand its services to foreign startups. So far, the startup accelerator has helped four African companies, including Kente & Silk.
Launched in 2018, Kente & Silk has developed a platform for consulting and event management, and has benefited from the support of the business incubator.
"Starting a business is a daunting task, no matter where you are. But Beijing represents a real opportunity because it offers an optimal market for our solutions," said Miatta Momoh, Co-Founder of the company, who came from Sierra Leone.
Her multicultural team has expertise in the areas such as business consulting, financial analysis and marketing, to name a few. In spite of its wide range of skills, the young company encountered several obstacles during its early stage, like the opening of a bank account and registering the company, which were then solved with the help of the business incubator.
"We were able to use the business incubator's 30 years of experience and valuable resources," said Momoh. "They also provided us with free working space and appliances such as a refrigerator and a microwave. We feel at home there."
Besides providing services in training, consulting, translation and other administrative formalities, the business incubator, which hosts more than 600 startups now, can also connect the businesses to each other. "If our African entrepreneurs tell us what the market needs on the continent, we can help them find Chinese partners," said Zhong. The incubator regularly organizes activities, which serve as brainstorming sessions among the startups to assess the development of the Chinese market and its evolution.
Two target markets
Kente & Silk's business is mainly about providing advice to small and medium-sized enterprises, social enterprises and African startups looking for business and partnership opportunities in China. The company also organizes events centered on Africa, such as the Africa Week. This May, it held the Second Africa Week in Beijing. Eleven interactive activities held at the event enabled more than 1,000 people to celebrate African cultures in China. The company is also planning to send its team to Rwanda, where it will present its services to young academics and professionals through an immersive and powerful demonstration of sustainable development in one of the most dynamic economies in the world.
"Through this platform, we seek to build a community, to have a positive impact on relations between Africa and China, and to promote a better understanding culturally," said Momoh.
Enriching China's consumption patterns is also a boon to many African entrepreneurs, said Zhong. "With the rise of the middle class in China, the needs of consumers have diversified. Selling products or services with a specific African touch can be a good idea for startups," he said. This is the case of Nani's Creations.
Launched almost three years ago, the company specializes in jewelry and accessories made from African fabrics. Its founder Yaa Anima Opare Appiah, who is commonly known as Nani in China, left Ghana in 2014 to continue her studies in Beijing, where she now works as an environmental engineer. She runs her business in her spare time with her husband.
To make her products, Nani uses fabrics from Africa. "When you buy at Nani's Creations, you do not just buy a jewel, but a continent with its cultures, diversity, integrity and qualities," she said.
For Zhong, the African originality is exactly the factor that must be highlighted to succeed in this sector. "Cultural diversity is more visible through globalization, and vice versa," he said.
Tracks to follow
Zhong and his team advise entrepreneurs to think outside the box. "Today, to survive the competition, you need to have a more inclusive vision: Your teams can be made up of Africans and Chinese; your markets can be in China, the Middle East and Africa. Do not restrict yourself to a given framework," he said.
To illustrate his idea, he cited the case of Africave, another African startup from Beijing (Haidian) High-Tech Pioneer Park. The company offers young Africans access to technical training. Once the training is completed, the young people are put in contact with Chinese companies located in Africa that are looking for qualified local workers. "In this case, the target customers are Chinese companies in Africa," he said. "The business model of entrepreneurship has therefore moved from version 1.0 to version 2.0. We are no longer just exporting from A to B, but rather A+B to C."
This view is shared by Justice, who said the market environment in China is favorable for African entrepreneurs to do business at the moment.
"[When you arrive in a foreign country to do business], you assimilate to the culture, learn the language, build your networks, respect the laws, and your business will do well. The promising sectors [for entrepreneurs to do business in now] are renewable energy, block chain, artificial intelligence, financial technology, medical science, education, e-commerce and 3D printing," he said.
On a more personal level, Nani shares her experience. "Failure is not definitive. We must accept to live it as a necessary step in the construction of our success," she said, adding that a business should never compromise on quality, because that's what sells.
As for Momoh, she offers entrepreneurs the opportunity to research and visit innovation hubs like Beijing. She also encourages them to be open-minded and patient in a constantly changing environment.
Momoh said she is delighted to be able to help more African companies grow their own businesses through her company's platform. "This is an excellent extension of our consulting business and we look forward to facilitating access to the Chinese market."
(Comments to lixiaoyu@chinafrica.cn)