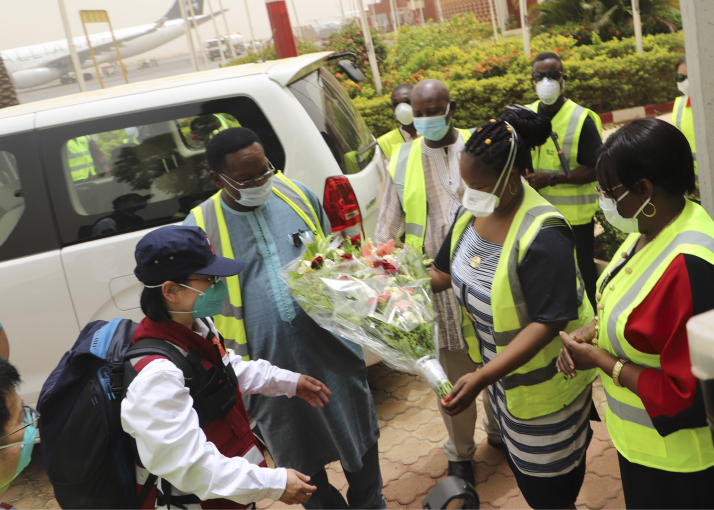 A Chinese medical aid team arrives in Burkina Faso to assist with the fight against COVID-19 in the country on April 16 (XINHUA)
After Sao Tome and Principe confirmed its first four COVID-19 cases on April 6, there were only two countries left in Africa that had zero confirmed cases: Comoros and Lesotho.
In the African countries with positive cases, the numbers continued to climb. By April 16, South Africa, Egypt, Algeria and Morocco each reported over 2,000 cases, according to the Africa Centers for Disease Control and Prevention, with a combined death toll from the pandemic reaching 910 and confirmed cases reaching 17,247 across the continent.
The World Health Organization (WHO) also warned of the rapid spread of COVID-19 to rural parts of Africa, hence threatening to put a strain on an already fragile health care infrastructure.
"Tackling cases in rural areas that often lack the resources of urban centers will pose an immense challenge for the already strained health systems in Africa," said Matshidiso Moeti, WHO Regional Director for Africa, on April 9.
Although the current numbers of confirmed cases and deaths are small compared to those of Europe, America and Asia, there are concerns about possible unidentified cases due to limited testing capacity. It has happened in multiple countries that the number of confirmed cases spiked as more tests were done.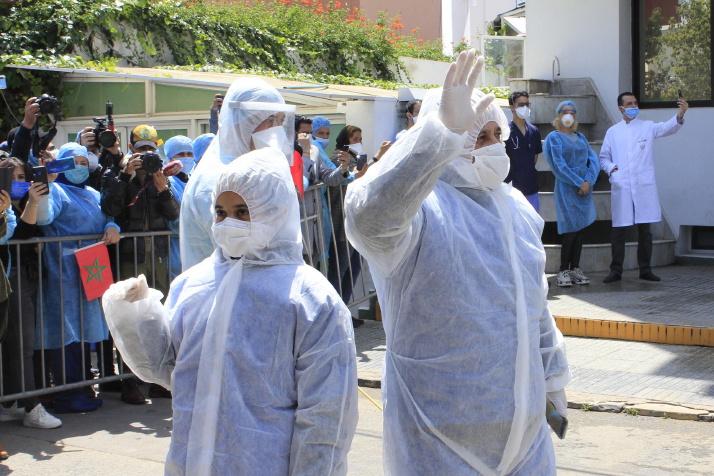 Recovered COVID-19 patients leave a hospital in Casablanca, Morocco, on April 14 (XINHUA)
Another concern is the continent's ability to admit patients in case of a large outbreak. When hospitals are overwhelmed, death tolls rise as has been seen in several European countries.
"There is a critical shortage of treatment facilities for critical cases of COVID-19 in Africa," said Moeti.
To contain the spread of the disease, intensive measures are being taken on the continent. Laboratories are being built to expand testing and nationwide lockdowns have been implemented in many countries, with international and domestic flights and major events suspended.
In Cameroon, dozens of people were arrested on April 13 and 14 in the country's commercial capital Douala for disregarding guidelines on fighting COVID-19 in the country. The government has made wearing face mask compulsory, banned gatherings of more than 50 people and ordered bars to close by 6 p.m., as part of the measures to curb the spread of the virus.
For its total five weeks of lockdown, South Africa banned the sale of all alcohol and cigarettes, in line with security and health issues, and people's movement is restricted to essential reasons like buying groceries, going to banks and medical care.
"We shall defeat this virus by protecting our people from its rapid spread. You have seen how much damage coronavirus has caused in other countries. We should not allow that to happen here," said Ugandan President Yoweri Museveni on April 14, after announcing the extension of the nationwide lockdown for 21 more days to contain the epidemic.
China has been standing with Africa in its fight against the pandemic, sharing experience and shipping in medical and protective supplies, along with donations of funds. On April 16, the Chinese Government sent medical teams to Burkina Faso and Ethiopia to assist with the fight against COVID-19 in Africa.
(Print Edition Title: Red Alert)
Comments to hufan@chinafrica.cn