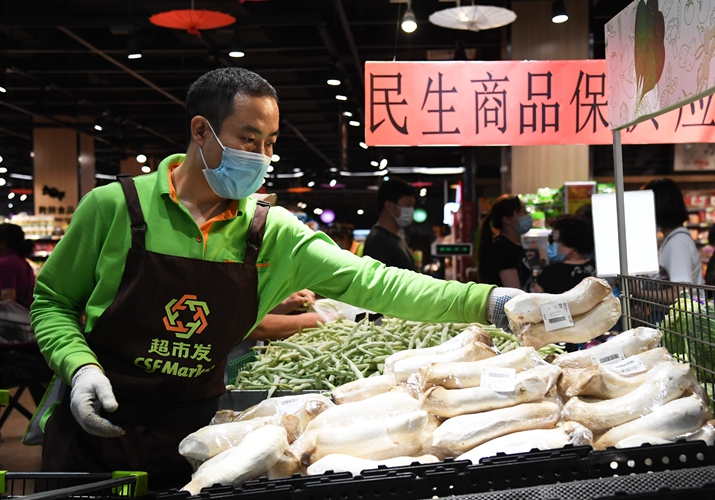 A worker puts vegetables on shelves in a supermarket in Beijing on June 14 (XINHUA)
There was no sense of panic when Xinfadi, Beijing's premier wholesale market for fruits, vegetables, meat and seafood, which supplies 70 percent of the vegetables for the city's more than 20 million residents, was shut down on June 13. Cases of COVID-19 infections were the cause for the unprecedented move and they came almost two months after Beijing's last reported cases. Though some communities saw isolated incidents of empty vegetable shelves in supermarkets in the first two days after the suspension of the market, no shortage of vegetable supplies or drastic rise of vegetable prices were seen in the city in the following days.
At a press briefing held on June 15, Wang Hongcun, spokesperson of the Beijing Municipal Commerce Bureau, revealed how the city managed to safeguard its "vegetable baskets." According to Wang, after the wholesale market was shut down, additional temporary distribution sites were set up to partly replace the market, while other smaller wholesalers and major supermarket chains increased their vegetables stocks.
Communication went into overdrive as 494 vegetable distributors of wholesale markets coordinated with dealers in secondary markets, and vegetable suppliers and super markets/restaurants revised logistics so that supplies could be quickly found whenever there was a shortage. In addition, a quick response mechanism was established to identify a shortage of supply in neighborhoods, with dedicated vehicles on standby.
On June 14, the Beijing Chain Store & Franchise Association launched an initiative, calling for the city's key retailers to commit to stabilizing the market with sufficient supply and stable prices. The initiative was joined by over 20 retailers, including the city's 18 major supermarket chains. They promised that there would be no price increase for the 10 most frequently purchased vegetables.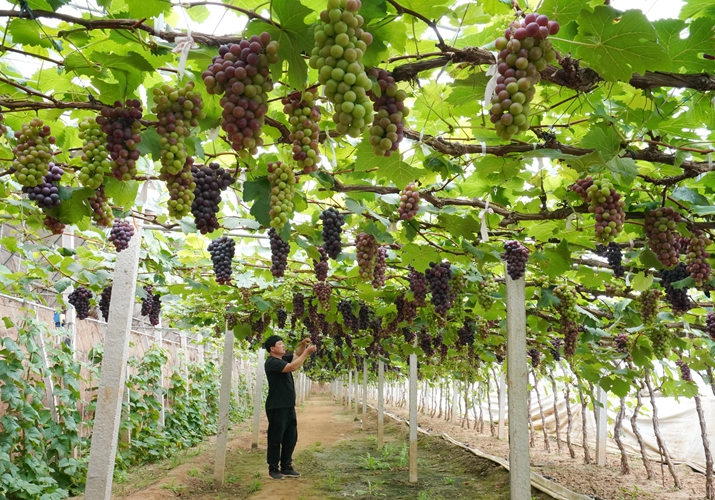 A farmer works in a grape planting base in Qinhuangdao, north China's Hebei Province, on May 3 (XINHUA)
Joint efforts
Meeting the daily needs of the people has been part of China's efforts to ensure people's livelihood since the epidemic hit China. Other efforts include raising subsidies to the disadvantaged and jobless people and maintaining stable prices of necessities.
Top of the agenda was employment, which "is pivotal to people's livelihood," said Chinese Premier Li Keqiang when delivering the government work report at the annual Two Sessions on May 22.
Support was provided to businesses, especially micro, small and medium-sized businesses, which hire most of the country's working population. Measures included cutting taxes and fees, reducing production and operating costs and increasing financial support. To help people make a living during the epidemic, permission was given by local governments in many cities to set up temporary booths at designated areas.
At a State Council meeting on June 18, the premier announced the plan to promote China's financial institutions to surrender 1.5 trillion yuan ($212.1 billion) of their profit to businesses in 2020. This will be achieved by means such as lower interest rate and less bank charges. He urged the financial institution to bear in mind that "helping clients means helping themselves."
Not all the assistance was led by government; companies and individuals played their part, too. Xia Hongrong, President of a mall in Wuhan specializing in hairdressing and beauty products, exempted its more than 200 vendors from one-month rent, which amounted to about 20 million yuan ($2.8 million), though the mall itself was suffering great losses. "We need to help these vendors survive the epidemic if we want the mall to survive," he told local media.
According to the National Bureau of Statistics (NBS), China's CPI increased 2.2 percent year on year in May, showing a decline in terms of growth rate for three consecutive months starting from February. Prices of major foods such as pork, eggs and vegetables decreased than the previous month. Behind the decrease was an emphasis on agricultural production, according to the bureau.
Employment is facing a more severe challenge. Although China recorded an unemployment rate of 5.9 percent in May, a slight decrease than the rate of the previous month according to the bureau, the pressure remains high considering that new urban jobs created in the first five months of 2020 were 1.37 million fewer compared to the same period last year.
On May 29, in a joint statement, the Ministry of Human Resources and Social Security and the Ministry of Finance expanded the coverage of unemployment insurance to include migrant workers who have paid premium for less than one year. In addition, subsidies is provided to those who fail to get reemployed in the time span covered by the insurance.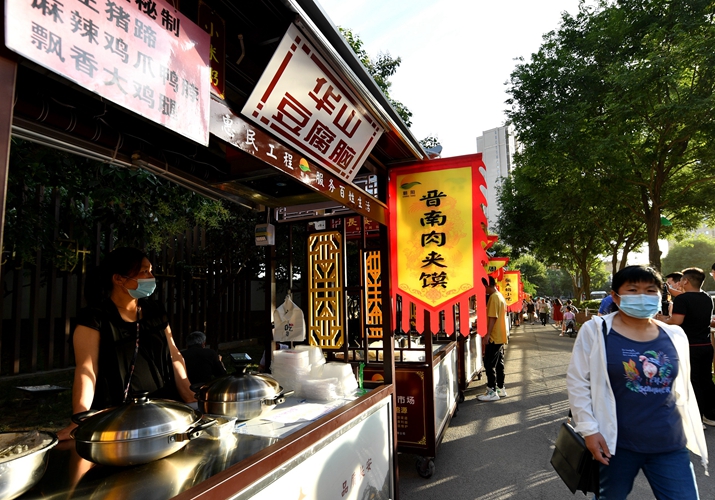 A vendor sells food in a temporary booth in Xi'an, northwest China's Shaanxi Province, on June 2 (XINHUA)
Staying employed
If it were not for the COVID-19 epidemic, He Yalun would have realized her dream. A fan of deserts and flying, she quit her last job and became a stewardess of EGYPTAIR at the end of 2019 and had just finished her training when the epidemic happened. Before she had the chance to welcome her first passengers onboard, flights were suspended.
She has since been homebound living off a basic salary, with no idea when she can get back to work. Currently, very few passenger flights between China and African countries are operating. Like many other airlines, EGYPTAIR has repurposed most of its passenger aircraft to carry cargo, and its major mission is to deliver anti-epidemic supplies to Africa.
China tightened restrictions over flights entering the country when the prevention of inbound cases of infection became a focus in epidemic control. Though a policy was released on June 4 by China to allow additional flights for routes that brought no cases of infection in the country for three consecutive weeks, the total number of flights were not enough to allow staff like He to get back into the skies.
Earlier this year He was told that the company didn't lay off its employees even at the most difficult of times, but she is not sure whether she can keep her job if the epidemic goes on. "I really like the job; I don't want to lose it before I have experienced it," she told ChinAfrica.
While the unemployment rate has dropped, it remains a challenge that many people like He are not "fully employed." According to the NBS, about 1.2 percent of those employed in China were not working in May, and the average working time per week in the month of company employees was 12 minutes less than the same period of last year.
Apart from the airline business, the same situation can be found in several other sectors that are far from being fully operational. Employees of the film industry, for example, are living with salary cuts as there is no sign of cinemas reopening since they were closed in late January.
If there is a positive side to this, it is the increase in free time at workers' disposal. He used the time to improve her language skills and knowledge about Africa. She is even thinking about furthering her studies and adding more qualifications to her resume.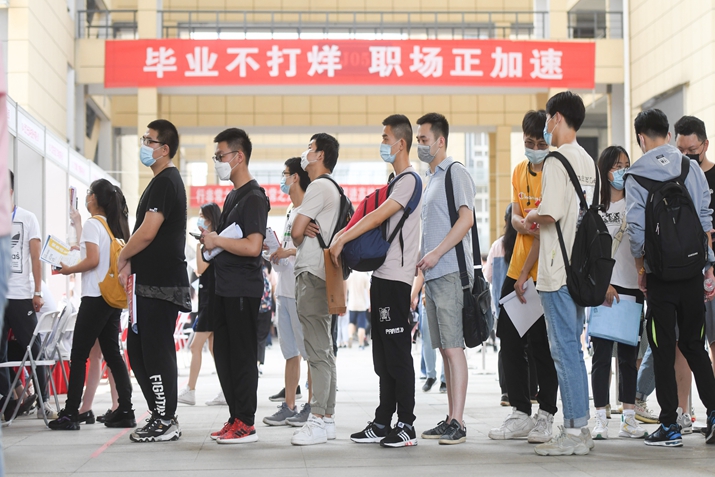 Job seekers at a job fair in Jinan, east China's Shandong Province, on May 28 14 July (XINHUA)
Finding a job
Jobs are most desperately needed for China's 8.74 million new college graduates joining the job market this year. As fewer jobs are offered by employers who are uncertain about the economy, and anti-epidemic measures make it difficult to hold job fairs, graduates are facing one of the toughest graduation seasons ever.
According to a report by BOSS Zhipin, an online recruitment platform in China, the spring season saw an increase of 56 percent in active graduates on its platform and a 22-percent drop in openings than last year.
On May 25, the School of Journalism and Communication of the South China University of Technology, one of the top universities in South China, released a proposal to its alumni calling for help with employment. The letter said that the employment rate of the school's graduates of 2020 was only 35.17 percent on May 25. In the past years, the employment rate of its graduates was 96.27 percent on average.
Measures have been taken to add more options to a shrinking job market. To ease the imminent pressure, for example, China's Ministry of Education announced a plan on February 28 to admit an additional 189,000 students to post-graduate education. Online job fairs have been held and support has been provided in terms of procedures for graduation and employment.
In Hubei Province that was especially hard hit by the epidemic, graduates are facing an even more difficult situation. With more than 100 institutions of higher learning, the province had one of the largest numbers of college graduates in China. A lengthy of lockdown and economic stagnation in the province have increased the pressure on employment.
On April 8, the Ministry of Education released a document, encouraging universities nationwide to offer one-to-one help to Hubei's universities. In response to the call, Peking University in Beijing made a framework deal with Wuhan University, under which joint job activities were held and resources of the two universities were shared.
Within a month, four joint online job fairs were held bringing more than 4,000 job opportunities to over 10,000 students. Career planning courses and training, as well as career consultation services, were also shared online.
On June 15, Wuhan University held its first offline job fair of the year with necessary epidemic prevention measures. Attended by 59 employers offering about 2,500 jobs, the fair was a much needed opportunity for many graduates already behind schedule in terms of securing a job offer. Over 1,000 students attended the fair.
Vaccine progress
On June 17, He of EGYPTAIR saw a notice from an air service company that a vaccine has proven to be safe in phase II clinical trials and available for emergency use. Priority is given to those with a high risk of exposure to COVID-19, such as people working at transport terminals, but others could also apply for a shot.
The COVID-19 vaccine was developed by SINOPHARM, a leading pharmaceutical company in China. It was the world's first anti-COVID-19 vaccine to start clinical trials. At a review meeting on June 16 for its phase I and II clinical trials, attended by experts from China's State Council, it was announced that the vaccine was highly effective with zero cases of severe adverse effects to date.
It is one of the five vaccines developed by China that have been approved to conduct clinical trials. According to the Ministry of Technology and Science, by June 19, three of these vaccines have completed phase II clinical trial.
Though she is not eager to get herself vaccinated right now, He is excited about this big step forward to ending the epidemic and starting her dream life.
(Printed Edition Title: Putting People First)
Comments to hufan@chinafrica.cn