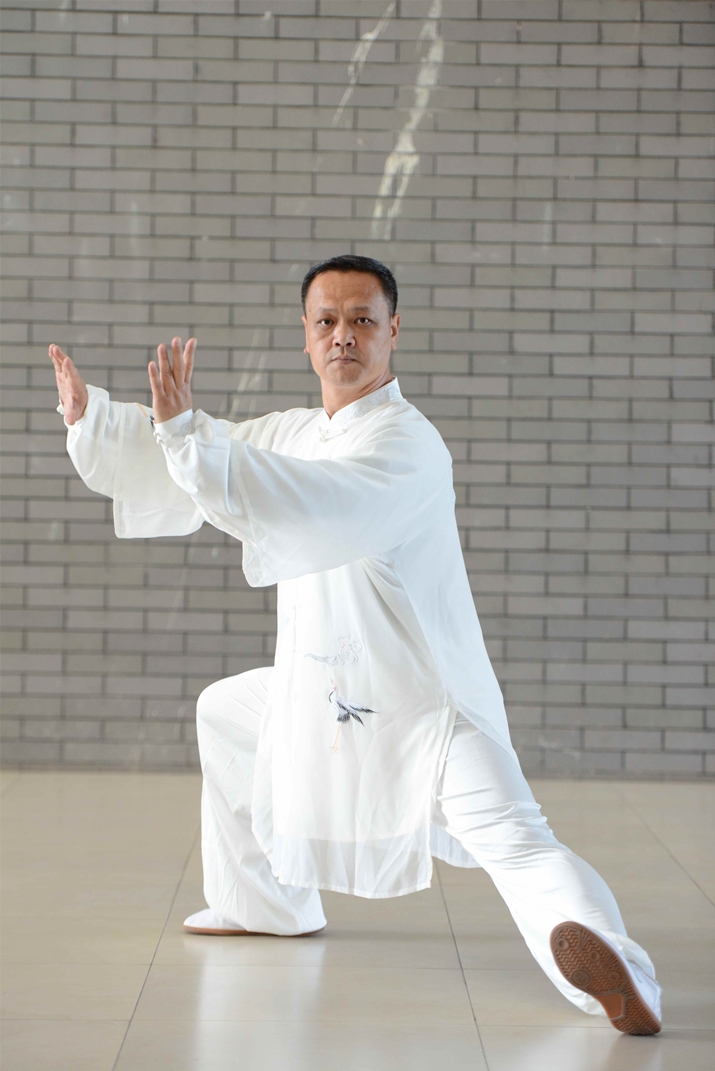 Zhou Qingjie (COURTESY PHOTO)
In order to teach the basic techniques and skills of Taijiquan to martial arts enthusiasts and practitioners, the International Wushu Federation (IWUF) opened a series of cloud classes in December 2020. The course was taught by Zhou Qingjie, a professor and Director of the Sports Exchange and Research Center of China Foreign Affairs University (CFAU), while an African student was invited to assist with the demonstration.
"Eyes need to follow the movement of the upper hand. Keep hands at the shoulder level. Step to the right side. Keep the left palm down. Move slowly. Breathe in and breathe out deeply... " Zhou instructed. An hour of a livestreaming class passed quickly.
"Online teaching has become a trend during the epidemic. Compared with the traditional in-person classes, it is more convenient and efficient. People can watch a video repeatedly to learn and review," Zhou said.
For Zhou, Taijiquan is not just a physical exercise with benefits for health but also the representative of Chinese martial arts, which contains profound and excellent traditional cultural wisdom and needs to be better inherited and promoted. Over the years, he has put this idea into practice by teaching martial arts to foreigners, organizing international students to participate in various martial arts competitions held in China, and organizing international martial arts exchange activities, so as to promote Chinese martial arts culture.
A devotee of wushu
Zhou was born in Peixian County, Jiangsu Province in east China, where practicing wushu has been prevailing since ancient times. In 1979, at the age of 7, Zhou began to learn wushu from his father.
He was a super fan of Bruce Lee, a martial arts master and kongfu star in the 1970s. Obsessed with the movies featuring Lee such as Fists of Fury, Zhou often imitated his idol's moves. On the walls of his room were posters of Lee, which inspired the young boy to practice hard to be a "hero" with excellent kungfu skills.
"I practiced Shaolin Boxing, Xingyi Boxing and other martial arts under the supervision of my father," Zhou recalled. "He was very strict with me and I practiced every day. My family gave me full support and helped me make wooden stakes, sandbags and other wushu equipment," Zhou said. With daily learning and practicing, Zhou has been more and more fascinated by the charm of the Chinese wushu.
In his eyes, the most important part of Chinese wushu is that it values virtue most. He takes the Chinese character wu for example, saying that this character is actually a combination of two Chinese characters, which are zhi and ge, literally meaning stopping and wars respectively. It means to stop all violence and wars. "So in my opinion, the essence of Chinese wushu is to pursue peace and harmony," he said.
Zhou started practicing Taijiquan at college. Before that he, like many others, thought that Taijiquan was a sport for senior people. But as he knew more and more about it, he has gradually fallen in love with this sport.
"I was deeply attracted by the subtle skills and profound culture of Taijiquan," he said. "On the road of my exploration of this sport, I gradually caught the true meaning of practicing Taijiquan, which is to cultivate one's disposition and a virtue of perseverance and courage to go beyond oneself."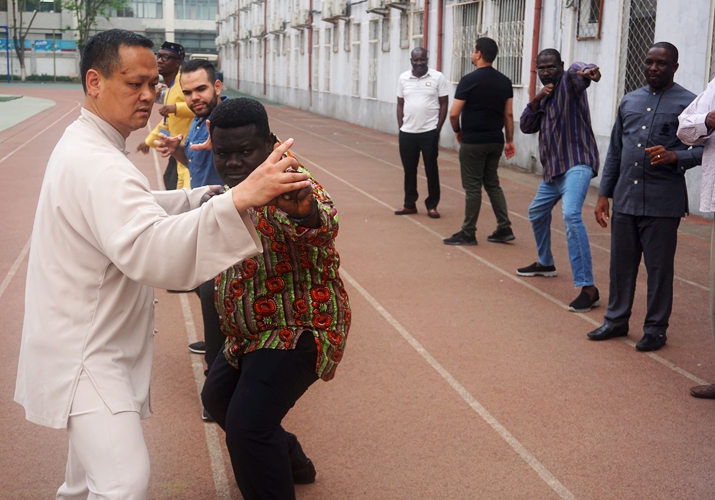 Zhou Qingjie teaches foreign students (COURTESY PHOTO)
Passing the baton
In 1997, after graduating from university, Zhou joined CFAU as a faculty member and taught the theory and practice of Taijiquan.
In the process of teaching boxing, Zhou paid attention to helping students master it in an easy-to-understand manner. "Take the 'step forward' movement as an example. Many students often transfer their weight immediately to the front leg due to the lack of strength in the supporting leg, instead of gently landing on the heel of the front foot, and then gradually transferring the weight to the front leg," Zhou said, "The correct approach is similar to that for crossing a river. If the water is shallow, we'll go forward. If the water is deep, we pull our leg back. It's not a blind forward movement, but a cautious movement with 'some room for retreat'."
In his regular classes, Zhou also teaches the wisdom and thoughts of Chinese wushu. "'You put water into a cup, it becomes the cup. You put water into a bottle, it becomes the bottle. You put it in a teapot, it becomes the teapot. Water can flow or creep or drip or crash.' This is Lee's philosophy of kungfu," Zhou said. "These thoughts have great impact on me, and I also encourage my students not to simply learn Taijiquan techniques, but also to better appreciate the profound philosophy behind it, just as we should learn from water."
Besides teaching, Zhou has also published a series of books in English to help foreign readers have a better understanding of Taijiquan as a representative of Chinese martial arts and profound traditional culture. These works have been collected by university libraries in the U.S., Britain, Australia, Canada, Singapore and other countries.
Zhou is popular with his students. "Professor Zhou knows how to make learning easier. He is serious and enthusiastic. Unlike other teachers who only teach the techniques, he teaches the philosophy of Taijiquan. He is a teacher I admire and I recommend everyone to read his book," said Moussa Paul Korongo, a student of Zhou from Mali.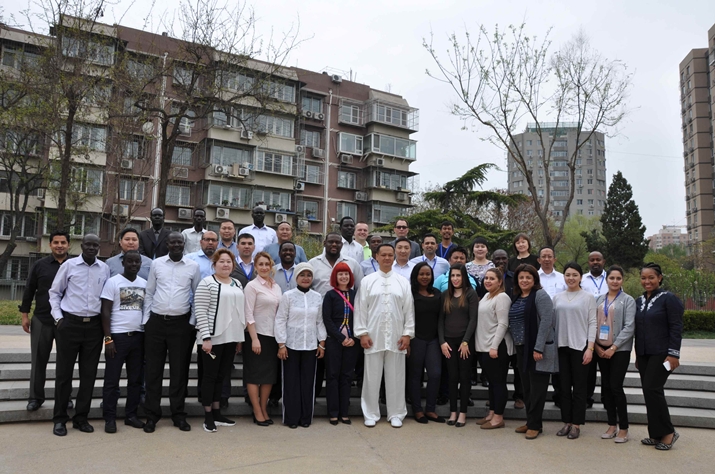 Zhou Qingjie with foreign diplomats (COURTESY PHOTO)
A cultural ambassador
Zhou is the founder of many international martial arts exchange activities. He often organizes after-school Taijiquan training for students and encourages his students to participate in different kinds of competitions. His African students have won dozens of awards, including championships, in these competitions. In addition, he is frequently invited to impart Taijiquan knowledge to visiting diplomatic delegations, including those from Africa. "During these activities, I made many African friends," Zhou said.
On December 17, 2020, UNESCO inscribed China's Taijiquan on the Representative List of the Intangible Cultural Heritage of Humanity. Zhou was delighted to hear the news. "The successful inscription of Taijiquan not only reflects the world's recognition and respect for the achievements of Chinese civilization, but also shows the charm and vitality of Chinese traditional culture, creating new opportunities for the inheritance and development of Taijiquan in the world," Zhou said.
According to statistics, 39 countries in Africa are currently IWUF members and more than 3 million people practice wushu in Africa. The Chinese wushu, represented by Taijiquan, became a formal event in the Third African Youth Games held in Algeria in 2018, and will be included in the 2026 Summer Youth Olympic Games in Dakar, Senegal.
Looking forward to the future development and promotion of the Chinese wushu, Zhou is full of confidence. "Wushu originated in China and belongs to the world," he said. "Just like explaining Taijiquan techniques to wushu lovers in cloud classes, it is my lifelong pursuit to promote the traditional Chinese culture and contribute to international cultural exchanges."
(Print Edition Title: Carrying On the Tradition)
Comments to likzh@chinafrica.cn