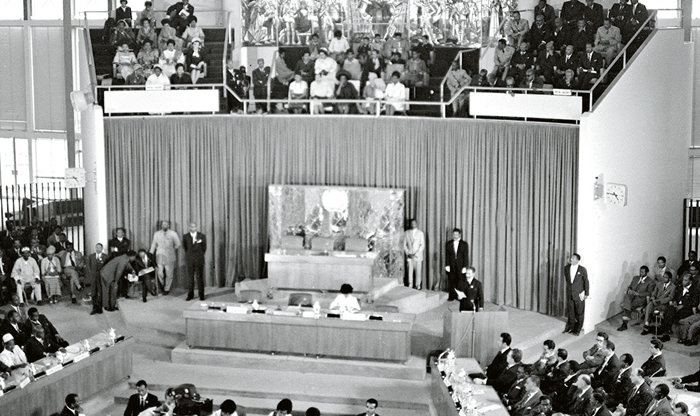 Participants attend the opening ceremony of an assembly of heads of African states and governments in Addis Ababa, Ethiopia, where the OAU was founded, on May 22, 1963 (XINHUA)
In his independence speech in 1957, Ghana's founding President Kwame Nkrumah declared that his country's liberation was a sign that the black man is capable of managing his own affairs. It was a profound speech by the man who led the West African nation to liberation. He had ushered in a new era, making Ghana the first country on the African continent to achieve freedom.
"As I pointed out, from now on, today, we must change our attitudes and our minds. We must realize that from now on we are no longer a colony, but a free and independent people. I made a point that we are going to create our own Africa personality and identity. It is the only way we can show the world that we are ready for our own battles."
With his speech, Nkrumah galvanized the leaders of other liberation movements across the continent and laid the foundation for African self-determination. Inspired by Nkrumah's determination, resilience and fighting spirit, other African leaders pushed for their countries' independence. They included Tanzania's Mwalimu Julius Nyerere, Kenya's Jomo Kenyatta, Zambia's Kenneth Kaunda, Zimbabwe's Robert Mugabe, Mozambique's Samora Machel, Namibia's Sam Nujoma and South Africa's Nelson Mandela.
"At long last, the battle has ended! And thus, Ghana, your beloved country, is free forever. Yet again, I want to take this opportunity to thank the people of this country; the youth, the farmers, the women who have so nobly fought and won the battle. Also, I want to thank the valiant ex-service men who have cooperated with me in this mighty task of freeing our country from foreign rule and imperialism," Nkrumah said.
The wind of freedom and independence from imperialists and colonial masters that had swept across the continent in the 1960s culminated in the formation of the Organization of African Unity (OAU) in 1963. It was later renamed the African Union (AU). Across Africa, the sacrifices of liberation stalwarts like Nkrumah are commemorated annually as Africa Day on May 25, the day when the OAU was officially founded in 1963.
But African liberation did not come cheap. It came at a huge cost and sacrifice on the part of the liberators themselves. It also came at a cost for friendly countries like China, former Soviet Union and Cuba which gave financial and military support.
Why celebrate Africa Day? Africa Day was established so that people who call Africa their motherland could commemorate their hard-won freedom and independence from colonial masters such as Britain, France and Belgium. These colonial masters had divided Africa and appropriated its natural resources after the Congress of Berlin in 1878. They later subjugated Africans and robbed them of their dignity, freedom and the right of self-determination.
What is notable, though, is that the sacrifices of African liberation heroes like Nkrumah have not translated into economic development and shared wealth on the continent. So many years after winning their freedom and independence, many African countries are still backward in sectors like the economy. They are also marred by political instability and war.
To usher in a new era of genuine and tangible economic development, whose fruits are enjoyed by ordinary Africans, the current generation of African leaders need to make ambitious development plans and work hard to reach the goals as described in the AU's Agenda 2063.
International cooperation is the best way to maintain sustainable development. The new crop of African leaders should work closer with developed European countries and developing countries such as China. With China having experienced similar challenges as African countries decades ago, they could learn from its experience. They could tap into its development models, which have been credited for China's move from an ordinary developing country to the world's second-biggest economy in a short period of time. That would not only help them realize the Agenda 2063 goals, but also help create "The Africa We Want."
(The author is an editor of Pretoria News in South Africa)