Work staff in protective suits wait to transfer passengers at an airport in South Africa on March 14 (XINHUA)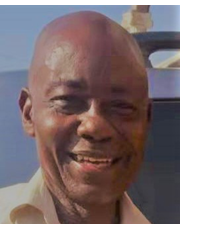 A recent incident some four weeks ago at Jomo Kenyatta International airport, in which a young Chinese woman was subjected to five hours of profiling and questioning by an overly-enthusiastic airport immigration officer went viral. She is a Kenyan resident who has been living in the country for the past five years and was returning home after a brief visit to Ghana.
Another isolated incident in Kenya, that also went viral, involved two youths confronting a group of Chinese construction workers in a Nairobi suburb, taunting them about the coronavirus.
Not surprisingly, the two incidents were blown out of proportion by the Western media, portraying them as representing the African people's collective dislike of the Chinese. The Kenyan Government responded swiftly, condemning the two incidents as unacceptable; it also warned that anyone found in future to be discriminating against Chinese citizens would be dealt with according to the law.
These two incidents in Kenya, unfortunate as they may be, do not in any way give a fair representation of African people or African governments, and neither are they representative of most African people's views on China. Africa and the African people have always identified themselves with, and stood by China, long before the coronavirus outbreak, and will continue to do so. This is evident in the fact that while the U.S. and several European governments were scrambling to evacuate their citizens from China, several African governments remained resolute and urged their thousands of citizens to remain in Wuhan (the epicenter of the outbreak in China) because they had every confidence that China was capable of dealing with the challenge.
Preparation of Africa
Africa, like the rest of the world, has a lot to be concerned about regarding the virus spread. This is not only because it has claimed thousands of lives, but it is bound to seriously affect the trade and economic relationship between China and African countries. The outbreak of the deadly Ebola disease, which spread across West Africa in 2014, has made Africa more prepared this time on how to deal with a pandemic. Many of the countries on the continent might not have invested much in their health care systems because of financial priorities and economic constraints, but the lessons learnt from Ebola have helped to raise awareness of what basic treatments can be used as effective preventive measures and why a quick reaction can significantly save lives.
Today, several African countries have closed their borders and restricted the arrival of people from affected countries. In Sierra Leone, we have learnt a lot of hard lessons from the outbreak of Ebola, and appreciate the timely intervention we received from the Chinese Government. China was the first country to arrive in Sierra Leone with two planes loaded with medicine, medical experts and equipment to deal with the pandemic. They promptly set up makeshift treatment centers right across Sierra Leone, Guinea and Liberia. This type of united front in sharing resources could benefit the battle against the pandemic on a national and global level, as more intelligence gathering on the pandemic's impact becomes available. This will rest not only on the public sector, but we can expect the private sector to also shed light on the crisis by sharing funding, equipment and scientific research.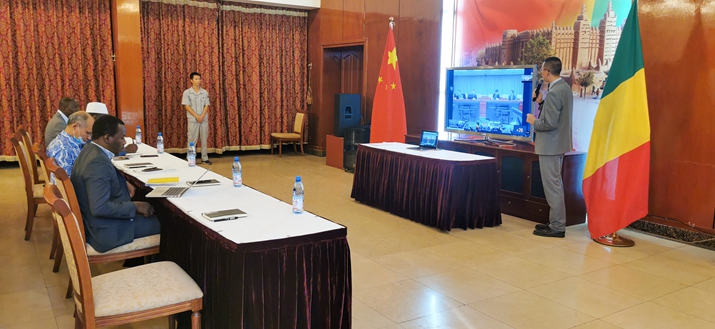 Medical experts of Mali attend a video conference on prevention and control of COVID-19 with Chinese experts and their counterparts from the Africa CDC and over 20 African countries on March 18 (XINHUA)
The loan factor
Chinese investment in Africa is unique. Over the past 30 years, China has provided several million dollars in soft loans to many African countries for infrastructure development, rail and road construction projects. The development loans were provided to where they are required most, with little or no conditions attached to them.
These days many African governments prefer a China development loan than approaching traditional lenders, such as the World Bank and the IMF. This is not only because Chinese loans are more flexible and down to earth, but they appear often to have some aspect of human face about them: conditions that fit in with the prevailing economic realities of most African states. China Road and Bridge Corp. (CRBC), for example, is a large-scale state-owned international contractor that is primarily focused on the construction of roads, bridges, ports, railways, tunnels, airports and other transport infrastructure in Africa. So also is China's Power Construction Corp. (POWERCHINA), which has a significant presence in Africa. POWERCHINA is a top global enterprise in the development of energy and hydropower resources, a driving force in Africa's water conservancy industries and an important participant in real estate development and operation.
Looking ahead
The concern for many African governments today is how much impact the current pandemic will have on China's investments and the-long term effects on projects already in the pipeline. These projects will be delayed, no doubt, and China will try to extend the terms of the loan's repayment to many African governments. There is also the hope among African governments that China might also go the extra mile and cancel some of the debts already owed, while it tries to help Africa get back on its feet after the long period of pandemic disruption. The ultimate effect of the coronavirus is that Africa's utmost quest for industrialization will slow down once again. Conversely, could the pressure to focus on internal resources disrupt industries and create Made-in-Africa business opportunities? We in Sierra Leone, and in Africa, will not lose heart, just as our friends in China have not given up hope. Apart from the Chinese state-owned Exim Bank loans to several African governments, the private sector and private investments of China have spread all over Africa, boosting trade and creating employment for the local population.
China's private investments can be seen almost everywhere on the continent. If Chinese workers are not engaged in state-run projects, they can be found to be trading on the high street as owners of large shops employing local people. The pandemic has lent a serious economic and political blow to these Chinese private investments and it will take some time before they return to normal. But what will be the new normal? This is a fast-developing story. Now with 30 African countries counting cases of COVID-19 within their own borders (at the time of writing), how will this crisis build a stronger link between one of the most important geopolitical relationships of the last decade and a new era? The priority for Africa and China and the world is to set all our efforts on finding the best solutions to battle the virus and preserve lives, as the cost for our shared humanity is the biggest challenge.
The author is a Sierra Leone-based broadcaster/journalist and former editor of West Africa Magazine and Africa Economic Digest (AED) Journal & Magazine