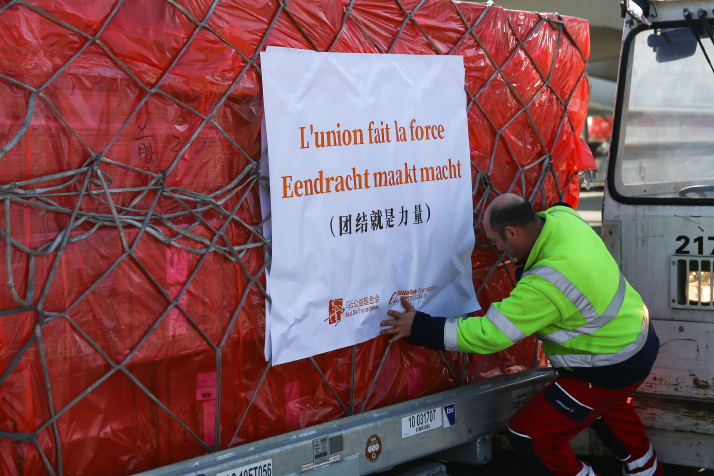 A total of 300,000 masks from China arrive in Belgium on March 16 local time. These supplies are provided by Alibaba Foundation and and Jack Ma Foundation (XINHUA)
While the situation of the COVID-19 epidemic in China is under control currently, the disease has become a pandemic, erupting in more than 150 countries and regions, from Europe to the Middle East to Africa. By March 18, 35 countries had declared a state of emergency, heightening the need for the international community to work together to defeat the disease.
A community of shared future
"The outbreak is a test of our solidarity - political, financial and scientific," World Health Organization (WHO) Director General Dr. Tedros Adhanom Ghebreyesus said. "We need to come together to fight a common enemy that does not respect borders, ensure that we have the resources necessary to bring this outbreak to an end, and bring our best science to the forefront to find shared answers to shared problems."
Chinese State Councilor and Foreign Minister Wang Yi said on March 18 that China will provide assistance within its capacity to countries in need to fight COVID-19.
Europe has become the new epicenter of the disease with Italy reporting the second highest number of confirmed cases after China by March 18. Spain and France also have been among the worst-hit in Europe.
China has sent three experienced medical teams to Italy along with medical supplies as of March 25. Some of the medical personnel had worked in Wuhan, central China's Hubei Province, and have a wealth of experience and understanding of the virus.
In the Middle East, Iran is the most severely affected. Long conflicts and political turmoil have generally weakened the medical systems of the country.
China has also sent medical teams to Iraq, Iran and Pakistan, who took with them experience in fighting epidemics as well as urgently needed supplies such as test kits and protective suits.
The Chinese corporate sector has also responded. The Jack Ma Foundation, the charitable organization of Ma, founder of the e-commerce giant Alibaba Group, sent 500,000 test kits and 1 million masks to the U.S. It also donated to Japan, the Republic of Korea, Italy, Iran, Spain and African countries.
Besides, the foundation has compiled a handbook from doctors' experience in treating COVID-19 patients. "As most regions in the world will face challenges, I hope this practical experience could be shared among all medical workers to make them prepared," Ma wrote on his Chinese social media account.
Sany Group, a construction and mining equipment manufacturer based in Changsha, Hunan Province, with a worldwide presence, sent the first 50,000 face masks it donated to Germany on March 13. On each box there is a note quoting a German proverb, "Mountain and valley never come together, but people do."
According to Sun Yongfu, a senior researcher with the Center for China and Globalization, a Chinese think tank, the measures taken by China to combat COVID-19 cannot be fully replicated in other countries as their national conditions are different. "But prevention and treatment experience could be shared," he said. Also, "countries should enhance cooperation in joint scientific research on vaccines, test kits and treatment plans."
Joint efforts in Africa
As Matshidiso Moeti, WHO Regional Director for Africa, said, the virus ceases to be just a threat and is now a reality on the continent, as African countries confirm cases of COVID-19.
Indeed, according to statistics from the WHO Regional Office for Africa, as of March 17, a total of 417 cases have been reported in 29 countries on the African continent, including seven deaths. Just one month before, Egypt confirmed Africa's first case of coronavirus on February 14.
At the same time, more African countries are stepping up measures to prevent further spread of the deadly virus across the continent, with lessons learned from Ebola.
Among Sub-Saharan African countries, South Africa has seen the sharpest rise in the number of cases. The country reported its first case on March 5 and as of March 18, 116 confirmed cases of COVID-19 had been confirmed. As most of the confirmed cases are imported by people who had traveled to Europe and North America, the country has imposed a travel ban on countries seriously affected by COVID-19.
South African President Cyril Ramaphosa declared a nationwide lockdown for 21 days in an address to the nation broadcast live on TV on March 23. This is a new round of tightening of measures by the South African Government to curb the rapid spread of COVID-19, after the country announced a national state of disaster on March 15.
Ramaphosa announced certain measures that will be taken during the 21-day lockdown period. "Our fundamental task at this moment is to contain the spread of the disease," he said. "Without decisive action, the number of people infected will rapidly increase from a few hundred to tens of thousands, and within a few weeks to hundreds of thousands."
The international community is also giving its support to the continent. As of March 12, 62 WHO experts in technical areas including coordination, treatment, infection prevention and control, community engagement and surveillance have been deployed across 18 countries, and more deployments are planned.
The African Union Center for Disease Control and Prevention (Africa CDC) has distributed kits with the capacity to do over 10,000 tests, and it is purchasing and stockpiling critical medical supplies to meet requests from African Union member states, said the organization's Director John Nkengasong.
Apart from global and regional organizations, countries like China are also offering assistance to Africa. China CDC has been working closely with Africa CDC, providing support to the recently established Africa Taskforce on Coronavirus, said Tajudeen Raji, head of Public Health Institutes and Research of Africa CDC.
Jack Ma announced on March 16 on Twitter that his foundation would donate 20,000 test kits to each of the 54 African countries, 100,000 masks and 1,000 medical-use protective suits and face shields.
Huajian International, a Chinese footwear manufacturer, donated anti-epidemic materials to Ethiopia in support of the country's fight against COVID-19.
"Ethiopia looks to similar benevolent acts by partners as we work diligently in preventing the spread," said Ethiopian Prime Minister Abiy Ahmed Ali in a tweet.
The Chinese company's first batch of donation to Ethiopia consisted of 100,000 general protective masks and was shipped out of China on March 18. The second batch of donation from the group, which is worth 2 million yuan ($281,000), was shipped out on March 22.
The Chinese Foreign Ministry spokesperson Geng Shuang declared on March 17 that China had provided the first batch of test kits to the African Union and would offer more medical supplies soon. In addition, the Chinese medical teams in Africa are also actively engaged in the anti-epidemic action of their host countries, according to Geng.
Chinese Government officials and public health experts held a video conference on March 18 with their counterparts from Africa CDC and over 20 African countries to share anti-epidemic experiences.
Comments to zanjifang@chinafrica.cn