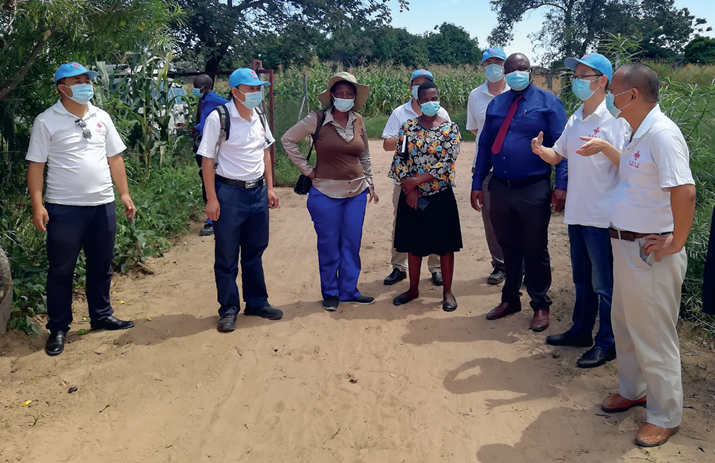 Luo Dengfeng (second right) introduces the implementation of the maize planting project to the visiting officials in Zvimba District, Mashonaland West Province, on March 16 (COURTESY PHOTO)
At the end of 2018, on the eve of his departure to Zimbabwe, Luo Dengfeng felt deeply guilty for not going to be there to take care of his 85-year-old father in the next three years. This is not the first time that Luo has been away from his family. As early as 2012, he went to Ethiopia to participate in an agricultural vocational and technical education project conducted by China, serving as a horticulture teacher in a local college.
Shouldering the mission of assistance, he returned to Africa and served as the deputy head of the third batch of the Chinese agricultural expert group in Zimbabwe, undertaking such tasks as investigation and research, maize farming demonstration and training.
He was accompanied by nine other experts, specializing in the fields of animal husbandry, aquaculture, veterinary medicine, agricultural machinery, agronomy and horticulture. They all have one wish, which is to help local people develop agriculture.
Understanding local reality
Zimbabwe is known as the "vegetable basket of Africa" because of its fertile land, natural resources and favorable climate. "According to the Food and Agriculture Organization, the per-capita arable land in Zimbabwe in 2018 was 0.28 hectares, 3.11 times that of China," Luo said.
While seeing the natural advantages, the group also learned about some of the problems affecting local agricultural production: the lack of electricity supply in many rural areas, or inadequate power supply and annual drought in many areas. According to Luo, this is because there is a long dry sea-son of more than half a year, and a short-age of water management infrastructure, which leads to underutilization of water resources. "It is imperative to transform the agricultural development concept," Luo said.
Luo frequently visits relevant institutions, enterprises, farms and farmers to identify the problems and try to find solutions. The most gratifying thing for him is to promote the export of citrus to China. Luo looked into the possibility of citrus exports and went deep into the relevant citrus enterprises to research and write reports.
"This not only plays a role in promoting the quality and safety management of Zimbabwe citrus, but also does its bit in the economic and trade cooperation between the two countries," Luo said.
Over the past two years, he has conducted research on more than 30 departments and enterprises. In addition, he has independently authored six research reports and participated in the completion of another six research reports, which carry useful insights for brand-building and development of agribusiness in Zimbabwe.
Luo Dengfeng conducts research at a farmers' market in Domboshawa, Mashonaland East, on April 13, 2019 (COURTESY PHOTO)
Demonstration base
After conducting careful research, the expert group decided to set up a vegetable demonstration plot in Greendale District, Harare, on January 2019. "It is our responsibility to demonstrate Chinese agricultural technologies and management models to local farmers. China feeds 22 percent of the world's population with 7 percent of its arable land. From this point of view, our approach works," Luo said.
Since the plot was completed, batches of vegetable varieties of China have taken root in Zimbabwe. Local agricultural officials and businesses dealing with agriculture have also visited the base many times to learn about techniques and easy-to-operate advanced agricultural equipment.
"Many Chinese vegetables such as egg-plant and bitter melon are now grown locally. Besides, we use organic fertilizer to grow those vegetables. This is not only related to the quality and safety of agricultural products, but also of great significance for the sustainable development of agriculture," Luo said.
The pilot experiment in the region has attracted a lot of coverage from the local media. Reporter Sikhangele Ngwenya was delighted to see different kinds of Chinese vegetables in the field. "She said I would spend the whole day covering the base and invited viewers to come and visit the base," Luo recalled with a smile.
Luo has also taken the lead in maize plantation projects and the formation of specialized farmers' cooperatives. The expert team invited 30 farmers to carry out a pilot of maize cultivation in a village in Mashonland West Province.
"Maize is a staple food in Zimbabwe, but subsistence farmers lack both irrigation equipment and knowledge of proper irrigation methods," Luo said. "So we helped them build small-scale solar-powered irrigation facilities, taught them how to use small farm machinery, and also helped them form cooperatives."
Thanks to the efforts of the expert group, output of the households taking part in the demonstration project reached 4-6 tons per hectare, while that of the other house-holds was only 2-3 tons. The cooperatives were also successfully formed. Luo helped draft the charter.
Meanwhile, the expert team also introduced China's poverty alleviation model to Zimbabwe. "In order to better share our experience in poverty alleviation, we have carefully built a demonstration village of Sino-Zimbabwean agricultural cooperation," Luo said, "We donated seeds, fertilizers and incubators, did the construction for free, and provided one-on-one guidance."
Zimbabwean agricultural officials who came to visit the village have thanked the Chinese Government for the selfless help, saying they will build more Sino-Zimbabwean agricultural cooperation demonstration villages in the country to better benefit the local people.
Passing the knowledge
In addition to research and pilot demonstrations, the expert team also offers various types of technical training courses covering livestock, aquaculture, maize cultivation, irrigation technology, etc. "We aim to teach the techniques to both local students and farmers," Luo said.
He added that in order to provide practical knowledge within the limited training time and let people digest and absorb it well, the course preparation and delivery method are very important. In other words, the content must match the local reality and be relevant to them, while also being easy to understand.
After listening to Luo's course, Moffat Nyamangara, former Director of the Department of Agricultural Education and Farmer Training of Zimbabwe's Ministry of Land, Agriculture, Fisheries, Water and Rural Resettlement, was full of praise for the agricultural expert team, noting that not only the course was well taught, but also the teaching method was worth promoting.
According to Luo, the expert team has carried out multiple trainings, covering a total of more than 3,200 people.
In 2020, following the outbreak of the COVID-19 pandemic, all of the 10 experts of this expert group stayed on.
"After strictly complying with local epidemic prevention regulations and taking appropriate protective measures, we continued to do our work, ensuring the continuity of our assistance. We are especially grateful to our country's Spring Sprout vaccine program. We have been administered both doses of the vaccine, allowing us to be more at ease," Luo said.
(Print Edition Title: Dedication in the Field)
Comments to likzh@chinafrica.cn