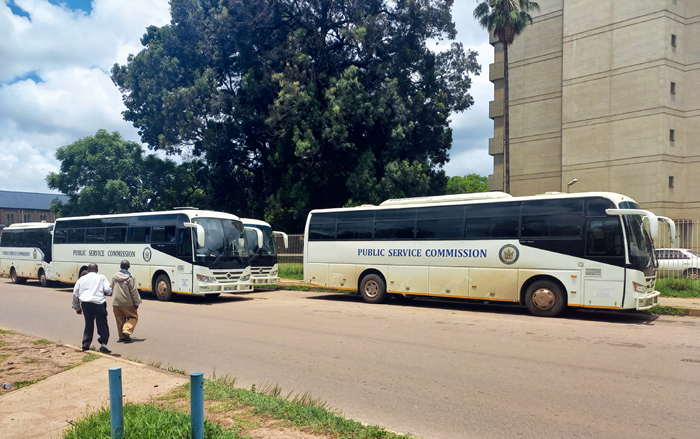 Golden Dragon buses in Harare, Zimbabwe (PROBLEM MASAU)
It was a parade the likes of which had never been seen in Zimbabwe's capital Harare.
As its name suggests, Harare is a city that never sleeps or stops moving; but recently it came to a standstill when hundreds of buses drove along one of its main street, Samora Machel Avenue, for a colorful parade which heralded the dawn of a new transport era.
Starting from the western end of the street, the procession, which included escorting police vehicles sounding their horns, plus marching pipe bands, snaked its way past hundreds of enthralled onlookers.
This festive occasion marked the day when Zimbabwe took delivery of a fleet of buses from China, meant to revolutionize the country's public transport system.
"Government thinks it is necessary to provide a transport safety net that will protect the public from unscrupulous public transport and [private] kombi [minibus] operators by providing a modern, decent and digital transport system," said Zimbabwe President Emmerson Mnangagwa. "An efficient and adequate transport system is critical for the development of the country, providing access to markets and reducing regional disparities."
Safer public transport option
Zimbabwe's transport system was a mess during the pre-COVID-19 era. Locally known as kombis, these commuter minibuses were a menace on the road. The kombi drivers were known for all sorts of vices. Common sights included driving against one way traffic, speeding, and "cat-and-mouse" car chases.
"Hardly a day passed without an incident," said Zimbabwe Passenger Association President Tafadzwa Goliati. "Kombi drivers were a law unto themselves. Our statistics show that in 2018 alone, at least three commuter minibuses were involved in accidents on a daily basis."
Cases of harassment of passengers at the hands of touts and drivers were also rampant.
In March 2020, Mnangagwa introduced COVID-19 restrictions, including the ban on pirate taxis. By prohibiting the small vans on the road, the government looked to introduce large-sized city buses.
In a bid to cushion the blow to the stranded commuting public, the Zimbabwe Government entered into a deal with Chinese company Golden Dragon, the world's biggest bus manufacturer, to buy a fleet of new vehicles.
According to the bus maker, the number of Golden Dragon buses and coaches in operation in the Southern African country exceeds 900 units, making Golden Dragon one of the fastest growing bus brands in Zimbabwe.
The government intends to import 1,500 units by the end of 2022.
In response to the particular climatic conditions in Zimbabwe, Golden Dragon rolled out buses and coaches with a front engine and higher chassis, making them particularly agile on the road.
Equipped with Cummins engines, manually controlled transmission gearboxes and electric eddy current retarders, the coaches particularly designed for Zimbabwe achieve higher energy efficiency and better maneuverability.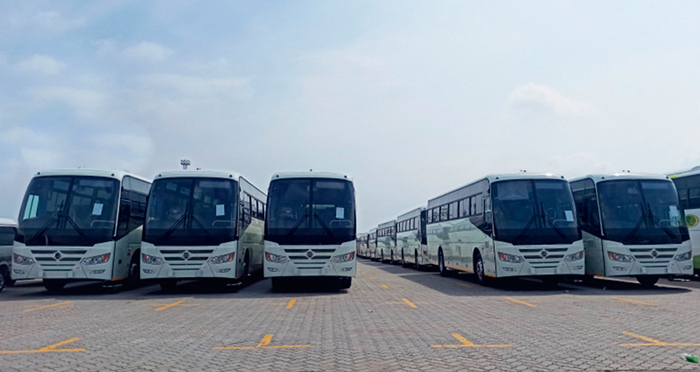 50 Goden Dragon buses to be shipped to Zimbabwe in Xiamen, southeast China's Fujian Province, on June 20, 2021 (COURTESY)
Environmentally friendly
"Golden Dragon is truly a visionary enterprise with a strong commitment to technological innovation. Our needs and requirements have been fully satisfied, paving the way for our success," said Patrick Masocha, CEO of Golden Dragon's partner in Zimbabwe.
Commenting on Golden Dragon's partnership with the Zimbabwe Government, the Chinese Embassy in Zimbabwe tweeted, "Glad to see buses from China arriving for Zimbabwean commuters. As well as strong governmental support, China-Zimbabwe relations are also buoyed by a vibrant private sector engagement like this."
Mnangagwa noted that the buses were also critical for reducing air pollution as they emitted less carbon monoxide, hydrocarbons and nitrogen oxides compared with smaller vehicles.
The buses are operated by the Zimbabwe United Passenger Co. (ZUPCO), a wholly government-owned company in charge of transporting citizens.
In an interview with ChinAfrica, ZUPCO Chief Executive Officer Evaristo Madangwa said they need 2,500 coaches to service all routes in the country.
"We currently have 1,202 buses, which is a far cry from the 2,500 we want. We received a further 115 this January and we hope by the end of 2022, we will have imported about 2,000 buses," he said.
Electric bus assembly plant
Zimbabwe's state media reported that a Chinese electric bus manufacturer intends to set up an assembly plant in Harare.
The setting up of the plant will be part of the company's drive to spread its wings in Africa.
Winnerway Motors, a bus building company headquartered in the city of Dongguan, Guangdong Province, represented by its Manager Yu Wenming, sent a delegation to Zimbabwe when they donated a bus to Angel of Hope Foundation, a charity organization run by Zimbabwe's First Lady Auxillia Mnangagwa.
Buses manufactured by Winnerway use lithium batteries, which, when fully charged, can travel up to 300 km. The company manufactures 8,000 buses annually.
Yu's plan to set up the Zimbabwe plant was at the invitation of Mrs. Mnangagwa. "The proposal that has been presented to us by the first lady to set up a plant in Zimbabwe is something that we are going to take seriously," he said.
"Given that it is a huge investment, it requires further engagements and we will engage further and map the way forward."
The proposal could not have come at a better time as Zimbabwe is busy building a mass transport system that is efficient and places a high priority on public safety. Currently, the buses being imported for ZUPCO are aimed at providing a convenient option for urban commuters and long-distance travelers.
According to state media, Mrs. Mnangagwa expressed delight that her engagement with Chinese companies was not limited to partnership arrangements with Angel of Hope Foundation, but touched on critical sectors of the economy such as transport.
"From the meeting we had, Zimbabwe will benefit a lot if this company establishes a plant in our country," she said. "I have invited them to come over to Zimbabwe in line with our mantra 'Zimbabwe is open for businesses' and they have agreed to look into it," she said.
Comments to hufan@chinafrica.cn