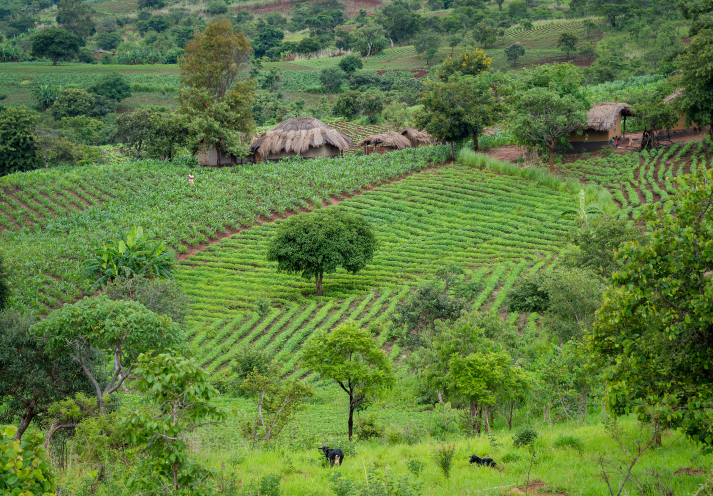 A farm in Zimbabwe (HELLORF)
Agnes Muronzve, 58, wipes the sweat off her face as she inspects her corn crop. While her counterparts are still preparing their fields for planting, Muronzve's corn is already at silking stage - the first stage of corn growth.
"I am expecting about 12 tons of corn this year, thanks to the world of smart agriculture," she told ChinAfrica.
However, despite Muronzve expecting a bumper harvest, most farmers in Zimbabwe are grappling with another bad agricultural season. For three consecutive seasons, Zimbabwe has faced ravaging drought as climate change takes a toll on the landlocked Southern African country.
"Climate change does not see boundaries or borders," said Tich Zinyemba, head of the public weather service at Zimbabwe's Meteorological Service Department. "Some of the things which we are seeing now, such as prolonged droughts and dry spells, are the result of climate change," he said.
Smart farming
Faced with nationwide drought that has depleted dams, cut output of hydropower plants and caused harvests to fail, the government was forced to appeal for $464 million in aid to stave off a famine. As a consequence, Zimbabwe has started to implement smart agriculture with the help of China. Smart farming is a management concept focused on providing the agricultural industry with the infrastructure to leverage advanced technology - including big data, cloud computing and the Internet of Things - for tracking, monitoring, automating and analyzing operations.
Also known as precision agriculture, smart farming is software-managed and sensor-monitored.
Under the pilot program of which Muronzve is a beneficiary along with 250 other households, farmers are taught to use the computerized system and adopt climate-smart agriculture.
"Climate-smart agriculture involves farming practices that improve farm productivity and profitability, help farmers adapt to the negative effects of climate change and mitigate climate change effects through soil carbon sequestration, or reductions in greenhouse gas emissions," said Li Weiwei, Director of China Aid Technology Demonstration Center (CATDC).
Li said that farmers are also being taught climate-smart practices, such as the locally established conservation agriculture, aimed at conserving soil moisture, retaining crop residues for soil fertility, disturbing the soil as minimally as possible and diversifying through rotation or intercropping.
"At a time of unfavorable climate change, suitable approaches and methods for adapting to it need to be consistently explored. Tapping in to crop cultivation technologies from other countries is one such method," said Li.
Mazvita Chiduwu, head of Zimbabwe's Agronomy Research Institute, said Zimbabwe and China cooperated on many fronts to generate research-based technologies that enhance crop productivity.
"Our cooperation with CATDC is designed to generate research-based technologies, information and product support for increasing crop productivity and production," said Chiduwu.
She said her institute was ready to assist farmers to improve their productivity and appreciated the assistance from CATDC.
"We look forward to continued collaborations between our two countries," she said.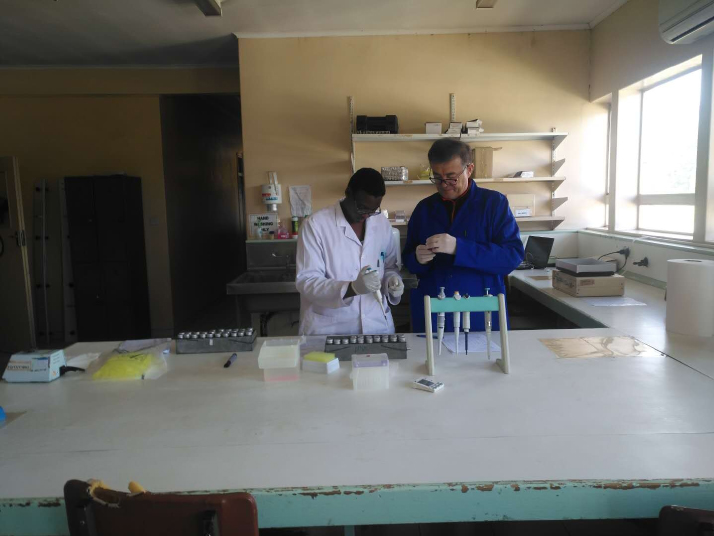 Duolikun Nuershafa (right), a veterinarian of Kazak ethnic group from northwest China's Xinjiang Uygur Autonomous Region, tests animal serum samples together with an African colleague in Zimbabwe (COURTESY PHOTO)
Boosting food security
To achieve maximum results in smart farming, Zimbabwe now uses arable land distribution data, a product developed by the Chinese Academy of Sciences (CAS) and University of Zimbabwe (UZ) to boost food security in the country. The software disc handed over to Zimbabwean Minister of Lands, Agriculture and Rural Resettlement Perence Shiri by CAS President Bai Chunli contains high-precision data which will help Zimbabwe address challenges of agricultural productivity and climate change.
"At the request of UZ, the academy prepared high-resolution satellite data on agriculture and I hope that it will be of great use to your agricultural development," Bai said at the data launch in September last year.
UZ Vice Chancellor Paul Mapfumo stressed that CAS has helped advance Zimbabwe's scientific knowledge and technological development, adding that the country will benefit in terms of resource planning by being able to accurately monitor crop production and forecast yield.
The data product provides land information with a high resolution of 10 meters, three times what the country has had in the past, according to Emmanuel Mashonjowa, Professor of the Agricultural Meteorology Faculty at UZ.
"We can actually see from the satellite how much area has been grown, and we can monitor the condition of the crop over the season," he said, adding that the product can be a base for "lots of applications, not only in agriculture, but also in land use and disaster risks."
Meanwhile, Li Jianqiao, a representative from the Chinese Embassy in Zimbabwe, told ChinAfrica that his government has dispatched four groups of experts - consisting of agronomists, horticulturalists, aquatic and livestock experts - to train local farmers and equip them with the necessary skills to boost agricultural productivity.
"The Chinese Government will continue supporting all agricultural activities in Zimbabwe so as to ensure that the country retains its breadbasket status in Southern Africa. This will promote economic growth in a sustainable manner since agriculture has the potential to rapidly transform the fortunes of Zimbabwe," said Li.
Agricultural cooperation
In December 2019, representatives from Hong Kong Stock Exchange-listed Chinese agricultural company Lesso Group visited Zimbabwe and signed an agricultural cooperation agreement, under which 12,800 hectares will be brought under irrigation for the production of over 60,000 tons of maize each season.
The memorandum of understanding was signed by Bwenje Clemence Taderera, Acting Chief Director for Strategic Planning and Business Development in the Ministry of Lands, Agriculture and Rural Resettlement and Luo Yibiao, General Manager of China Lesso Group. China Lesso Group is a leader in the manufacturing and sales of farming equipment and machinery.
"We are happy to sign an agreement with the Ministry of Lands, Agriculture and Rural Resettlement. In future, we will work hard on the agreement we signed and improve the agricultural sector of Zimbabwe. We are going to provide advanced technology to Zimbabwe," said Luo.
(Reporting from Zimbabwe)
(Comments to zanjifang@chinafrica.cn)