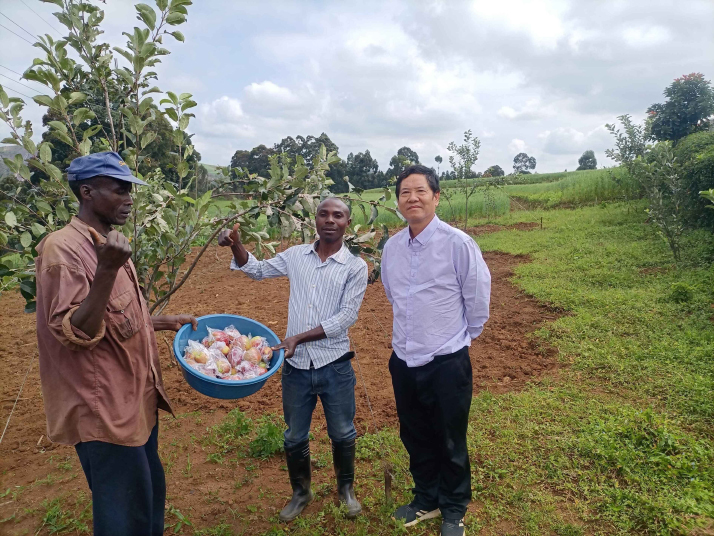 The (highland) apple tree introduction trial, guided by Deng Liangbin, achieves a success in Kayanza Province, Burundi (COURTESY)
Senior agricultural experts successfully completed a highland apple tree introduction trial in Burundi in May. The average weight of a single fruit in the trial reached 152 grams, and the maximum 230 grams.
"Delicious! The local technical workers praised in unison. For Burundi, which relies on imported high-priced apples, this is undoubtedly encouraging news," Deng Liangbin, deputy head of the fifth group of China's senior agricultural experts in Burundi, said.
Deng, 56, has been mainly engaged in research and technology promotion in the field of fruit trees, vegetables and other cash crops for more than 30 years. With solid professional skills, rich practical experience and strong English communication skills, he has been sent overseas many times to carry out agricultural aid missions: From 2004 to 2006, he participated in the Cook Islands South-South cooperation project; from 2008 to 2010, he went there again; and from 2018 to 2020, he joined the fourth group of China's senior agricultural experts in Burundi.
Deng is also a member of the Communist Party of China. "I believe that as a Party member, no matter what position you work in, we should be able to bear hardships and work hard, have team spirit and a sense of the big picture, and always maintain a strong sense of responsibility and mission, especially in the work in Africa," Deng noted.
In March last year, Deng, who was supposed to end his mission in Africa, decided to stay in Burundi in order to maintain the continuity of the fruit and vegetable demonstration work. What followed is another three years of his agricultural work in foreign countries.
Taste of apple
When Deng first arrived in Burundi, he did not expect that this landlocked country on the equator would have such a pleasant environment. "Burundi has a variety of sub climates, and there is a big temperature difference between day and night, and sufficient sunlight, which is conducive to the cultivation of diverse types of crops," Deng said.
Through research, Deng gradually grasped the basic situation of Burundi's fruit and vegetable industry, and also found some problems such as rudimentary cultivation management, uneven quality, lack of irrigation infrastructure, etc. "The local government attaches great importance to the apple tree introduction trial," Deng said.
In August 2018, Deng proceeded to select the site and strictly followed the requirements of the local agricultural department. A plateau crop experiment station in Kayanza Province at an altitude of 2,150 meters was chosen as site.
Deng said that at the end of 2018, a total of 300 seedlings of two varieties were planted. From field planning to pruning, from fertilizer management to pest control, all of the processes were finely managed.
"Instead of completely copying China's cultivation technology protocols, we need to explore practical technology suitable for the local situation. However, we always encounter some unpredictable situations," Deng said.
"The successful introduction and successful promotion of the tree growing in Burundi will not only meet the demand of apple consumption in the local market, but even likely become a new growth point for its agricultural economy," Deng said.
Before that, Burundi usually imported apples from South Africa. An apple of about 150 grams sells for about 4 yuan ($0.62). "The trial has realized what we wanted to do for many years but could not," said Eugene Manirambona, Director of Burundi's Fruits and Vegetables Technical Service Center, noting that it not only broke the perception that apples could not be grown in tropical climates, but also brought us real benefits.
Fragrant orange
Before Deng set off for Burundi, he had gathered different kinds of vegetable seeds and gardening tools, including five citrus varieties from China. "These varieties have been promoted in the main citrus producing areas in China for many years and have excellent productivity," Deng said.
Through research, Deng learned that citrus, as a main planted fruit tree suitable for cultivation in both tropics and subtropics, has great development potential and good market prospect in Burundi.
"However, there was no nursery for citrus. The purity and quality of varieties could not be guaranteed," Deng said that their work on improving citrus varieties involved enriching the fruit categories in the local market.
In March 2018, Deng grafted China's citrus varieties into the local varieties. In October of the same year, new varieties were planted. Through careful cultivation and management, all five varieties have shown obvious growth advantages and strong resistance advantages.
At the beginning of 2021, the new varieties of citrus introduced by Deng began to bear fruit. "It can blossom and bear fruit normally, which shows that these varieties can adapt to the local climate and environment well, that is to say, the introduction is successful," Deng said.
At present, Deng is collecting Burundi's original high-quality citrus varieties and the new varieties introduced in recent years, and will build a national citrus nursery for Burundi according to high standards and requirements.
The Ministry of Environment, Agriculture and Livestock of Burundi asked related departments to cooperate with the expert group to further broaden the cultivation of citrus.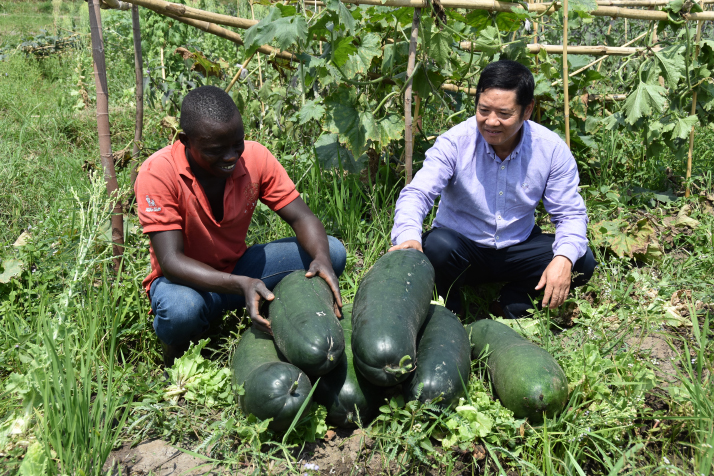 The white gourd planted in a demonstration of vegetable-rice rotation under the guidance of Deng Liangbin on September 10, 2018 (COURTESY)
Efficient cultivation
Vegetable-rice rotation refers to the cultivation of rice and vegetable in rice-dominated areas in rotation, that is, one season of vegetables, two seasons of rice and one season of vegetables.
The expert team carried out this rotation trial in a village of Bubanza Province. Deng said that major vegetable varieties have reached the expected target yield, farmers' vegetable planting income has doubled, and rice rotation has achieved two consecutive seasons of high yield, which is 2.5 times the original yield.
The achievement was not possible without the mutual cooperation of all parties. "This model not only improves soil fertility and promotes the virtuous cycle of arable land, but also helps achieve high and stable crop yields," Deng said.
In addition, the expert team has also organized several national training sessions, including vegetable-rice crop rotation, aiming to let more farmers and agricultural workers better understand and promote this production model.
"I feel honored to be able to give full play to my skills in Africa, to help the development of Burundi's agricultural industry, and to contribute to the long-standing friendship between China and Africa," Deng said.
(Print Edition Title: Seeds of Sustenance)
Comments to likzh@chinafrica.cn