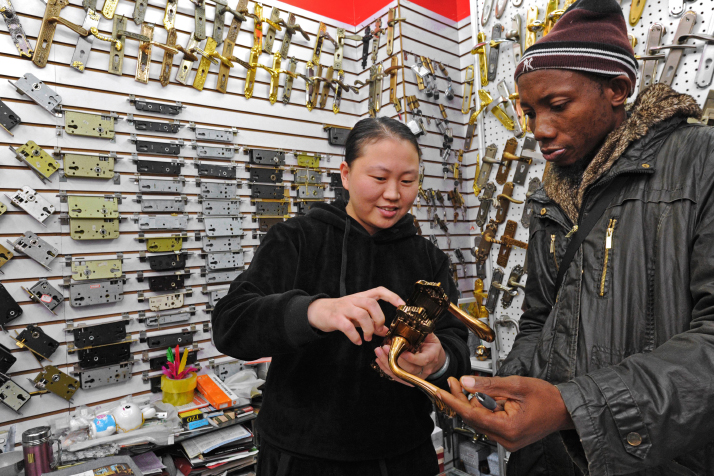 Africa-China trade by Tan Jin (Xinhua)
The "Rising Africa" narrative suffered a serious setback in 2016 when Africa experienced the worst economic slowdown since the global financial crisis in 2008. However, the resilient growth in 2017 and signs of a consolidated expansion in the mid-term are proving the recession is only a temporary situation.
Evidence of this turnaround is further shown by expanding Sino-African trade volumes and increasing investments from China, especially the materialization of the $60-billion pledge made by
Chinese President Xi Jinping for China-African cooperation projects at the Johannesburg Summit of the Forum on China-Africa Cooperation (FOCAC) in December 2015.
According to statistics by China's General Administration of Customs, bilateral trade between China and Africa amounted to $139.16 billion in the first 10 months of 2017, up 14.5 percent over corresponding period of the previous year, which is 2.9 percentage points higher than the overall growth rate of China's foreign trade during the same period. Notably, China's trade surplus with Africa shrank by 48.2 percent.
Against this promising backdrop, China and Africa are restructuring their economic cooperation so that investment projects are more sustainable and suitable to demands of local economic diversification.
Domestic catalyst
Thanks to a recovering global eco­nomy and commodity prices, Afri­ca's economy is expected to rebound in the near future. According to African Economic Outlook 2017 (AEO) jointly released by the African Development Bank, Organization for Economic Cooperation and Development and United Nations Development Program last May, the growth was expected to rise to 3.4 percent last year and further consolidate and expand by 4.3 percent in 2018. Prices of mo­st commodities began rising in the last quarter of 2016 and are expected to maintain an upward trajectory in 2017 and 2018. For example, oil prices began to recover at the beginning of 2016 and rise to more than $57 per barrel last December. "[The recovery] is providing African exporters a much-needed cushion to deal with budget deficit issues and a growth stimulator for economic pickup," said Zhou Jinyan, Assistant Researcher with the Institute of West Asian and African Studies of the Chinese Academy of Social Sciences.
However, an economy overly dependent on primary commodity exports is fragile and vulnerable to external volatility. Zhou noted that the past years have seen a decline in the importance of natural resources and commodity exports in Africa's economy. "Non-resource-rich countries with diversified economies have been outperforming those with resources," Zhou told ChinAfrica. Non-oil-dependent countries including Djibouti,Ethiopia, Kenya, Rwanda and Tanzania all recorded growth rates above 6 percent in 2016, much higher than the overall 2.2 percent rise. Her view is echoed by the AEO report, which reads, "domestic factors including consumpti­on demand, in particular private consumption, play an increasingly important role in maintaining the resilience of African economies." According to the report, private consumption on the continent grew at an average of 3.7 percent between 2010 and 2016 and is expected to remain at an average of 3.5 percent during 2017-18.
Zhou attributed the surge to Africa's growing population and expanding middle class. McKinsey Global Institute estimated that the middle class in Africa reached 350 million in 2016. The growing population is also expected to lead to a rise in consumer spending from $680 billion in 2008 to $ 2.2 trillion by 2030.
Diversification matters
Diversifying the African economy and booming domestic demands give Zhou confidence for mid-term resilience on the continent. To unleash the potential of domestic markets, Africa needs better public infrastructure and stronger manufacturing and services sectors, areas in which China's investment has been focusing. According to a recent survey by McKinsey, the annual output of Chinese manufacturing companies in Africa was estimated to reach $500 billion in 2015, 12 percent of the continent's total manufacturing output. Fulfilling African local markets' needs has become a priority of Chinese businesses in Africa, said the report.
In 2016, Chinese investment in Africa totaled $3.2 billion, much of which is in manufacturing and infrastructure construction projects, said Qian Keming, Vice Minister of Commerce. "Those from the private sector are even larger," he added.
Many African countries are pro­moting themselves as attractive investment destinations for manufacturing through creating a better business environment. For example, Ethiopia aims to develop as a light manufacturing hub in Africa.
Evidence of this is the Hawassa Industrial Park inaugurated in July 2016, with targeted annual revenue of $1 billion and employment for 60,000 people. "This will be good news to sustainable economic robustness in the East African region," said Zhou.
Further evidence of Africa's development stemming from the official $60 billion funding support China pledged in 2015 is that, as of November 2017, $40.9 billion of the three-year funding program has been allocated, accounting for 68 percent of the total, said Zhong Manying, Director General of the Department of Western Asian and African Affairs, Ministry of Commerce.
With the remaining funds to be allocated in 2018 and new pledges to be made during the coming FOCAC Ministerial Conference to be held in China this year, an expansion in China-Africa economic cooperation is foreseeable.
However, diversification is a long-term structural issue. In the short term, African countries should be cautious. "The slowdo­wn of large African economies, like Nigeria and South Africa, may jeopardize the overall growth performance," said Zhong, adding that the policy uncertainties in these two countries will have an adverse impact on the continent as a whole. Nigeria and South Africa now account for the largest shares of Africa's GDP at about 29.3 percent and 19.1 percent respectively. Besides, continuing political uncertainty and conflict in Libya will also cloud the growth in North Africa.