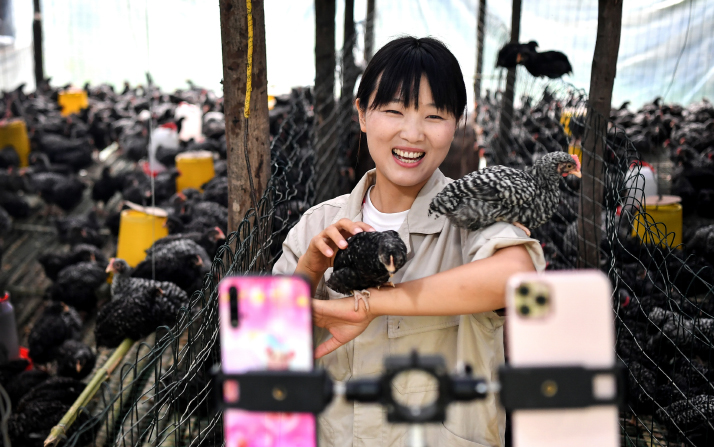 A villager in Shangluo, northwest China's Shaanxi Province, promotes chickens that she raises through livestreaming on July 20 (XINHUA)
Tian Junzhang never thought he would get the chance to enter an emerging profession. He had always wanted to become a flight attendant, but life had other plans for the young man. A few years ago, Tian found himself drawn to livestreaming on an e-commerce platform as an online sales host. He found this new job so fascinating that in 2019 Tian and his friends decided to launch their own company in this booming field.
This year, he graduated from a university in north China's Hebei Province and his business couldn't be better. "Many of the former students from my class now work for an airline. But I decided to work in a job that challenges me more. I am delighted to be able to ride the wave of livestreaming sales. It has changed my life," he told Hebei Daily.
Much to his surprise, Tian found his new line of work is classified as a "new profession," in China. In July, the Ministry of Human Resources and Social Security (MOHRSS) identified nine new professions, including the most popular of its kind currently in China: livestreaming host.
As a direct result of China's latest socio-economic development, these new professions have emerged and brought more opportunities for young people and those seeking jobs. Like Tian, many prefer to acquire new skills to strengthen their competitiveness in an already crowded labor market.
Official recognition
In the last two years, a total of 38 new professions have been officially identified by the MOHRSS. This year emerging professions that include blockchain application operator, e-learning content provider, online order deliverer and geriatrician were given the official green light.
According to the MOHRSS, companies should standardize the recruitment of positions for these new professions, and provide relevant training. For employees, they will now be able to better direct and plan their careers. For new professionals, the state recognition brings a definite sense of stability and hope. Some new professions have found it difficult to obtain an official title, which has therefore negatively affected the way they are seen by public opinion, which often remains very traditional. More often than not, these new professions are seen as "useless" by the older generation. Granting them a clear and official recognition is therefore a way of promoting equality and open-mindedness in an ever-changing society.
Zhang Jing, 28, is a good example of this emerging trend. Having worked as a geriatrician for five years, she confessed that there were many times when she wanted to quit. Even her own parents did not understand what her job was about. This year's official recognition of her profession confirmed that she did well to persevere. "We have turned a corner. The elderly care sector will be more standardized in the future," she told Jinan Daily.
The rising prospect of these new professions will also play a role in helping to relieve the pressure on the job market. This year, 8.47 million young graduates will compete for a place in a weakened labor market, which was recently affected by the COVID-19 pandemic. According to the recruitment platform qlrc.com, 42.25 percent of graduates in east China's Shandong Province intend to join new and emerging professions.
Faced with the difficulty of finding a job in his field, Yang Jian, an architecture graduate, finally decided to turn to short video content creation. He now works 12 hours a day and earns an average of 10,000 yuan ($1,441) a month, which is more than the average salary of other young graduates. "By working hard, I will [eventually] be able to earn a good salary, as much as if I were working in a more traditional sector," he told Qilu Evening News.
According to a report of Meituan, an online platform, 24.6 percent of workers who have found employment in emerging professions earn more than 10,000 yuan ($1,441) per month and 5.64 percent have an income of more than 25,000 yuan ($3,603) per month.
In fact, there are many more new professions than the 38 officially recognized categories. Other alternative careers that are gaining in popularity include storage consultant and pet photographer.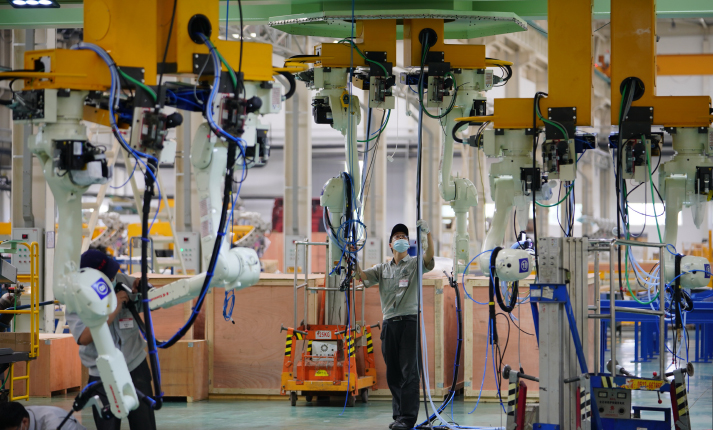 Technicians fine tune a robotic system at the Tangshan Kaiyuan Autowelding System company in north China's Hebei Province on July 17 (XINHUA)
Strong demand
Employment acts as the "barometer" of an economy. On the one hand, new jobs are meeting the demands of the booming market. On the other hand, they themselves create new demands for different professional skills.
In recent years, new digital technologies, such as cloud computing, Big Data, the Internet of Things (IoT) and artificial intelligence (AI), have developed rapidly in China. According to the China Internet Information Center, China's digital economy accounts for more than one-third of its current GDP and this share is bound to increase exponentially in the future. Moreover, new digital technologies have been successfully integrated into traditional sectors. This combination has given rise to new business models, which have generated a large number of jobs, Pan Helin, Executive Director of the Academy of Digital Economy at the Zhongnan University of Economics and Law, in central China's Hubei Province, told 21st Century Business Herald.
On July 15, China's National Development and Reform Commission and 12 other central departments jointly issued a directive to support the development of 15 new business models, such as distance learning, automated economy, sharing economy and telemedicine in the country.
Currently, the development of digital technologies has influenced all aspects of modern life, even traditional sectors such as marketing and sales. According to the MOHRSS, the growth of e-marketing sectors such as short video production and livestreaming has attracted more than 800 million regular users. As a result, the number of e-marketing experts has grown rapidly in China, at a rate of 8.8 percent per month. Many SMEs and microenterprises have been revitalized by launching online sales channels, generating sales of 100 billion yuan ($14.41 billion).
In the process of digital transformation of businesses, the biggest obstacle goes far beyond just technology or capital. It is the lack of digital talents that is hindering the strategic development of companies, said Wang Qian, Managing Director at LinkedIn's China Talent Recruitment Solutions Division.
At the end of June, a survey conducted by DingTalk, Alibaba Group's communication platform, showed that people born in the 1980s and 1990s were the main workforce in these new professions, representing 83 percent of all employees. Sectors of digital information technology, industrial manufacturing and services are generally among the most popular. It should be noted that 95 percent of young workers believe that learning skills of a new profession is a key factor in overcoming current barriers to employment.
However, the accelerating pace of digital transformation is also clearly hindered by a lack of talent. According to data provided by the Development Report on the eLearning Platform for New Professions, jointly published by MOHRSS and DingTalk on July 23, the demand for talent in new professions will continue to grow over the next five years. In fact, the number of Big Data digital managers and engineering technicians has now exceeded 2 million and is growing at an annual growth rate of over 30 percent.
According to Gartner, a leading global company in research and consulting, China will see a blockchain talent shortage amounting to more than 750,000 experts over the next five years. This number will rise to five million worldwide. If talent development in the digital technology sectors is not strengthened, it is estimated that by 2025, the talent shortage in these emerging sectors will exceed 10 million.
Comprehensive training courses
In order to close the gap between high demand and talent shortage, the MOHRSS and DingTalk joined forces and launched a New Professions Learning Platform in June this year. They plan to train 1 million new professionals in the year 2020.
According to the Development Report, more than 96 percent of employees are considering taking up training in a new profession and 72 percent of users prefer e-learning. Digital manager, AI engineering technician and IoT engineering technician are the most popular jobs.
The platform aims to provide comprehensive information and training on these new professions. It will play an important role in creating employment and stabilizing the labor market, said Liu Kang, Director of the MOHRSS Career Guidance Center.
At the same time, the Central Government is working to define occupational standards and qualifications for these new professions at the national level. Standards for agricultural manager and operator of industrial robotic systems have recently been promulgated. Other occupations will also be standardized in the National Plan for the Development of Occupational Skill Standards (2020-22).
In addition, the Development Report shows that more than 90 percent of enterprises encourage their employees to take part in vocational training courses in order to better adapt to enterprise development and give new impetus to the digital transformation. Colleges and universities, in turn, have taken up the issue and are now offering a number of new professional curricula. According to He Kai, President at the Xianghua Intermediate Technical School in Changsha, central China's Hunan Province, in recent years mobile Internet technologies have created new professional opportunities for young people, which means new professional skills are now needed in the market. To answer these new needs, his school plans to train 1,000 students this year based on the market demand. "We have also been cooperating with ZTE, one of China's leading telecom equipment makers, to train talent in the 5G field," He told the People's Daily Online.
According to Wan Gang, President of the China Association of Science and Technology, 75 universities have recently established 89 AI departments or research institutes. This emerging technology is particularly popular among young people seeking a promising career. In July, Lin Yi took her college entrance exam in Shandong and chose AI as her major. "AI is cutting-edge technology that allows access to several interesting jobs. I have read about it and I think it is a promising field," she told ChinAfrica.
Nevertheless, joining a new profession is not without risk. The flexibility of these new professional models often makes it difficult for companies to comply with labor law. The legal relationship between workers and the Internet platforms that employ them is ambiguous in many cases, particularly when it comes to online order delivery. There is an urgent need to standardize certain aspects of their relationship, such as contract terms, workers' compensation and social security contributions. In view of this, the regulatory role of local authorities is particularly important.
The government of Qingdao in Shandong Province, is actively providing workers' compensation insurance for employees joining new professions. The Qingdao human resources department is also preparing to explore policies that would allow workers engaged in new professions to be covered by certain additional insurance schemes.
The credibility of some new professions is sometimes called into question, especially in the livestreaming sector. On July 20, in order to strengthen ethics and promote the healthy development of the sector, authorities in east China's Zhejiang Province set the first management regulation for livestreaming host. This new regulation prohibits misleading advertising and emphasizes a number of requirements, such as product traceability. Tian Junzhang is encouraged by this new regulation and is more confident to the future development of his career.
(Print Edition Title: In Tune With the Times)
Comments to glj@chinafrica.cn