"I work with great pleasure every day, knowing that I will rise out of poverty by doing what I do best. My dream is to finish building my brick house, make my home as comfortable as possible, improve the living conditions of my children and grandchildren, and enable all of them to go to school," said Mballa, who has great ambitions for her future and that of her family.
All over the African continent, women farmers have increasingly got something in common: they are successful. Some of these women are landowners, job creators or agricultural trainers. Their career in agriculture brings them many opportunities to invest in the future of their children and their communities, with an aim of lifting themselves out of poverty.
Pioneering cocoa
Kate Kanyi-Tomedi Fotso is another of these outstanding African women in the field of agriculture. She has become successful in the cocoa industry. Fotso achieved her success several years ago by growing cocoa plants, which has enabled her to amass much of her fortune. In Cameroon's English-speaking Southwest Province, where she was born, Fotso now manages several cocoa fields and employs a number of growers. She is the managing director of Telcar Cocoa Ltd., Cameroon's leading cocoa company. Her company now accounts for more than 30 percent of Cameroon's cocoa exports. It ranks 18th among the top 100 companies in terms of sales figures in Cameroon.
For some time, Fotso has also been the main promoter of a certification system for the country's cocoa industry. In addition she is actively involved in several groups that bring together cocoa producers and operators from around the world, in which she encourages young girls to take a greater interest in agriculture, especially cocoa. In the last three cocoa harvests, she has distributed about $2 million in bonuses to Cameroon's certified cocoa farmers.
Cameroon's cocoa industry also owes a lot to Fotso's Cooperative Academy, which she launched in March 2016. With the help of this academy, Fotso aims to train about 908 delegates from 227 cocoa farmers' cooperatives over a period of three years. Her goal is to transform their organizations into viable, sustainable and profitable cocoa businesses.
Even before launching this initiative, Fotso is doing her part to nurture the next generation of rising cocoa producers. Between 2011 and 2015, she had sponsored the training of about 21,000 cocoa producers from different regions of Cameroon to teach them the industry's best practices. Of these, 8,000 producers received official training certifications.
In a speech she gave at the 2015 Cameroon International Cocoa Festival, held every year in Yaoundé, Fotso took the opportunity to encourage young girls to join the agriculture industry in greater numbers.
"Agriculture is an immense wealth generator, which allows all those who practice it with determination to achieve success in life, due to its wide range of products. I personally made a fortune in agriculture and I opted for cocoa production. Of course, it was not easy at first. Men and even some women said that I was going to run out of steam and drop out of this adventure," she said at the festival.
But Fotso said she had kept going, despite the naysayers, and after many years of relentless efforts she has emerged as a leader in the cocoa industry, not only in Africa, but also throughout the world.
"I encourage young girls to get involved in agriculture, which will help them lift themselves out of poverty and become truly self-reliant and independent," said Fotso.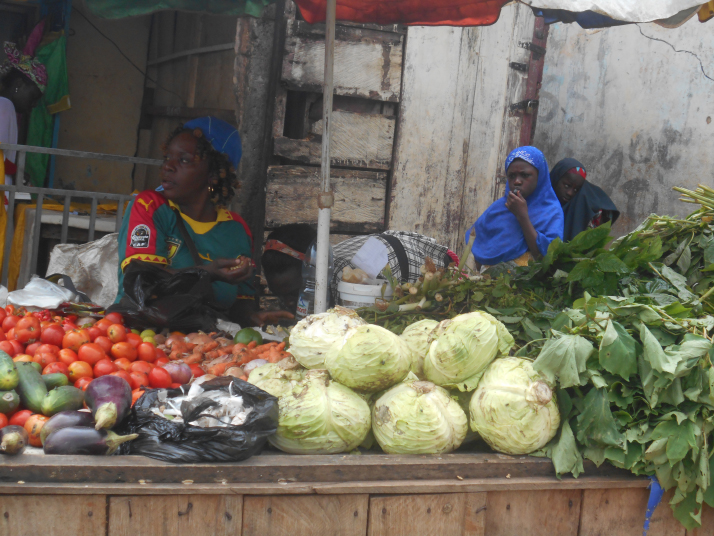 A woman sells products cultivated by Ernestine Mballa at a market in Yaoundé (COURTESY PHOTO)
Access to land
However, the number of women farmers as successful as Mballa and Fotso are few and far between. In fact, most African women farmers still face a number of difficulties and hardships in their daily lives. Although they account for almost half of the agricultural labor force on the continent, women do not enjoy the same kind of support and do not benefit from the same investments as their male peers.
Most experts in agronomy consider that access to land remains the most pressing issue for women farmers in Africa. According to the United Nations Food and Agriculture Organization (FAO), African women produce up to 80 percent of all food consumed by households in Sub-Sahara Africa. Despite this, only 2 percent of them have access to their own land.
African women are therefore marginalized and their rights to access to arable land are not respected. They rarely enjoy the same rights as men, especially when it comes to land ownership. They are subject to a number of discriminatory customs and traditions, and must face prejudice and male domination even in organizations seeking to address the issue of landless peasants.
Créssence Momedeng, 61, lives in Mkolveng, a village about 30 km from Nanga-Eboko, capital of Haute Sanaga Department. After her wedding, she was ostracized by her own brothers, who told her that she could not claim any piece of land in the village because her husband's village was now supposed to provide for her. But she experienced the same difficulties in her husband's family, as her brothers-in-law treated her as a stranger.
"In [my husband's] village, my plantations are sometimes destroyed when the men plant their fields. They expand their crops by encroaching on my crops," she told ChinAfrica.
According to a report published by the FAO, Africa only produces enough food to cover about one third of its needs and spends nearly $30 billion every year to feed its population. If productivity does not improve, this figure will rise significantly and reach about $120 billion in 2030.
In this context, it is therefore imperative for Africa to increase its agricultural output, say experts. African states must therefore provide more arable land to women on the African continent, who are the pillars supporting most of the food production that supplies big cities in Africa.
(Reporting from Cameroon)
(Comments to niyanshuo@chinafrica.cn)