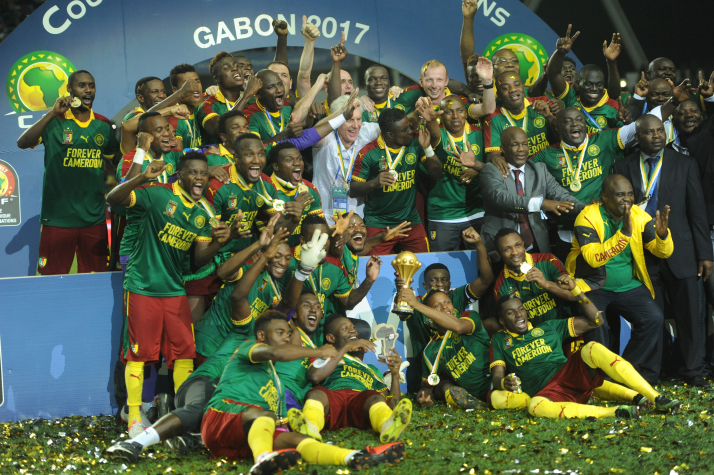 Cameroon would not want to miss the rendezvous next June (COURTESY PHOTO)
From March 22 to 24, the last playoff games will be fought for the final phase of this year's African Cup of Nations (CAN 2019) across the continent. This much anticipated football event will take place in Egypt from June 21 to July 19. There were originally 52 countries taking part, with only 14 countries officially qualifying for this final phase of CAN 2019, including Morocco, Mali, Nigeria and Kenya. Ten places are still vacant and these will be contested by 20 other countries.
Group reviews
In Group A, Senegal and Madagascar, with 13 and 10 points respectively, can no longer be joined by Equatorial Guinea and Sudan, who each have 3 points. Senegal and Madagascar are still to meet to determine the first place of the group.
In Group B, Morocco has already qualified with 10 points. Cameroon, second with 8 points, only needs 1 more point to book its ticket. The Indomitable Lions, defending champions, face the Comoros who, if they win, will be up to 8 points and will pass in front of the Cameroon because of a 1-1 draw at Moroni. Originally, Cameroon, as the host country of the CAN, automatically qualified. But with the decision of the Executive Committee of Confederation of African Football in December 2018 to entrust this edition of the CAN to Egypt, the winner of the 2017 CAN is now obliged to win its place on merit.
In Group C, Mali has qualified with 11 points and South Sudan eliminated. The Second place will be played between Burundi (9 points) and Gabon (7 points). The two teams will face each other on March 22 in Bujumbura, in a match that promises to be thrilling and electric.
Group D has already delivered its first qualifier. This is Algeria with 10 points in five games played. Benin (7 points) and Togo (5 points) compete on the last day in a West African duel.
In Group E, Nigeria has already booked its place to win what could be its third CAN trophy. With 10 points, the Super Eagles can no longer be joined by Libya (7 points) who will seek to glean the second place occupied by South Africa (9 points) on the last day. The Libya-South Africa duel will certainly be a humdinger in Tripoli. Both teams tied for the second day in South Africa. A draw would be enough for the Bafana Bafana team from South Africa.
Emergence of small African nations
In Group F, Kenya and Ghana have already qualified. Their qualification was easy with the disqualification of Ethiopia. Sierra Leone was not able to get passed these two football super nations. Ghana has already won the title four times, while Kenya won the 2012 CAN against Cote d'Ivoire.
Group G remains open with four teams who can still claim a probable qualification. Three points separate Zimbabwe, leader with 8 points, from the last, the Republic of the Congo, with 5 points. On March 22, Zimbabwe will face the Republic of the Congo with the ambition to get a single point and make it to Cairo, while Liberia will take on the Democratic Republic of the Congo, which absolutely needs a victory to get through.
Group H has also already delivered its results with the qualification of Guinea (11 points) and Côte d'Ivoire (8 points) and the elimination of Rwanda and the Central African Republic.
In Group I, Mauritania qualified by beating Botswana (already eliminated) 2-1. The performance of the Mourabitounes (nickname of the Mauritanian team) is remarkable as this country, ranked the 104th football nation in the world, had two experienced countries in its pool, namely Angola and Burkina Faso. Burkina Faso ranked third at the CAN 2017 in Gabon. The Mauritania players of French coach Corentin Martins will seek to create a surprise at the CAN 2019. With 7 points, the Burkina Faso team will compete for the second qualifying place. They will have to beat Mauritania on the last day, counting on a Botswana win against Angola, which totals 9 points, to hope to travel to Cairo in June.
Egypt, designated host country of the CAN 2019, has already done the job on the field by winning its qualification in Group J along with Tunisia. Both teams have 12 points each. Niger (4 points) and eSwatini (1 point) are eliminated.
Group K has already seen the elimination of the winner of CAN 2013, Zambia. With only 4 points, the Chipolopolos of Zambia can no longer catch Guinea Bissau and Namibia (8 points) and Mozambique (7 points).
Finally, in Group L, with its 13 points, Uganda confirms its renewed vitality in football with a second consecutive qualification for the finals of the CAN after the 2017 edition in Gabon. Lesotho, Tanzania and Cape Verde will seek to glean the second qualifying place.
(Reporting from Cameroon)
(Comments to niyanshuo@chinafrica.cn)