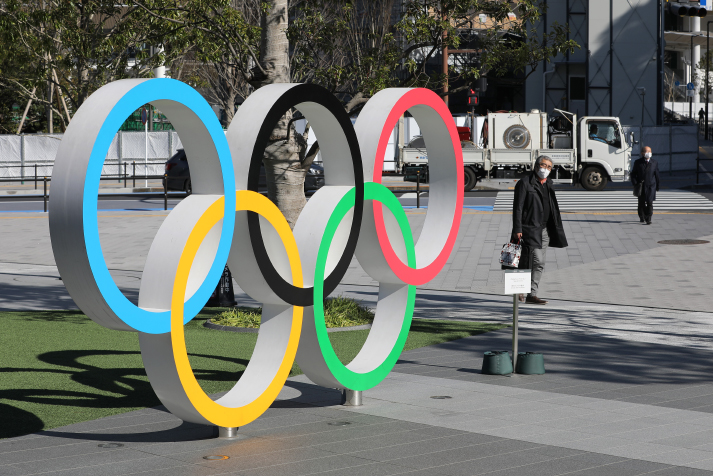 Although the Tokyo Olympic and Paralympic Games 2020 has been postponed to 2021, many sportsmen preparing for the next Olympic Games have not stopped training (XINHUA)
The year 2020 was supposed to be a very busy one for sports in China. A number of major competitions were planned to be held throughout the year. The Chinese Super League football season was due to start on February 22. The season was expected to include matches involving Chinese teams in the Asian Champions League, as well as the FIFA World Cup qualifiers, which were to take place on March 26 and 31 against Maldives and Guam respectively. All of these matches have now been postponed, as has the Olympic qualification tournament for women's football teams, originally scheduled to take place in Wuhan, the epicenter of the COVID-19 pandemic in China. This city was also supposed to host a qualifying tournament for the Olympic Games from February 3 to 14.
Other competitions such as the China Open (golf), the FINA Diving World Series, the Chinese Grand Prix (Formula 1), the Asian Indoor Athletics Championships and many more have been postponed or canceled, due to isolation measures imposed by Chinese authorities to fight against COVID-19. Accustomed to following a regular training rhythm, professional athletes were forced to postpone their training and adapt to a new lifestyle, one limited to their place of residence. Athletes are using their ingenuity to come up with ideas to remain healthy and stay in shape.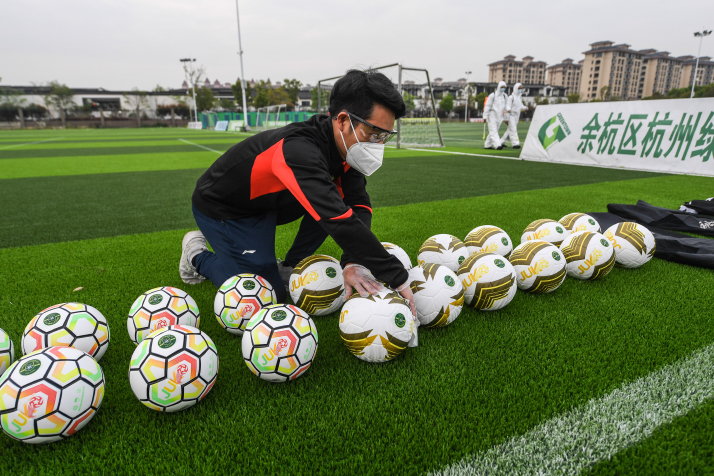 A coach carries out the disinfection for training equipment during an epidemic prevention exercise at a football school located in Hangzhou, East China's Zhejiang Province, on March 26 (XINHUA)
Training goes on
To make sure they can keep in shape, many Chinese sportsmen preparing for the next Olympic Games have not stopped training. As soon as the isolation measures were announced in China, these athletes have found themselves stranded in training centers where they have been keeping up their Olympic training schedule since January 24. In these centers, where no one was allowed to enter or leave for two and a half months, Chinese professionals in athletics, weightlifting, swimming, martial arts, table tennis, cycling, pole vault and many others sports have continued their training as planned.
"All of the amenities are available in these training centers. There are sports facilities, weight rooms, canteen - nothing is missing," said one of the technical staff. The athletes are properly supervised by coaches, dieticians, physiotherapists and members of the medical staff who have also remained with them in these "bunkers." The only time they left the training facilities was when going back and forth between the center and their housing.
"In Beijing, the athletes' accommodations are not located in the same place as the sports facilities, but there is a shuttle with a carpet on the ground filled with disinfectants. Each time we enter or exit, we must wear a mask and they take our temperature." In Shanghai, isolation measures were strict. "For a month and a half, we did not have the opportunity to go out, even for shopping, and nobody else was allowed to enter the training facilities," Fabio, a physiotherapist working with one of the Olympic preparation teams, told French newspaper Le Parisien.
As the epidemic is waning, these strict isolation measures are also gradually being lifted. Now, some training coaches are allowed to go home on the weekends. Parcel deliveries are once again authorized. But caution remains the priority. This does not seem to bother professional Chinese athletes, who are used to working hard and almost living in these training centers. On the other hand, foreign members of these training teams must get used to the new situation, in order not to contract the virus and contaminate the athletes who continue to train hard.
Home life innovation
To escape the novel coronavirus and the isolation measures, some foreign athletes were quick to leave China. This is the case with some African footballers playing in the Chinese football league. Christian Bassogog, Cédric Bakambu and many other African athletes have returned to their respective home countries, where they are now in isolation. To stay in shape, these athletes also received a strict physical training program from their coaches and trainers, which they must follow.
"This at least allows me to keep in shape, not to gain too much weight, and especially not to freak out by walking around in circles inside my home," said a table tennis player who left China for Kenya.
Stéphane Mbia has also tried to keep in shape over the last three weeks. Although confined to his home in Yaounde, Cameroon, Mbia said he rigorously follows the physical training program given to him by his football club. As a new member of the Shanghai Shenhua FC, a team he joined on January 24, he is keenly aware of how important it is to not slack off. "An athlete who is over 30 years old must do double the work to avoid getting out of shape. As soon as you stop for a long time, recovery is slow and it takes a lot more time to get back into shape and keep up with the others," he said. Hence the intensity and efforts he puts in his pre-season training in his family home in Yaounde.
Several other athletes, like members of the Chinese national team, who are preparing for the next Olympic Games but did not enter the training centers before the start of the isolation period, are now following a training program at home.
"This will allow them not to remain active. But they must follow the program more rigorously since they are not under constant monitoring. If they slack off, they will have a hard time getting back on their feet and keeping pace with those who have continued their training normally," said Fabio Cannavaro, Italian head coach of the Guangzhou Evergrande.
Isolated, but active
These athletes are also exploring other leisure activities to maintain good mental health during this period of isolation, including reading, gardening, cooking, playing video games, running an apartment marathon and e-commerce.
Everyone is finding new ways to keep busy. These activities also have their own sporting and economic implications. According to figures from a number of Chinese e-commerce sites, some items such as video games, yoga mats, and books have seen an increase in sales during the isolation period.
All over China, many living rooms and courtyards inside homes have been transformed into sporting halls or training areas for athletes. Some have even pushed the idea further. Racing enthusiast Pan Shancu has now become a social media star. The 44-year-old Chinese ran 66 km in circles inside his bedroom and living room. He did this in 6 hours 41 minutes, or almost 10 km per hour. There seems no doubt that many others will follow him and try to take up new athletic challenges within the four walls of their home.
(Print Edition Title: Keeping Fit in Isolation)
Reporting from Cameroon
Comments to zanjifang@chinafrica.cn