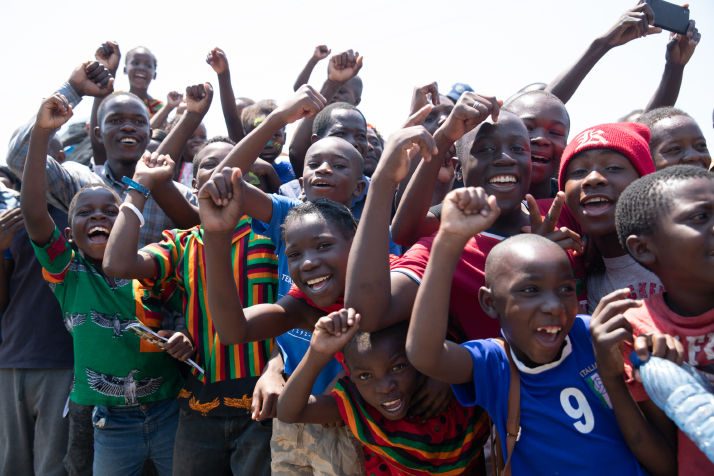 By founding Haven Learning Center, Chisha Marumahoko wants to create a place of hope, a place of equality and a place where every child can achieve their dreams (XINHUA)
The global coronavirus pandemic, which has closed many schools indefinitely, has had a huge effect on students and young people - more than 1.5 billion of them around the world, according to the WHO COVID-19 Situation Report-77 published on April 6. African students are no exception. The challenge for many is a lack of online resources to continue their learning.
However, to some parents' relief, prerecorded videos to help kids study at home have been available since the end of March. These online review classes are recorded by teachers of various subjects such as mathematics, English and science from Zimbabwe and Zambia.
Behind this initiative is Chisha Marumahoko from Zambia. Along with four other team members based in Canada, UK, Zambia and Zimbabwe, the 37-year-old educator founded the Haven Learning Center, an NGO which was registered early this year. As they have no volunteers at the moment, they pay these teachers to record the review classes, which last 30 minutes each. On the other hand, they offer the classes for free. "It is all for charity; to help our kids study during the pandemic," said Marumahoko. They stream the lessons weekly and upload them on their website and other social media platforms including YouTube, WhatsApp and Facebook.
"Due to limited resources, we are unable to cover all the examination classes," said Marumahoko. At the current stage, this online educational program is targeted at school children in grade 7 in Zambia and Zimbabwe, who have to sit in a national exam for enrollment into junior secondary school. "These national examinations in both countries are very important as they will determine which secondary school a child can attend," she explained.
They had hoped to have the classes also broadcast on national television and radio stations. In that way, not only parents in cities that have access to the Internet but also people in the rural areas could benefit from this program, as people have radio and television in their homes. But such a huge project will cost money and so far they don't have such funds available. "This is not going to stop our efforts; we will continue with our program and reach out to as many people as we can with the resources we have," said the founder of the NGO.
Achieving equality
This is just one program they have initiated to help African kids and parents cope with the pandemic. "We endeavor to make our programs suitable for the current times we are living in," she added.
But originally, the Haven Learning Center was created to help "differently abled" children to attain equal educational opportunities. By referring to people with disabilities as "differently abled," Marumahoko tries to "tell the world that though these children appear different from what society regards as the norm, they are still children who are capable of accomplishing a lot in life."
For the same reason, she named her NGO Haven Learning Center. "The word 'haven' means a place of safety or refuge. As an organization we seek to create a space in the society where we treat our children equally despite their differences," she told ChinAfrica.
Her past working experiences in Zimbabwe and Zambia have had an impact on the vision of the Haven Learning Center. She worked in Zimbabwe for an organization that focused on various
capacity-building projects for women in rural and semi-urban areas. She also worked with teens with disabilities, facilitating vocational training for them as they were out of formal school.
An internship in the Ministry of Community Development and Social Services of Zambia made her realize some of the needs of the children and provided insight into what she could do to help. That's when she thought of starting projects aimed at improving the quality of life of the disadvantaged through increasing literacy levels and offering vocational skills training.
But what finally forced her to make up her mind to found this NGO has something to do with her experience in China. In 2013, she moved to China with her kids and her husband, who is from Zimbabwe. With a master's degree in education from University of Essex Online, she is now an academic manager at an education institute in Beijing. Her husband is also a teacher in the city.
Working as an educator, she easily noticed the great importance attached to education in the Chinese society, especially the huge investment Chinese parents make in their children's education. In addition, the emphasis on learning of practical subjects such as information technology in both primary and secondary schools in the country also inspired her.
"It challenged me to try and make an effort and change the little part of the world that I could influence by reaching out and giving back to my country what I am learning in China," Marumahoko recalled. As a result, she decided to team up with her former colleagues who shared the same passion with her and birthed the Haven Learning Center.
Breaking the poverty cycle
Despite the fact that they recently started this NGO, Marumahoko believes they have begun to achieve their goals. They currently use various social media platforms to publicize their programs and people get in touch with them via their website and email. "The mere fact that people already know about us and are coming in to ask and work with us is a remarkable giant stride in fulfilling our purpose," she said with conviction.
Indeed, some outcomes are already visible. In their Sponsor the Child program, the team identifies and profiles children who require assistance in the community back in Zambia and Zimbabwe. Some come through recommendations from school heads, teachers or members of the community. When potential sponsors approach, they can choose the students they want to help with the education fees. Currently, they have three donors to sponsor 10 children. Some beneficiaries are from Chefunye Primary School in Tshefunye Village in Bulawayo, Zimbabwe. And some are in special schools in Harare, capital of Zimbabwe.
In another program called Mobile Library, books and toys are collected for kids from different parts of the world and donated to the children as well as the institutes the NGO works with.
"An investment in knowledge is worth every dollar spent. The knowledge the children gain from reading books exposes them to a wealth of ideas and transforms their minds. It also breaks the cycle of poverty that many of the children are trapped in," she said. They managed to find some books and toy donations from China, Malaysia and UK. They are also still negotiating with some potential donors. Donations will be sent through joint efforts of their organization and the sponsors once the COVID-19 situation calms down. They also accept individual donations, like second-hand books or toys. "For us no donation is too small."
Another program they are planning to launch is Digital Skills Training program, which will target the out of school youths with disabilities. Through this program, the NGO wants to offer professional tech training with certification so that it can help the youths find jobs.
"Having a disability should not be the reason why someone doesn't get access to education. I am very passionate about knowledge and I believe that education should be accessible to everyone worldwide," she concluded.
(Original Title: Haven of Hope)
* For more information about Haven Learning Center: www.havenlearningcentre.org
* Comments to lixiaoyu@chinafrica.cn