Cobhams Emmanuel Asuquo, a 39-year-old Nigerian musician, is extending his musical gift beyond Africa, America and Europe where he has earned tremendous success as a music artist. On May 11, his song Ordinary People was released in China, a part of Verse One Distribution's GoAsia campaign.
Cobhams Asuquo hopes his music would turn him into an ambassador of a rich culture and heritage. "We are about to witness the introduction of a brand new, true, organic and proudly African genre. It will be an eclectic experience for the Chinese market," he told ChinAfrica. On the other hand, "as deeply cultural as it is, China has become the melting point for productive and creative diversity. This makes it a good launch pad to the world," he said.
He hopes that as his music gains acceptance, he can immerse himself in the equally rich culture of China and share his experience with people back home. "I also look forward to opening opportunities for collaborations as a means to expose the people of my country to Chinese culture," he added.
With his new single Ordinary People, Cobhams Asuquo wants to convey a message of hope and encouragement, one that encourages everyone to play a part in making the world better. "You don't need to be a superstar to make a difference because ordinary people make a difference every day," he said.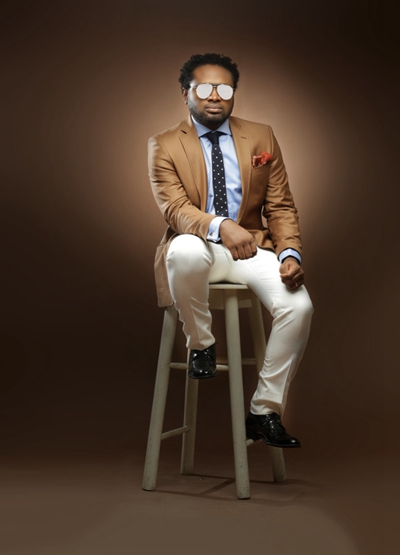 Nigerian musician Cobhams Emmanuel Asuquo
To help fight the COVID-19 pandemic, he wrote a song called We Go Win (Corona). "I put out the song because people need to hear a message of hope in the face of the apparent despair that has accompanied the pandemic. People need to know that winning is a collective effort and they also need to know practical steps to achieve the victory," he explained.
Cobhams Asuquo is a visually impaired Nigerian musician, producer, songwriter and entrepreneur. He has won multiple local and international awards for his creative and entrepreneurial contributions to the Nigerian music industry.
Talking about the advantages of living without sight, he called it "a gift of blindness." "I believe that sight is a good thing but we are constantly being inundated by visual images that distract us more than they help us move forward," Cobhams Asuquo told ChinAfrica. "To a large extent, I am able to escape that. As a result, I am able to focus on the things that matter more to me. I also have no shame or fear of failure because when you start out as I did, you have more to gain than to lose."