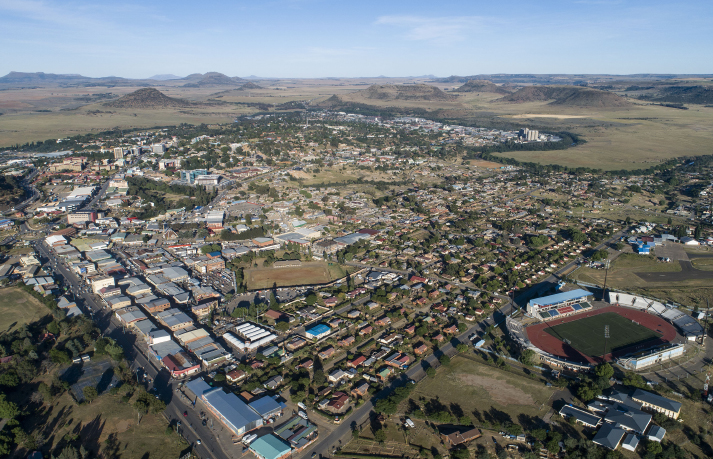 Lesotho reports the first COVID-19 case of the country on May 13, which means the epidemic has spread to all African countries (XINHUA)
The COVID-19 pandemic has left many individuals and businesses counting their losses in all sectors of the economy. Notably, there has been a big shift in stock markets, increase in the number of unemployed people, plummeting oil prices and reduced travel. Worse still, experts are warning that COVID-19 will be with us for some time, unless an effective vaccine is found. While the pandemic continues to cause havoc in the global economy, it is important to consistently evaluate the socio-economic impact it has on the African economy.
Impact on economy
The World Bank, in its Africa's Pulse report released in April, estimated that the pandemic could cost sub-Saharan Africa (SSA) between $37 billion and $79 billion in output losses this year. It also portended that the impact on household welfare is expected to drop drastically, with welfare losses in the best-case scenario projected to reach 7 percent in 2020, relative to a non-pandemic scenario. On food security, the report indicates that COVID-19 will potentially create a severe food security crisis in SSA, with agricultural production contracting between 2.6 percent and 7 percent. Food imports are also expected to decline substantially to a high of 25 percent and low of 13 percent, due to high transaction costs and reduced domestic demand. The aggregate effect, the World Bank predicted, is that the pandemic will set off the first recession in the region in 25 years, with growth forecast at negative 5.1 percent in 2020 from a modest 2.4 percent in 2019.
Ethiopian Prime Minister and 2019 Nobel Peace Prize laureate Abiy Ahmed, writing in the Financial Times, noted that the only way to defeat COVID-19 is by way of a coordinated global leadership, spearheaded by the G20 nations and international financial institutions. Ahmed is calling on advanced economies to come to the aid of Africa through meaningful economic stimulus packages.
Moves of Africa
This does not imply that African countries are not doing enough to cushion themselves against the adverse economic impact of the COVID-19. At the continental, regional and country levels, there are specific coordinated measures in place. At the continental level, the AU is leading negotiations for the cancellation of nearly $236 billion in external debt as a war chest to fight the pandemic and as an economic stimulus to jump-start their economies. AU Chairperson and President of South Africa Cyril Ramaphosa appointed Ngozi Okonjo-Iweala (Nigerian economist), Donald Kaberuka (Rwandan economist), Tidjane Thiam (Ivorian banker) and Trevor Manuel (South Africa's former finance minister) as the AU's special envoys to mobilize international economic support for a comprehensive stimulus package, deferred debt and interest payments for a continental fight against COVID-19.
On the regional front, regional economic communities in Africa are leading the fight against the pandemic. The heads of state of the East Africa Community, in a virtual meeting to take stock of the effect of the COVID-19 in the region, noted that key sectors of the economy such as agriculture, trade, tourism and manufacturing were experiencing a slowdown, and agreed to support regional supply chains to ensure sustained production of essential goods.
At the country level, the AU acknowledged efforts by countries such as Ethiopia, Mauritius, Morocco, Kenya, Nigeria, South Africa among others for introducing policies to help micro, small and medium Enterprises (MSMEs) cope with short-term financial risks and long-term business outcomes caused by COVID-19. Some of the measures taken include concessional financing, tax reductions, loans and grants, employment incentives, technical assistance and other indirect support. The objective is to reduce job losses, prevent bankruptcy and insolvency, foster investment and assist economies in regaining their economic feet faster than anticipated.
In Kenya, the government has come up with several tax measures to cushion the most vulnerable individuals and businesses by introducing 100 percent tax relief for low income earners (on gross monthly income of up to $240), reducing the pay-as-you-earn tax rate from 30 percent to 25 percent, value-added tax rate from 16 percent to 14 percent and resident corporate income tax from 30 percent to 25 percent. The Central Bank of Kenya has also been instrumental in encouraging cashless transactions to cut down on the potential spread of the virus through the use of physical currency by ordering banks to waive bank fees for transferring money between bank accounts and mobile wallets. With nearly 2 million jobs on the line in the tourism sector - contributing 10 percent to the GDP - the government announced a $5-million package to support the tourism industry.
The Bank of Zambia has reduced the country's interbank payment and settlement system's processing fees and increased the limit on agents and corporate wallets for individuals, farmers and SMEs from around $550 to $54,750.
Meanwhile in Uganda, the Bank of Uganda intervened in the foreign exchange market to smoothen out excess volatility occasioned by the adverse effects of COVID-19 on the global financial markets. The government is also providing liquidity assistance to financial institutions for 12 months for onward lending to MSMEs, in order to minimize the likelihood of sound businesses going into insolvency due to a lack of credit.
Other countries, including Rwanda, Seychelles, Madagascar and Sierra Leone, have created a special lending facility to commercial banks as an emergency relief fund for businesses to keep them afloat and cut down on potential job losses in the economy. South Africa and Mauritius have created a fund of $56.26 million and $130 million respectively to breathe a new lease of life in businesses that are struggling to cope with the adverse effects of the pandemic.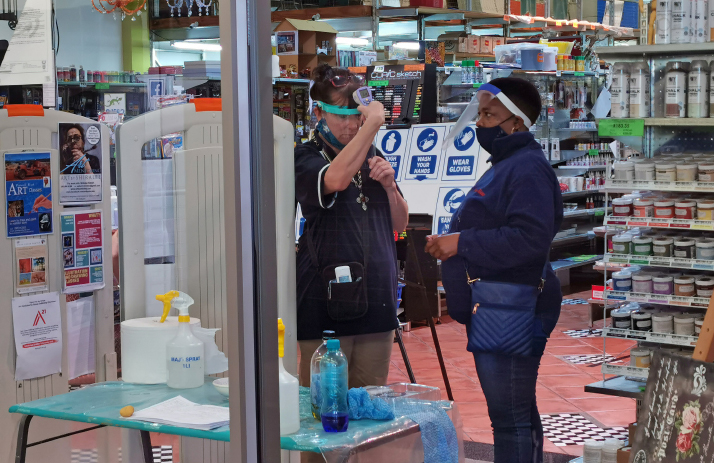 Staff members of a shop in Johannesburg, South Africa, check temperature before the opening of the shop on May 2 (XINHUA)
More to be done
While most African countries have come up with the necessary measures to address the adverse economic effects caused by COVID-19, there is still so much to be done. There is a need to focus on strengthening healthcare systems in Africa by formulating policies or implementing those that are gathering dust on shelves to support the majority of the population employed in the informal sector who cannot afford medical insurance. There is also a need for strengthened partnerships between Africa and other regions, particularly the G20 nations, through creation of a special fund to support the development of healthcare systems in Africa.
African countries must keep their borders open to ensure free movement of people and goods in line with the African Continental Free Trade Agreement. The novel coronavirus, however, is a risk factor for this continental plan, but leaders can turn it into an opportunity for stronger cooperation. Quick gains could be achieved by consolidating the regional integration initiatives to foster trade and tourism, improve regional value chains and keep the economies of the continent's 16 landlocked countries alive and kicking.
(Print Edition Title: Fighting Back)
* The writer is an economist, consultant and a regional commentator on trade and investment based in Nairobi, Kenya
* Comments to zanjifang@chinafrica.cn