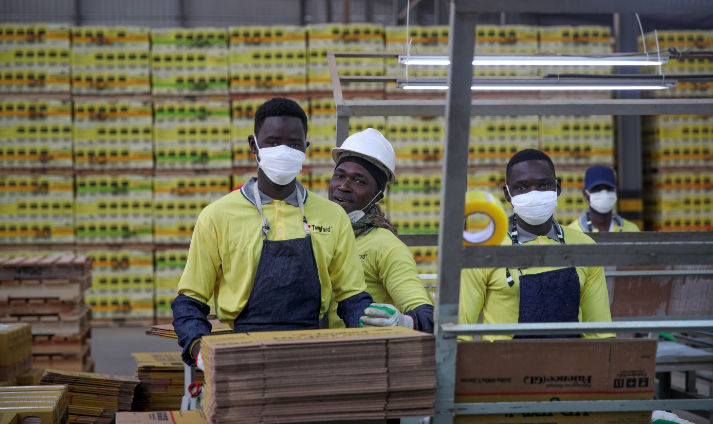 Twyford Ceramics workers in Senegal (Twyford Ceramics)
On January 14, Senegalese President Macky Sall cut the ribbon and inaugurated the country's first ceramic tile manufacturing plant. This plant is owned by Twyford Ceramics, a Chinese company owned by Keda Industrial Group and Sunda International Group, is located in Sindia, which is at the very heart of the triangle formed by Mbour, Thies and Dakar, three of the most economically dynamic cities in Senegal. It is also close to the new Blaise Diagne International Airport. Sall believes this new plant will help boost the country's construction industry and support the emergence of a building and public works sector in Senegal.
Before the arrival of Twyford Ceramics, Senegal's imports of tiles used in the construction sector amounted to 78,850 tons per year, representing a value of nearly 30 billion CFA francs ($55 million), said Sall during the inauguration ceremony for the new plant. With an installed capacity of 55,000 square meters of tiles per day, the Twyford Ceramics factory in Senegal will cover almost all of the needs of the local market and part of the demand of the West Africa sub-region.
According to Zheng Mingzao, CEO of Twyford Ceramics, the company has made an initial investment of $82 million, of which $62 million was used for fixed assets and $20 million for movable assets. The plant has created 1,000 direct jobs and 2,000 indirect jobs for local people. It currently has a production capacity of around 18 million square meters of tiles per year and will make both earthenware and ceramic tiles. The needs of the local tile market in Senegal are estimated to be around 20 million square meters per year, said Zheng.
Half of the market
Twyford Ceramics already accounts for around 50 percent of the Senegalese tile market, according to Zheng. Being one of the largest tile factories in West Africa, the company will also export its tiles to the other countries in West Africa. From Dakar, Twyford Ceramics can access the markets of the West African Economic and Monetary Union with 120 million potential customers, the Economic Community of West African States with nearly 400 million consumers, and very soon the African Continental Free Trade Area, which will encompass more than 1 billion African consumers.
In addition to the production of tiles, Sall urged Twyford Ceramics to consider investing in other sectors of the construction industry, especially in sanitation, that will ultimately help lower the cost of housing in Senegal. He also applauded the company for choosing Senegal as the base for its factory. "I would like to express all my satisfaction and my support to the company for having chosen Senegal to set up this gigantic industrial factory, the most important one in Sub-Saharan Africa in terms of investment and production after its projects in Ghana, Tanzania and Kenya," he said.
"The company will be able to meet some of the demand throughout the sub-region," Sall added, before urging his government to "help protect this company that creates not only jobs, but also income, for our country, so that unhealthy competition does not disturb its development."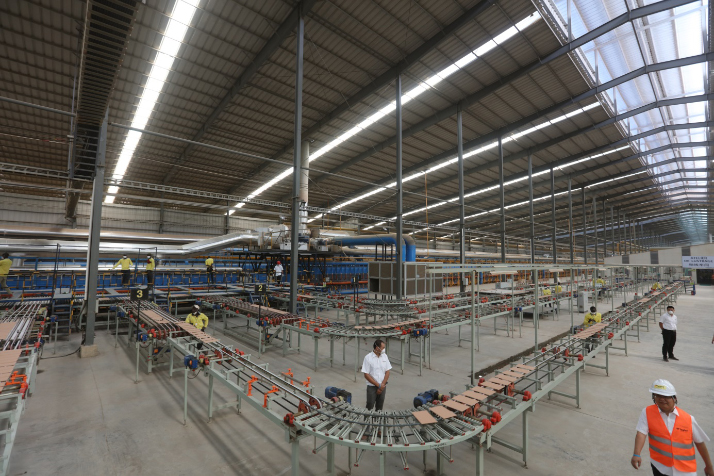 A production line of the Twyford Ceramics Senegal factory (Twyford Ceramics)
Tax contribution
Zhang Xun, China's Ambassador to Senegal, said that the ceramic tile factory would generate nearly $6 million in taxes per year for Senegal. According to Zhang, the reason why Chinese companies have chosen to invest and set up plants in Senegal is that "they are attracted by the potential of the country," which is also politically stable and is considered an economic hub by the executive management of Twyford.
Zhang congratulated Sall for his vision as formulated in the Emerging Senegal Plan. "Indeed, in recent years, the plan has been progressing at full speed. The economic development of Senegal has entered a strategic phase characterized by strong and constant growth; its business environment is constantly improving and the standard of living of the people is significantly high," he said.
The Emerging Senegal Plan was adopted in 2014 and is aimed at transforming the country into an emerging economy by 2035. Since then, Senegal has recorded an average annual growth of 6 percent. An increasingly large middle class is taking shape, thus generating significant demand for construction. It was in this context that Sall launched a very ambitious program to build 100,000 housing units in Dakar and in other cities in the interior of the country. At the same time, Senegal has embarked on the construction of two new cities in the Dakar Region: Lac Rose and Diamniadio. The latter will be a smart city and is already starting to welcome its first occupants. Several ministries have now been relocated there with a view to unclogging Dakar.
Local inputs
"Twyford Ceramics will make a critical contribution to the establishment of an industrial sector, and help reduce the shortage of social housing in Senegal, particularly in the new city of Diamniadio. It will also contribute to the development of a construction industry that is integrated into the local industry of Senegal and endowed with a potential of international influence," said Zheng.
He added that the company will bring a number of benefits to the Senegalese people, who can now enjoy lower construction costs and better quality products made locally, thus reducing the reliance on imports in line with Senegal's industrialization policy. Almost 95 percent of inputs used by Twyford Ceramics, including granite, kaolin and clay, are produced locally. These products come from the Thies Region, where the factory is located, and also from other Senegalese regions.
In the meantime, local communities in Sindia are said to be delighted with the arrival of Twyford Ceramics in their locality. Among them is Sindia Mayor Thierno Diagne. "By welcoming this new factory in our commune, we are implementing the policy of President Sall to promote youth employment. In doing so, we have been making a modest contribution to the fight against unemployment, rural exodus and, above all, illegal immigration," said Diagne.
(Reporting from Senegal)
(Printed Title: Building Foundation)
Comments to liuwei@chinafrica.cn