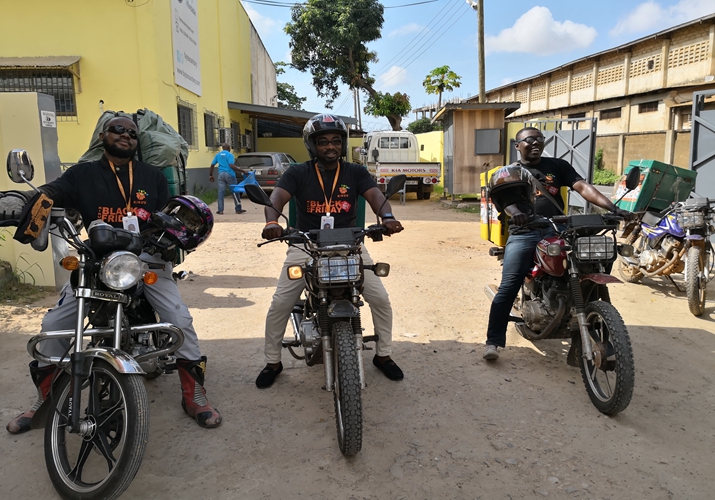 KiKKU's African couriers in Ghana (COURTESY PHOTO)
A KiKUU parcel was successfully delivered to a village at the foot of Mount Kilimanjaro, the highest mountain in Africa. Created five years ago, the KiKUU e-commerce platform, based in Hangzhou, Zhejiang Province in east China, currently boasts 10 million registered African users and covers 12 countries on the continent, including Ghana, Tanzania, the Democratic Republic of Congo and Cameroon. With an average daily order of 50,000 parcels and an annual delivery of 5 million packages, it has become one of the top three local platforms of its kind in Africa.
"Through this platform, Chinese small and medium enterprises can get orders from Africa without leaving the country, and Africans have access to affordable Chinese goods as well," Wang Ke, CEO of KiKUU, told ChinAfrica.
Payment and logistics
In 2015, the KiKUU platform was launched in Ghana and Tanzania. At the very beginning, Wang realized that the African market was much more challenging than he had expected: Payment and logistics systems were relatively undeveloped, and many African countries have only main transport routes and no "last-mile" service. To solve the problems, KiKKU designed its own payment and logistics system.
According to Wang, smartphone users account for 30 percent of all cell phone subscribers in Africa, while virtually all cell phone subscribers use mobile wallets. Hence KiKUU worked with local operators to connect the platform's payments to mobile wallets, which proved to be much more convenient for the local customers.
KiKUU runs an independent logistics chain. In China, the company has a 2,000-square-meter warehouse in Guangzhou, Guangdong Province in south China, where Chinese merchants send their goods, which are then flown to Africa and subsequently distributed across the continent. Logistics and "last-mile" delivery are handled by the KiKUU team, and an online system tracks information on all orders.
The company has trained its own logistics teams in Africa and set up logistics and distribution centers in the African countries concerned. Its African branches have acquired motorcycles and hired couriers to cover the "last mile".
In addition to a logistics center in Accra, Ghana, KiKUU operates more than 200 logistics sites in the West African country, where the average monthly per-capita income is 2,000 yuan ($306), while KiKUU couriers earn nearly 5,000 yuan ($765). According to Wang, the average daily volume of KiKUU parcel delivery in the country is about 3,000 to 4,000 pieces, and sometimes the number may exceed that of the local post office.
However, nothing is perfect. Sometimes parcels get lost, and quite often parcel receivers refuse to pay the couriers. In cases like these, the team leader is left with the responsibility of locating the parcels or dealing with those customers.
Overall, KiKKU employs nearly 600 African workers in its distribution, warehousing, and services systems. The company trains African logistics managers, some of them have traveled to China for training sessions and visits at Chinese express logistics companies.
In early 2019, KiKKU began building warehouses in Africa. Local consumers can now receive goods within two days if they are shipped through local warehouses in Ghana, whereas it would normally take at least two weeks to receive goods via cross-border transport.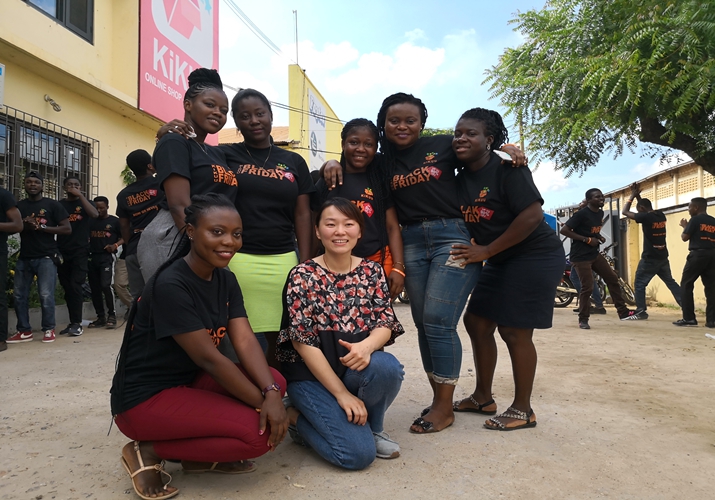 KiKKU's service team in Ghana (COURTESY PHOTO)
Growth prospects
Yves Ishimwe, a resident of Kigali, regularly orders products from China – mostly electronic devices or women's handbags. The 23-year-old graphic designer started doing so on the KiKKU platform in 2019, following a friend's advice.
Launched in September 2019 in Rwanda, KiKKU now counts 30,000 active daily users among a total of 1 million in the country. "The platform is very convenient for customers making purchases from abroad, which is an excellent starting point," Mr. Ishimwe told Xinhua News Agency.
Through its local branch in Rwanda, KiKUU offers an after-sales service that allows the exchange and return of sold goods. It also operates stores allowing Rwandans to enjoy the same services offline as those provided online.
E-commerce is a promising sector on the African continent. Other platforms, such as Amazon, Jumia, and Kilimall are also present and compete for market share. "Competition means that there is a profitable market to be explored," said Huang Qianyu, KiKKU's director of operations.
This confidence is explained by a rapid increase in the number of the platform users and greater Internet coverage on the continent. A report published by the French National Institute of Demography shows that Africa will be a region in the world with the highest population growth in the coming decades. According to McKinsey, 50 percent of the African population would have access to the Internet by 2025. As a result of progressive Internet penetration, online shopping in Africa is expected to reach 10 percent of the retail sector, with overall online sales in the region expected to reach $75 billion.
In early December, International Data Corporation, a global technology research and consulting company, released a report showing that global cell phone shipments to Africa declined by 6 percent year on year in the third quarter of 2020. However, the decline was primarily due to an 11.2 percent drop in feature phone shipments, compared to a 14.1 percent increase in shipments of smartphones during the same period.
The African e-commerce sector is set to get a boost from further development of the telecom infrastructure. In May, nine telecommunications companies in countries such as China, the United States, France, South Africa and Egypt announced the creation of the submarine cable, 2Africa, which will serve both the African and Asian continents.
The 2Africa project is expected to be completed in 2023-2024. According to some experts, the cable will significantly improve Africa's connectivity and create favorable conditions for the development of mobile applications and digital terminals in Africa. Upon completion, the project will provide a strong impetus to Africa's digital transformation.
(Print Edition Title:

A Promising Market

)
Comments to glj@chinafrica.cn