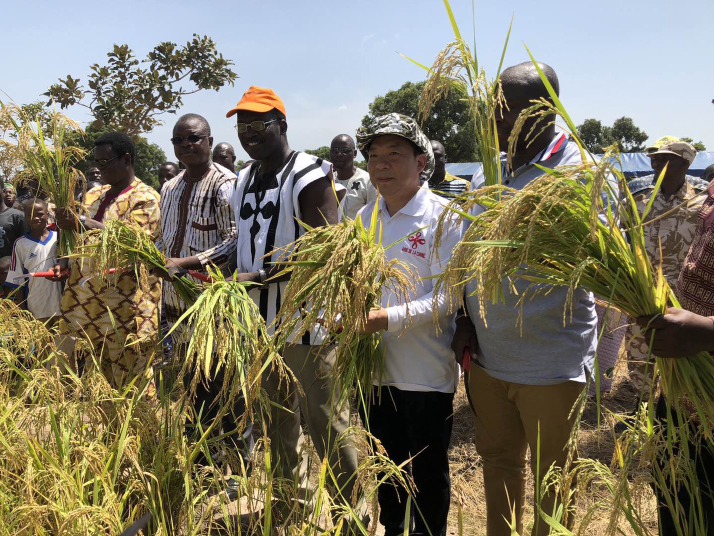 Liang Xiaoping and local officials demonstrate rice harvest in Burkina Faso in November 2018 (COURTESY)
On December 18, 2020, a Chinese agricultural expert team set off for Burkina Faso to carry out a new round of agricultural technical assistance there.
The team is headed by 55-year-old Liang Xiaoping, a senior engineer specialized in water conservancy planning, design, construction and management. Liang had worked in the office of the South-to-North Water Diversion Project of Tianmen Municipal Water Conservancy and Lake Bureau in central China's Hubei Province.
This is Liang's sixth trip to Africa. With a deep commitment to supporting Africa's development, he took on the responsibility to lead the aid team to Burkina Faso despite the travel difficulties caused by the COVID-19 pandemic. "I am very pleased to be able to help African friends through my skills," Liang said.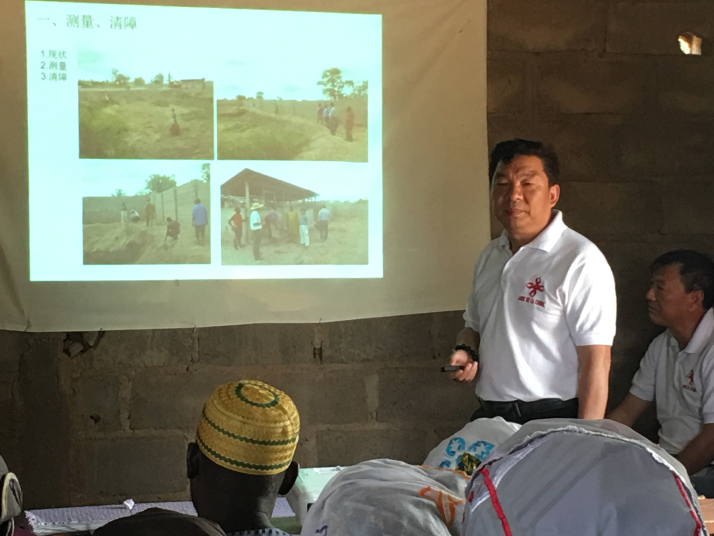 Liang Xiaoping carries out a technical training on lining concrete reservoirs in March 2019 (COURTESY)
Valuable support
There are altogether five experts on the team, including two water conservancy experts, one rice expert, and two agricultural machinery experts. After arriving in Burkina Faso, they strictly abided by the local epidemic prevention regulations.
Before and after their arrival, China's Ministry of Agriculture and Rural Affairs, the Chinese Embassy in Burkina Faso and the Rice Cooperation Center of Burkina Faso gave their full support to the expert team and made the necessary arrangements for the members' quarantine. "Various thoughtful measures have been taken, enabling us to pass the isolation period with confidence and comfort," Liang said.
After the quarantine was over, Liang's team immediately started their work. "We drew up annual work plans and budgets, conducted in-depth field surveys, and launched various assistance projects in a smooth manner," Liang said. "It is a great honor to do our part to help our African friends raise the level of agricultural science and technology and help build a China-Africa community with a shared future."
Liang's family, friends and colleagues were all concerned for his travel safety in the face of the pandemic, but they supported his decision nevertheless. "What difficulties can I not overcome? Only by earnestly accomplishing the mission can I serve our country and repay the love and care of my family, friends and colleagues, " Liang said.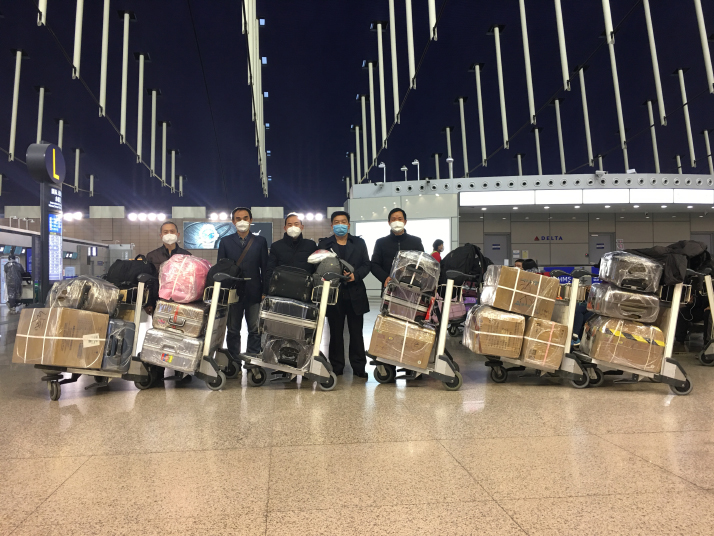 Members of the second batch of Chinese agricultural expert team to Burkina Faso depart on December 18, 2020(COURTESY)
Fruitful results
Liang's engagement with Africa dates back to as early as 2002, when he participated in a South-South cooperation project to assist Nigeria. After that, in 2009, he went on a water conservancy assistance mission in Uganda. In 2012 and 2017, he visited Africa again, taking part in South-South cooperation projects to help Nigeria improve local rice irrigation.
On May 26, 2018, China and Burkina Faso officially resumed diplomatic relations. At the request of the government of Burkina Faso, the Ministry of Agriculture and Rural Affairs of China sent an agricultural expert team, into which Liang was recruited.
"Burkina Faso is short of natural resources. Its water conservancy and irrigation systems are outdated and in a state of disrepair, farm workers lack related technical knowledge, and food production is extremely low," Liang said. "For this reason, we all believe that the country has great potential for development in the agricultural sector. With appropriate measures, there will be greater improvements in food production and planting technology, as well as people's incomes."
Despite lacking all the necessary materials and basic information, Liang led the team to complete different kinds of survey reports, covering crops, water conservancy, and agricultural machinery, among others. Within a month, the team had a clear picture of the local agricultural situation, and immediately set out to work, building one reservoir, two water-saving irrigation demonstration sites, two kilometers of concrete-lined canals, and four hectares of rice fields.
After completing the research and construction projects, Liang's team actively carried out training courses on irrigation technology, construction and management of water storage dams in the local area. "We trained 1,649 people in all, including farmers, water conservancy technicians and agricultural officials, to help them create greater value in the agricultural field," Liang said.
In 2019, at a reception on the first anniversary of China's resumption of diplomatic relations with Burkina Faso, Liang was honored with the China-Burkina Faso Friendship Special Contribution Award, while his group was given a special award for the promotion of rice, agricultural machinery and irrigation technology by the government of Burkina Faso.
(Print Edition Title: Abiding Commitment)
Comments to likzh@chinafrica.cn