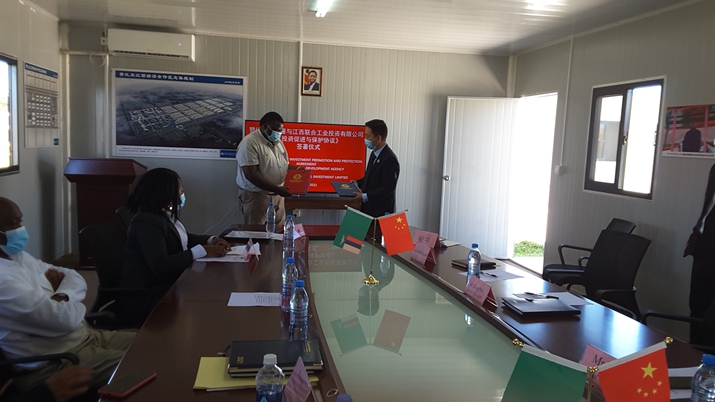 ZDA Board Chairperson Bishop David Masupa (left) exchanges notes with Jiangxi MFEZ General Manager Xu Jianfeng (COURTESY PHOTO)
Despite the outbreak of the COVID-19 pandemic that sent global economies intoa downward spiral, trade and investment relations between China and Zambia have continued. Certainly, this reflects the great commitment and determination ofthe two nations to fostertrade and investment ties. Despitea myriad of socio-economic challenges due to COVID-19, Zambia presents a silver lining and remains open for investment and doing business with China.Since the establishment of the Forum on China-Africa Cooperation(FOCAC)21years ago and the recent Belt and Road Initiative for international cooperation, China has become a great driving force for Africa's development. Chinahasbeen a big financial source for Africa's development endeavors after a total of $60 billion in financing was pledged for Africa at the FOCAC Beijing Summitin September 2018. This comprised$15 billion of grants, interest-free loans and concessional loans, $20 billion of credit lines, the setting up of a $10-billion special fund for development financing and a $5-billion special fund for financing imports from Africa. Chinese companies are also encouraged to make at least $10 billion of investment in Africa in the next three years.Compared with the year 2000, trade between China and Africa hasgrown about 20-fold and hit $208.7billion in 2019. In the same year, Chinese foreign direct investment in Africa reached $49.1 billion;more than $200 billion in Chinese financial support was generated by 2019, Chinese State Councilor and Foreign Minister Wang Yi revealed in 2020, the 20th anniversary of FOCAC.
Undoubtedly, there is no other country with such depthand breadth of engagement across trade, investment and infrastructure financing in Africa.
Fruitful cooperation
In this context, the signing of a memorandum of understanding between Zambia's Ministry of Commerce, Trade and Industry and China's Jiangxi Province during the 2018FOCAC summitheld in Beijing was not in vain as it is being actualized in Chibombo District of central Zambia.Zambian President Edgar Lungu said the project by a consortium of Chinesecompanies-Jiangxi United Industrial Development Ltd., marked anothersymbol of the strong relationship between the two countries which dates back to pre-independence period."It is indeed a great mark of achievement to see that it's not long ago that we visited China,but we are already witnessing the fruits of our visit. This is an indication of the importance that the People's Republic of China attaches to the bilateral cooperation with Zambia," said the president during the ground-breaking ceremony of the Jiangxi Multi-Facility Economic Zone (MFEZ) in Chibombo Districtin 2018.He noted that Zambia has already started benefiting from the $60 billion in funding support, as evidenced by the industrial park. For this reason, the Zambia Development Agency (ZDA) signed an Investment Promotion and Protection Agreement (IPPA) with Jiangxi United on the operation and construction of the MFEZ.
"We are impressed with your investment which touches on pertinent subsectors of the economy contributing to the country's economic transformation and industrial agenda of the Vision 2030. We are excited that thememorandum of understanding between the Ministry of Commerce, Trade and Industry and the Jiangxi Province of the People's Republic of China was not in vain,but (is) being actualized," ZDA Board Chairperson Bishop David Masupa said during the IPPA Signing Ceremony held in Chibombo District on March 8.Masupa said the agency was pleased to witness the development of a $600-million MFEZ in Chibombo that had potential to generate up to 20,000 jobs. Jiangxi United's investment in Zambia's central region will take account of a local area development program that includes the establishment of a skill training institute, a service centerfor use by the surrounding small and medium-sizedenterprises, a clinic and police station, among other infrastructuredevelopments. According to MFEZ management, the five Chinese investors in the project include Golden Eagle Tobacco with planned investment of $100 million in tobacco processing, Jiangxi Xinyu Iron and Steel Group with $20 million pledged investment for building a steel processing plant, Jiangxi Electric Porcelain Chamber of Commerce with $5 million for an electrical porcelain factory, V.L.Pharmaceutical Investment Group with $30 million for a medical equipment factory and Sun Line International Logistics with $5 million for a logistics service center. MFEZ General Manager Xu Jianfeng noted that by September 2020, Jiangxi United had already signed five agreements with investors with a combined total of approximately$160 million.The productionofGolden Eagle Tobacco, one of the Chinese investors, is currently underway at the MFEZ. "It is good to see the tobacco plantation and the curing of tobacco by the Golden Eagle Tobacco Corp. Ltd., one of the companies operating in the zone. The company recently signed an IPPA with ZDA," Masupa said during the tour of the tobacco plantation and reiterated the government's desire to see the actualization of pledged investments.
Sustained growth
China's expanding investments have facilitated the development ofsmall and medium-sized enterprises in African nations including Zambia. The inflow of FDI from thegovernment and private enterprises enhances the inclusive development potential of the continent."Once the five investors start their business operations, it is envisaged that 1,800 jobs will be created for the local people. So far, the tobacco plantationand processing and the concrete-making station are already under operation and about 200 jobs have been created for thelocals," said Xu.It is a fact that Chinese investments and external financing have been indispensable to sustained economic growth in many African countries during the FOCAC period. Such investments have contributed to buildingworld-class economic infrastructure, injected much-needed capital, introduced new technologies and modern management know-how, and strengthened management of project implementation in economies such as Zambia."We are convinced that this investment will profoundly contribute to accelerating industrialization and spureconomic diversification,so that the country transitions to a prosperous middle-incomeeconomy by 2030," ZDA Director General Mukula Makasa noted.
It is evident that the gains achieved under FOCAC and Belt and Road Initiative have indeed built a shared futureand substantial collaboration in socio-economic fields in a bid to improve people's livelihoods.
(Print Edition Title: Accelerating Industrialization)
Comments to zanjifang@chinafrica.cn