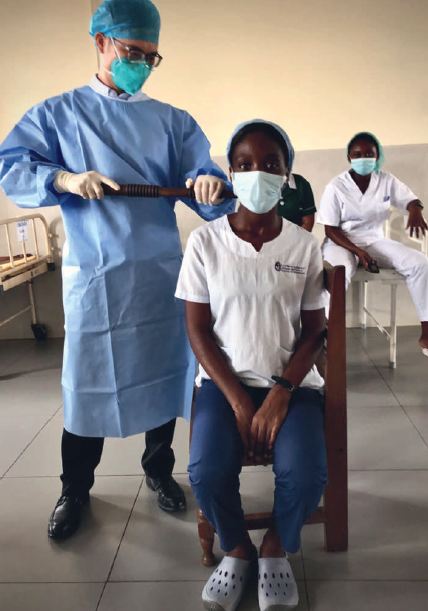 Zhang Zhenshan shows his stick treatment technology (COURTESY PHOTO)
In the afternoon of April 14, Doctor Zhang Zhenshan in the Regional Hospital of Malabo, capital of Equatorial Guinea, was about to leave after work when a local doctor rushed to him. "Doctor Sam (Zhang's Spanish name), we just got an emergency case. Could you please come and help?" he asked.
Without hesitation, Zhang immediately put on his surgical gown and followed his colleague to the operation room.
The patient was a young man whose right arm was cut open to the bone by a knife. With the help of a Chinese anesthetist, Zhang and his local colleagues successfully did the surgery on the young man.
Setting foot in Africa
Zhang, a 37-year-old orthopedist, previously worked in the Zhongshan Traditional Chinese Medicine Hospital in Guangdong Province in south China. On January 13, he arrived in the Regional Hospital of Malabo to provide medical aid service as a member of the 31st Chinese medical aid team to Equatorial Guinea. He was accompanied by 24 Chinese doctors, including anesthetists, obstetricians and gynecologists, pediatricians, ophthalmologists and internists.
Though it was Zhang's first time to set his foot in Equatorial Guinea, the country was not strange to him. One of his uncles had worked there as the head of the 22nd Chinese medical aid team in 2004-06.
"He always shared his experiences working in the hospital with us and I gradually became interested in the country and its people," Zhang told ChinAfrica. "He often told me that a young man should bravely shoulder responsibilities and stand out in times of need. I was really inspired by his words."
When he got the news that his city Zhongshan was recruiting members of the 31st Chinese medical aid team to Equatorial Guinea in March 2020, he immediately registered and got support from his wife, also a doctor, and his son. After several rounds of examinations and interviews, he attended a six-month training session in Spanish language, foreign-related protocols and novel coronavirus prevention before leaving for Equatorial Guinea in early 2021. They were deployed in hospitals in the country's capital Malabo and its largest city Bata.
China started sending medical aid teams to Equatorial Guinea in 1971. During the past 50 years, Guangdong Province dispatched a total of 586 medical workers in 31 teams to the country. Their hard work gained recognition of local people. A total of 279 members have been awarded with the Orders of Independence of Equatorial Guinea, the highest honor of the country.
"For me, a doctor, my mission is to save people in need. No matter working at home or in a foreign country, I will surely do my best," said Zhang.
As COVID-19 is still a great threat to the African country, Zhang and his teammates were vaccinated before leaving China. "I am a little bit concerned about COVID-19 spreading in the country, but not anxious about it too much," said Zhang.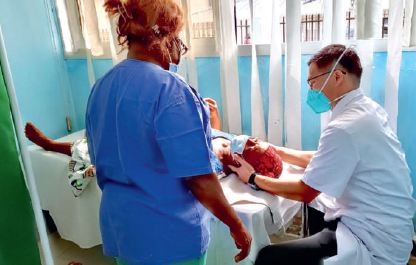 Zhang Zhenshan treats a local patient suffering from neck disease (COURTESY PHOTO)
Overcoming difficulties
After a 14-day quarantine, Zhang and his teammates started work.
"During the 14 days, I tried to imagine the difficulties I might meet during my work here. In reality, I encountered more difficulties than I had imagined," smiled Zhang.
Equatorial Guinea is the only Spanish-speaking country in Africa. Though Zhang and his teammates had been trained in Spanish language for half a year before coming to the country, language was still a barrier between Zhang and his patients.
"Fortunately, they [local patients] know we are from China and always speak slowly to us," said Zhang. "When they told me about their conditions, I would also learn new words and expressions and I would often write them down. After work, I and my teammates sat together and shared what we had learned. This was a good way to improve our language."
Within two months, Zhang and his teammates no longer needed to worry about communicating with their patients. "Finally, we overcame the difficulty," he said.
Lack of sufficient medical facilities and medicines was another challenge. For several months after arriving in the country, he attended to many patients who were attacked by stray dogs.
"In my hospital in China, handling dog bite wound is very simple. You just clean the wounds, sterilize them, lower the inflammation, vaccinate patients and change their dressings regularly. This way, the patients usually recover with satisfactory results," explained Zhang.
But owing to the lack of adequate facilities and medicines, or a long distance to the hospital, in Equatorial Guinea, many who are attacked by stray dogs cannot get treated in time, leading to serious consequences. "I even saw some people needing amputation of their legs. It's really regretful," said Zhang.
Training local doctors
Zhang has his own way to cope with the lack of medical facilities. "In traditional Chinese medicine system, we can use some hand skills and very simple tools to treat chronic illnesses, like the stick I am using here," said Zhang, showing a piece of stick.
Zhang's stick is called "magic stick" in his hospital. "The stick is small, but it can play a big role in helping local patients," said Zhang.
According to him, the stick treatment is especially effective for bone and myofascial diseases, and he can treat diseases like stiff neck in minutes. He found that local people like carrying heavy things on their head, which puts pressure on their cervical vertebra. "With the stick, we can cure this kind of disease effectively. There is no need for any medicine," said Zhang.
His stick treatment technology also attracted interest from his local colleagues in the hospital. So far, three doctors in the hospital are learning this skill from him.
Rodríguez Suárez, who works in the hospital as an orthopedist, is one of them. He saw Zhang treat so many patients with the stick and personally experienced the treatment. After that, he asked Zhang whether he could learn the skill.
"Certainly, I am very glad to teach him," said Zhang. "I hope to pass this technology to local doctors so that they can use the technology to treat patients after I leave the country. That's why I came here."
Now, Suárez can treat some patients with the stick. But for some complicated cases, he still needs Zhang's instruction. "I think he will be able to treat all such patients by himself by the time my term ends 20 months later," Zhang said.
"Doctor Sam is very professional and friendly. He often helps me and teaches me a lot," said Iricel Concierto, a doctor in the hospital who is also learning the stick treatment technology from Zhang.
Zhang said his work is more than just providing medical assistance; it's more like cultural exchange. "Some people call us diplomats in white gowns. I quite agree with that. We are promoting mutual understandings between peoples of our two countries," said Zhang.
(Print Edition Title:

Diplomat in a White Gown

)
Comments to zanjifang@chinafrica.cn