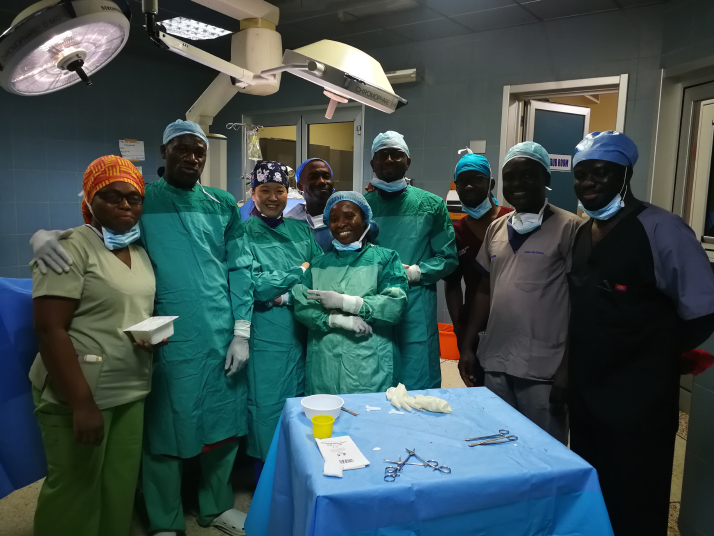 Lin Chunying (third left) with her Ghanaian colleagues after a pacemaker implantation operation in Ghana in 2019. The Ghanaian team has received training in China under Lin's leadership (COURTESY)
Dr. Yaw Adu-Boakye from Komfo Anokye Teaching Hospital (KATH) in Kumasi, central Ghana, made headlines in October 2019. The young cardiologist and his colleagues successfully implanted a pacemaker in a teenage girl. This was the first minimally invasive heart surgery performed by Ghanaian cardiologists after decades of open-heart surgery that usually left permanent scars on patients. Proud of himself, Adu-Boakye announced the establishment of the first team in Ghana to install pacemakers that regulate the rhythm of heartbeats in patients with cardiac abnormalities. He was particularly pleased with this achievement in the presence of his Chinese mentor, Dr. Lin Chunying. It was obvious that his one-year training under Lin at the Cardiovascular Institute of Guangdong Provincial People's Hospital (GPPH) in 2015 played a central role in this success.
Training of talents
Lin, 57, is now working as the secretary of the Communist Party of China Committee of Nanhai Number 2 People's Hospital under GPPH. She is a senior cardiologist with a professional experience starting from 1988. She became aware of the lack of cardiology specialists in Ghana during her first two-year medical assistance mission starting in 2014, and saw the need to train health professionals for the country. She tried at all costs to "teach how to fish" rather than to "give the fish."
Her idea took shape when the National Health Commission of China gave the green light to her proposal for a China-Ghana cardiology cooperation project in 2014. Between 2014 and 2020, GPPH was tasked with the 20-million-yuan ($3.1 million) project, with Lin in charge.
As a result, in December 2014, Francis Agyekum, a doctor at Korle-Bu Teaching Hospital (KBTH), became the first Ghanaian cardiologist to receive continuing education at GPPH. After a year, he returned to Ghana to build on the skills he had acquired in Coronary Interventional Procedures (CIP) and pacemakers. As a leading specialist in cardiac surgery in his country, he is now performing up to 30 CIPs per month on patients from Ghana and neighboring countries such as Benin, Nigeria and Sierra Leone.
A total of 23 cardiologists and nurses from across the country, including Adu-Boakye have benefited from this training program between 2015 and 2019. They are now spearheading Ghanaian cardiology. With their numbers growing, with Lin's help, the Ghana Cardiology Society came into being in 2018, and established a partnership with the Chinese Federation of Cardiology, taking bilateral health cooperation up a notch.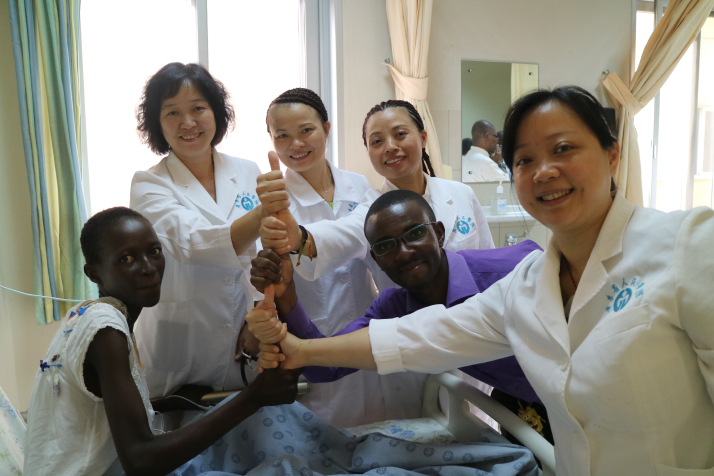 Lin Chunying (second left) and her team during a post-operative visit to a patient after a successful surgery in Ghana in 2015 (COURTESY)
On-site interventions
As part of this project, Lin has brought her team of leading specialists six times to Ghana to perform free surgeries at KATH, KBTH and Greater Accra Regional Hospital. Over the course of five years, 52 operations have been performed. The team has applied state-of-the-art techniques and equipment to critical and complex cases, such as the removal of a huge heart tumor in 2016. The first implantation of a pacemaker in a patient with dilated cardiomyopathy in this West African country was successfully performed in 2017.
The project also provides a great opportunity for Ghanaian cardiologists who were not able to participate in the training courses at GPPH. As Adu-Boakye's case shows, through observation and imitation, the local team has mastered advanced techniques themselves. "This is a small step for Chinese cardiologists, but a giant leap for Ghana," said Lin.
For cardiovascular disease, prevention is better than cure. However, Ghana had not conducted a risk factor survey to establish baseline national prevalence rates and quantify the magnitude of non-communicable diseases. To address this issue, Lin traveled to Ghana twice between 2016 and 2018 to conduct a survey with local colleagues, and found a 39-percent prevalence rate of hypertension, which makes cardiovascular disease one of the greatest threats to Ghanaians. Her thesis based on this research was published in the Journal of the American Heart Association in December 2020, filling the international research gap in this area.
"This project helps us identify risk factors for heart disease and vasculitis in communities, and provide support systems and early treatment," said Isaac Kofi Owusu, head of the cardiology unit at KATH.
Unlimited dedication
On International Women's Day in 2018, the World Health Organization highlighted the quotes of 10 female figures in leadership including Lin on their website. "I never think about leadership or becoming a leader, just how I can assist people. I just use all my heart to help."
In fact, it was this belief that had inspired her to undertake her first medical mission to KBTH as the head of the second Chinese medical team to Ghana in late 2011. In two years, her modern management method helped the country reduce the mortality rate from 11 percent to five percent in the hospital's cardiology department. In addition, she and her teammates traveled to remote and mountainous areas to conduct free cardiovascular disease screenings. Although her aging mother needs to be looked after at home, she returned to Ghana many times in the following years.
"Our experience in Africa has left a lasting impression on us. It is impossible for us to give up. Cardiology development is a major public health issue for a country. I am proud to contribute to it," said Lin.
(Print Edition Title: A Golden Heart)
Comments to lixiaoyu@chinafrica.cn