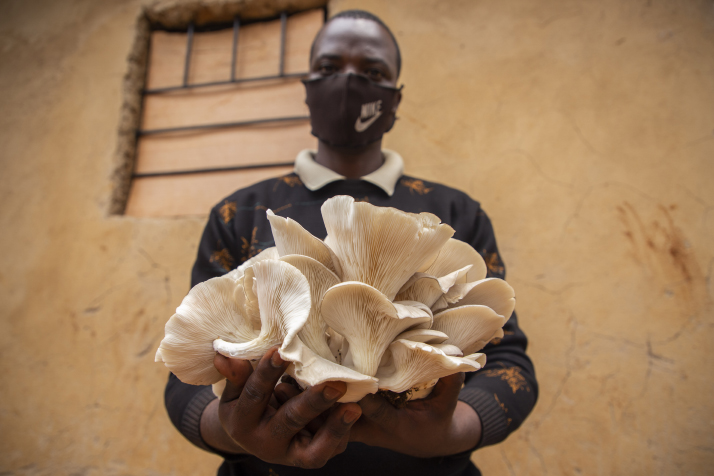 Emmanuel Ahimana, a mushroom farmer in Rwanda presents mushroom at his workshop in Kigali, capital of Rwanda, on December 13, 2020 (XINHUA)
The homestead in Kivumu Village, Nyanza District of Southern Province, looks like any other in a peri-urban set-up, within a stone house standing at the center and other small houses on the periphery.
At a corner of the compound stands a five-room mud-walled house, rectangular in shape.
The house is Leodinas Mushimiyimana's mushroom farm. He uses a sprayer pump to water the mushroom crop planted using juncao, literally "mushroom grass" technology, a kind of grass introduced from China where crops are grown on mushroom tubes.
"I am happy that the juncao technology has opened my eyes after the training in China in 2014. Since then I became a job creator instead of job seeker," Mushimiyimana told ChinAfrica.
On the day of our visit on the farm, in Nyamagana Village, Mushimiyimana had just returned from Kigali where he had delivered the weekly harvest.
"Every week I harvest over 50 kg from 200 mushroom tubes. I sell each at 3000 RWF (about $3)," said Mushimiyimana, a graduate of University of Rwanda Monetary Economics, adding he started the venture after finishing his studies six years ago and failing to get a white-collar job.
Mushimiyimana said he has been lucky because mushroom farming has done well, bringing him an income of $1,000 to $1,200 per month since 2019.
"I did not know anything about agriculture until I started working at a Chinese juncao farm in Nyanza in 2012. It is when farming started to look like an opportunity, given that many locals in the area trained by Chinese agricultural experts got good income from the crop, that I became interested," said Mushimiyimana.
His farm doubles as a training center. He hires young people to help and teach them about mushroom farming. He has trained 650 mushroom growers in the Southern Province of Rwanda since 2017.
Juncao technology
The juncao technology (jun means fungi and cao means grass) was invented in the 1980s by Lin Zhanxi, a professor at China's Fujian Agriculture and Forestry University, who is also the chief scientist for the China-Fiji Juncao Technology Cooperation Project which was established in 2014 after the Chinese and Fijian governments inked an agreement to start the agriculture cooperation.
Juncao was introduced in Rwanda in September 2014 where 29 representatives of Southern Province Mushroom Cooperatives were trained at Rwanda Agriculture Board (RAB), Rubona Station, at the China-Rwanda Agriculture Technology Demonstration Center.
Over the past eight years since the opening of the center, Chinese agricultural experts have trained more than 2,000 Rwandans like Mushimiyimana in a specific project of juncao.
Hu Yingping, Director of the Rwanda Agricultural Technology Demonstration Center, said that mushrooms turned a profit quicker than traditional crops grown in Rwanda. He explained that juncao was excellent for Rwanda because it used grass and agricultural waste for the soil instead of sawdust from felled trees.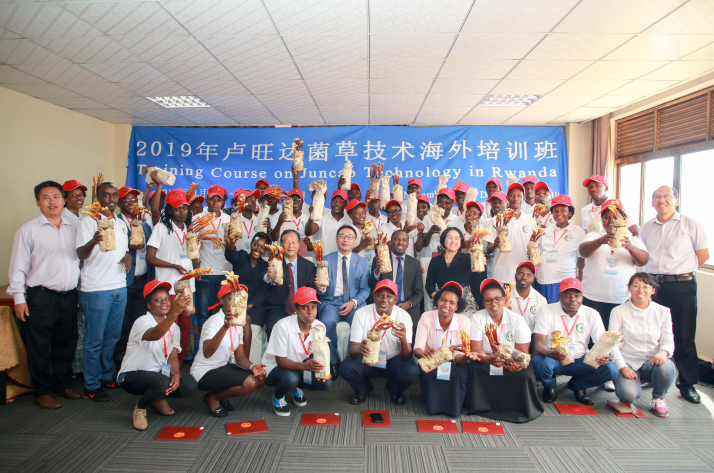 Chinese and Rwanda officials, experts and trainees of the overseas training course on Chinese-aided Juncao technology tske a group photo at the closing ceremony in Kigali, the capital of Rwanda, on December 6, 2019 (XINHUA)
Training center
Mushroom takes two months to mature, after which, if well-tended, the crop can be harvested every day for three months.
Eric Shema has also started his own small business of mushroom cultivation at home for nearly three months. He hopes that with the training he is getting from Rwandan colleagues like Jeannette Kanzayire, his business of mushroom cultivation will be better in the coming years.
"After seeing my fellow graduates earning close to $500 per month, I got trained in the juncao method of mushroom farming," said Shema, adding that he is lucky and happy to receive modern farming training from the Chinese experts.
In addition, the technology can also be used for producing cattle feed and minimizing soil erosion to combat desertification.
Jeannette Kanzayire, a mother of four, mushroom farmer and President of Success Mushroom Cooperative in Nyakabuye Village in Mukingo, Nyanza District, said that before adopting juncao mushroom farming, she was growing carrots, cabbages and onions on half a hectare of land.
"With juncao method, mushroom farming on 20 square meters of land, profit ranges between $200 to $300 per month, which is roughly four times higher than the income from other crops before," Kanzayire told ChinAfrica.
Kanzayire said there were numerous benefits and advantages in growing mushrooms with the application of Chinese-aided juncao technology. It requires low capital investment, can be grown on a small piece of land, takes less time, and does not require fertilizers.
Chinese Ambassador to Rwanda Rao Hongwei said that China and Rwanda have longstanding cooperation in agriculture based on equality and mutual benefit and the juncao project is just one example of many successful cases of agricultural cooperation between the two countries.
"For instance, in May of 2020, 3,000 bags of Rwandan coffee beans, totaling 1.5 metric tons, were sold out in less than a minute at an online Chinese promotion event. Rwandan farmers now can earn an additional $4 per kg by selling directly to Chinese consumers through this platform," said Rao.
"I am totally sure that soon Rwanda can export more agricultural products to China and earn more hard currency," added Rao.
The ambassador noted that apart from the juncao project, China and Rwanda have signed a protocol under which Rwanda's dry chili can get access to the Chinese market and committed to fast-track the processing and approval of exports of more premium agricultural products from Rwanda into its market. CA
Reporting from Rwanda
(Print Edition Title: Farms of Fertility)
Comments to zanjifang@chinafrica.cn