Mushekwi in a game against Guangzhou Evergrande Taobao FC (WWW.SOHU.COM)
Striker Nyasha Mushekwi has earned his place in the hearts of Dalian Yifang Football Club supporters. Over the last three years, he has had a brilliant international career. Even Sun Xishuang, the team's owner, has praised the skills of the "Zimbabwean warrior," who he described as a real fighter hungry for success.
In the current season, Dalian Yifang (founded in 2009 and formerly known as Dalian Aerbin) was finally elevated to the China Super League (CSL). The club has been significantly reinforced with the arrival of a number of international players such as Argentinean international Nicolas Gaitan and Belgian international Yannick Ferreira Carrasco.
Alongside these stars - who showed what they were capable of in some of Europe's best clubs and even at the 2018 World Cup in Russia - Mushekwi had no choice but to limit himself to a supporting role. Powerless, he watched as his team got bogged down at the lower end of the rankings, after a series of defeats, including a scathing 8:0 humiliation on March 3 against Shanghai SIPG.
But things started to turn around with the dismissal of head coach Ma Lin, replaced by 58-year-old Bernhard Schuster from Germany. The former coach of Real Madrid engineered a return to the fundamental strategy that allowed the Blue Hawks - as the Dalian Yifang players are nicknamed - to climb the rankings. Schuster's high-pressure, compact gameplay style has proven to be effective.
Dalian Yifang's defense, which was known for being its weak point, has been refocused around experienced players such as Jonathan Ferrari and Zhou Ting. The tactical approach to their gameplay has made it possible for players to use both long passes and fast counter-attacks, enabling Mushekwi to show the full extent of his skills.
As of October 6 this year, in 17 games played, the Zimbabwean forward scored 15 of his club's 31 goals. He is far ahead of star player Yannick Carrasco, who scored only seven times in 21 games played (including penalties). Mushekwi has said he wants to keep on focusing on scoring more goals, with the aim of getting closer to the top scorers of the CSL, namely Wu Lei (23 goals) and Odion Ighalo (20 goals). With his help, the Blue Hawks have now managed to move up the rankings to ninth position with a total of 32 points in 25 games.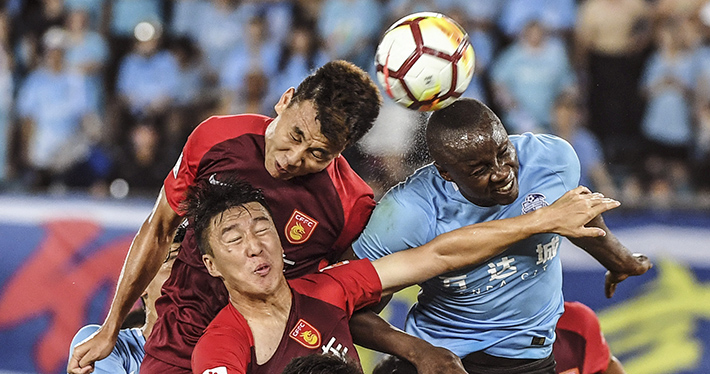 Mushekwi (Top right) in a game against Hebei China Fortune FC on July 18 (PAN YULONG)
Straight for the goal
In the 61,000-seat Dalian Sports Center Stadium, Chinese fans were quick to adopt Mushekwi as their new favorite. With 20 goals under his belt, he finished last season as the second best scorer in the China League, the country's second-division league below the CSL, behind Brazilian Luis Fabiano (Tianjin Quanjin, 22 goals), who was awarded last season's Golden Boot award.
In the eyes of supporters, Mushekwi is one of the main architects of Dalian Yifang's miraculous comeback, after having been bogged down since 2014 in the China League.
This confirms the outstanding skills seen in him by his leaders and fans alike in Dalian, a coastal city in northeast China with more than 6 million inhabitants. Not long after his arrival in 2016, Mushekwi had already scored 19 goals and provided 12 assists in his first season. Dalian Yifang's fans can thank the Zimbabwean striker for scoring their team's 100th goal during the match against the Xinjiang Tianshan Leopards.
Willard Katsande, his captain and teammate in the Warriors - Zimbabwe's national team - described Mushekwi as an outstanding striker.
"He is among the best out there. He plays well with both feet; he uses his head and constantly maintains a good position. When in front of the goal, his skills make him unstoppable," he said.
Indeed, Mushekwi won the Golden Boot award twice in his career. The first time was with CAPS United in 2009, after scoring 21 goals. The second time was in the following season, in 2010, with Mamelodi Sundowns in South Africa, where he scored 40 goals in 53 games played.
Before coming to China, Mushekwi also made his mark as a strong forward player in K.V. Oostende, in Belgium, and Djurgardens IF, in Sweden. But while he is seen as one of the best football stars in countries where he has played (China, Sweden, Belgium and South Africa), Mushekwi still has a lot to prove in his home country, Zimbabwe.
As part of the Warriors, which he joined in 2010, Mushekwi scored only 17 goals in 29 games. But he can blame such poor performance on the multiple match-fixing scandals that have earned the Zimbabwean Football Federation a series of suspensions over the last decade.
During the last African Cup of Nations 2017 in Gabon, the Dalian Yifang striker rediscovered his form in the Zimbabwe national team.
(Comments to niyanshuo@chinafrica.cn)