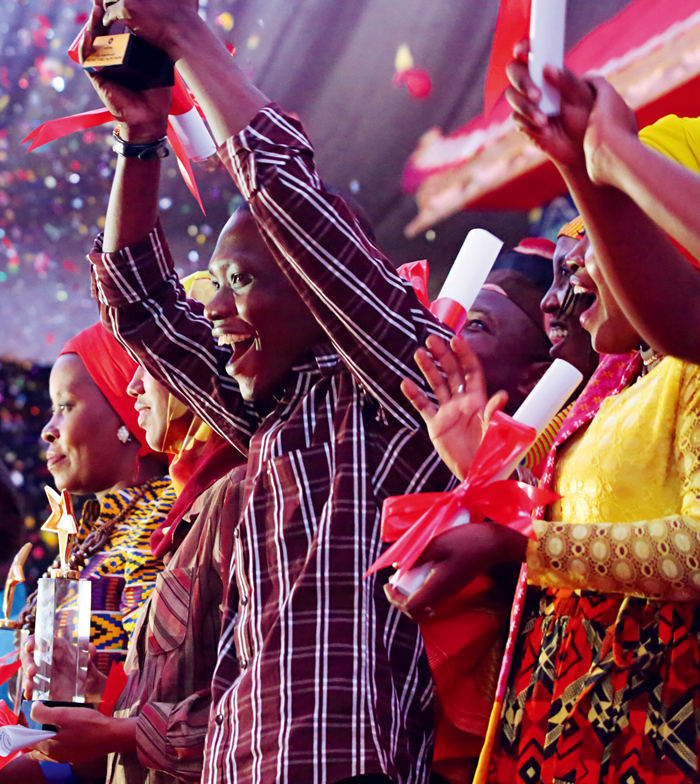 As a highlight of the 2016 Beijing TV Dramas and Movies Broadcasting Season in Africa, the award ceremony of the First StarTimes Chinese Film and TV Drama Dubbing Competition is held in Dar es Salaam, Tanzania, in 2016 (COURTESY)
Luc Bendza, the first representative of the African Film Association working in Asia, couldn't suppress his joy when the Dakar Action Plan (2022-24) was presented at the Eighth Ministerial Conference of the Forum on China-Africa Cooperation (FOCAC) held in Senegal in late November 2021. The decision to hold African and Chinese film festivals in China and Africa, respectively, was a long-awaited response to the wishes of the industry, according to him. The announcement injects fresh energy into Sino-African film and television collaboration, which has exploded in recent years.
Endless possibilities
Bendza said no Chinese films were shot in Africa until just a few years ago. The feature film When Africa Meets You premiered at the second China-Africa International Film Festival in Cape Town, South Africa, in October 2018. According to the film's director Wan Minfang, this is the first Chinese film shot entirely on the African continent. The work is a mixture of genres, and combines various themes such as love, adventure, and the fight against poaching. It also showcases the beauty of Africa.
It's not the only Chinese film with scenes from Africa, though. A number of scenes of the action film Operation Red Sea (2018) were filmed in Morocco, with even the Royal Guard members participating in the shoot.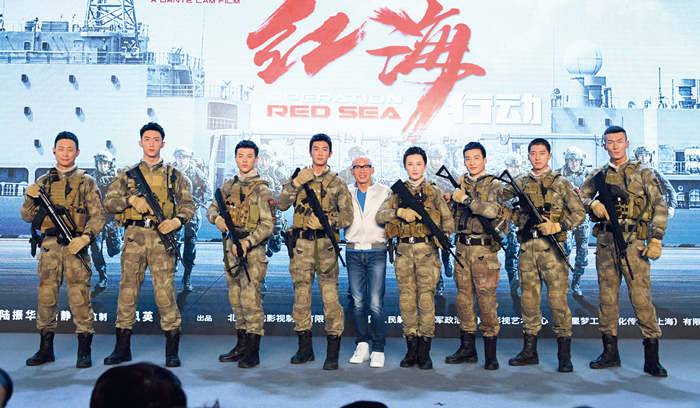 Dante Lam (center), director of Operation Red Sea, and the main actors at the film conference, in January 2018 (VCG)
According to Bendza, from the Great Rift Valley and the lush tropical jungle to the Serengeti, Africa is rich in natural and human resources. Chinese filmmakers can shoot almost all the scenes they need there. He remains convinced that there is a great potential for China-Africa film and television collaboration.
He emphasized the importance of Sino-African exchanges, which have a long history and many memorable events. He noted that between 2014 and 2016, more than 1,000 Chinese health professionals were dispatched to Africa to combat Ebola, a deadly epidemic that killed over 11,000 people. For him, this type of story is ideal for adaptation on both the small and big screen.
Ebola Fighters, for example, was a 24-episode TV series produced over three and a half years. It follows a group of Chinese medics as they battle the virus in West Africa. Hundreds of practitioners and medical teams who were on the front lines during the outbreak were interviewed by the production crew. In total, more than 400 foreign actors, including about 50 Africans, participated in the filming. Released last December, the first two episodes were viewed 16 million times on the streaming site Tencent Video in a single day.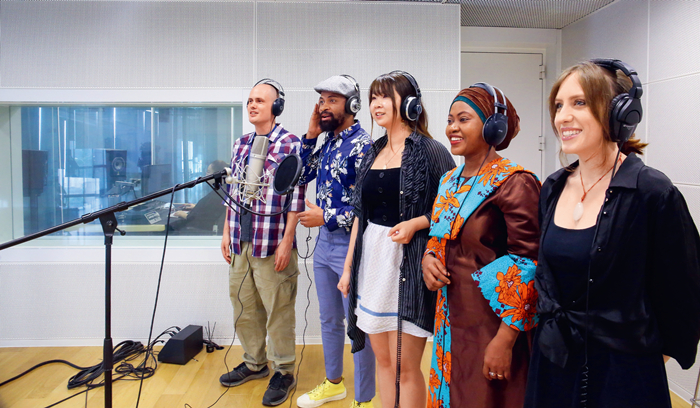 Participation of some African actors in the dubbing of Chinese TV dramas and movies (COURTESY)
Robust exchanges
Many members of the film fraternity are happy to be part of China-Africa collaboration. In 2015, Zhejiang Normal University established China's first Center for African Film and Television Research. According to the center's Director Liu Hongwu, the center's objective is to increase cultural understanding between Chinese and African peoples, who have previously had only limited, and sometimes prejudiced knowledge of each other owing to images communicated by foreign media.
Although the center is primarily a research facility, it also functions as a meeting place for the two sides. Three forums on China-Africa film and television collaboration were organized at its initiative in China (2015), Tanzania (2017), and Cameroon (2019). Several hundred filmmakers and government representatives have attended these events, creating new opportunities for collaboration.
Deepening mutual understanding also includes the development of joint film festivals, such as the China-Africa International Film Festival, launched by China Radio International, the Beijing Film Academy and Global Max Media Group. This annual event, based in Cape Town, South Africa, presents participants with a unique opportunity to discuss the development of the Chinese and African film industries and share experiences. Its first edition in 2017 brought together nearly 500 guests from China, South Africa, Botswana, Tanzania, Ghana, Namibia and Nigeria.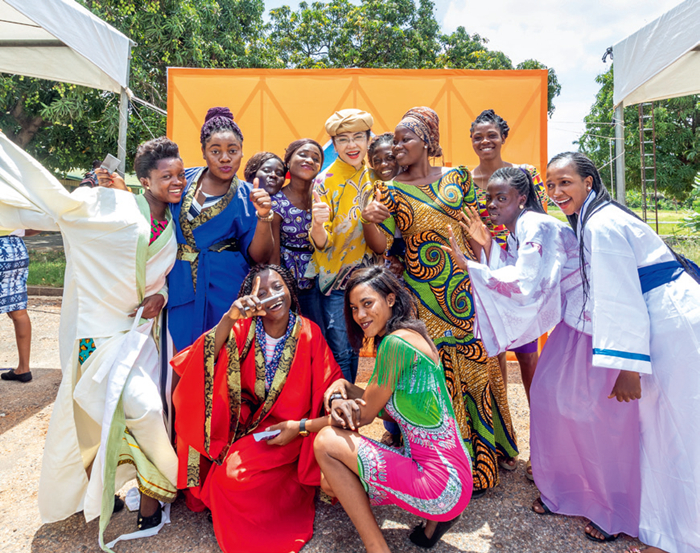 Ghana tour of the 2018 Beijing TV Dramas and Movies Broadcasting Season in Africa (COURTESY)
A flagship project
Chinese and African filmmakers are pursuing additional routes of collaboration in addition to co-production and joint hosting of seminars and festivals. On November 26, 2021, China debuted a Sino-African audiovisual project in Dakar, Senegal. The Senegalese state television will air many works in the project, including the animated feature Panda and Springbok, a Chinese-South African co-production.
Chinese audiovisual creations have long been distributed in Africa. The Chinese Embassy in Tanzania took the initiative in 2011 to have a Chinese TV series Doudou and Her Mothers-in-law dubbed into Swahili and broadcast on the Tanzania Broadcasting Corp. According to Tanzanian national television data, approximately 6 million people watched the show.
The development of films and television programming for national networks was put on the agenda of the FOCAC Johannesburg Summit in 2015 as a result of this effort. The concept was incorporated into the Johannesburg Action Plan (2016-18), which was adopted at the summit's conclusion. Following this decision, China's National Radio and Television Administration established an initiative to encourage the dubbing of Chinese films and soap operas into a variety of African languages, allowing them to be better adapted to the local audiences. African dubbers are even invited to collaborate with Chinese filmmakers.
A great number of Chinese television shows, films, cartoons, and documentaries have been broadcast in Africa during prime time thanks to this program. The series on family ethics have been particularly well received, as the theme resonates strongly on the continent. "Our two cultures have great similarities. In this series, we find [the reflection of] our Senegalese families with the sisters-in-law and mothers-in-law. It's always the same stories, with tug-of-war, jealousy and family dramas," said Joséphine Zambo, a retired Senegalese actress who traveled to Beijing to dub one of the characters in Doudou and Her Mothers-in-law in French.
Two-way street
However, collaboration is not a one-way path. The diffusion of African audiovisual creations in China is also critical to raise Chinese public's awareness of the African continent. The African Film Association is a pioneer in this area.
From 2010 to 2015, the association took the initiative to arrange activities to promote African films on Chinese campuses such as Peking University and Tsinghua University. Students have access to various films carefully chosen by Bendza, including Guess Who's Coming to Dinner, Mr. Bones 2: Back From the Past, The First Grader, and Tsotsi. Many of these students had never seen an African film before, and their feedback was extremely positive about the quality of the productions. This helped to fill the gap in the field.
At the same time, during the 23rd Beijing College Student Film Festival in 2016, the association was asked to help organize an African film festival at Beijing Normal University. Four filmmakers from the continent presented their films. The association also took part in the organization of the Second China-Africa International Film Festival in 2018, and the 16th China International Film and TV Program Exhibition in 2019.
A lever to pull
Many people believe that Africa has always been on the periphery of the film industry. Nonetheless, a UNESCO research report titled The African Film Industry: Trends, Challenges, and Opportunities for Growth presents the first-ever mapping of the African film and audiovisual industry. This industry employs over 5 million people and generates $5 billion in GDP across Africa. If the conditions are favorable for it to reach its full potential, it has the ability to generate over 20 million jobs and contribute $20 billion to the total GDP of the continent.
Many aspects of the film and audiovisual industry remain informal, with only 44 percent of countries having an established film commission and 55 percent having a film policy, the report says. "More than ever, concerted action by international cooperation is fundamental in the face of the multitude of challenges that burden the potential of cinema in Africa," said Ernesto Ottone, UNESCO's Assistant Director General for Culture.
According to Bendza, training is what African nations desire a lot from the Chinese film industry. "China has a technological, material, and know-how edge in this area," he noted. In this spirit, a video seminar was conducted at the initiative of central China's Hunan Province. From July 6 to 19, 2021, a total of 65 media professionals from African French-speaking nations (the DRC, Cameroon, Gabon, Mali and Senegal) gathered for brand management and film and television media training.
Bendza stated that many African filmmakers are planning large-scale collaborations with their Chinese colleagues in the future. However, lack of funding continues to be a major issue in this sector. As a result, he called for the establishment of a dedicated public fund to support future initiatives.
Comments to lixiaoyu@chinafrica.cn
The African Who Wanted to Fly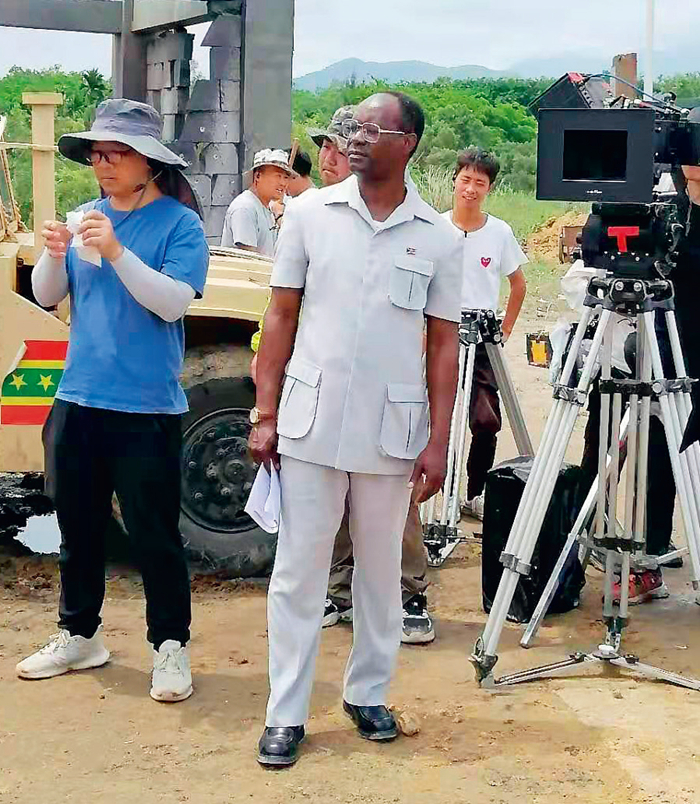 Luc Bendza, during the shooting of Ebola Fighters (COURTESY)
Luc Bendza is a Gabonese. He has been a fan of Bruce Lee's films since he was a youngster, which is why he left his homeland in 1983 at the age of 15 to study kungfu in China. Later, he was named vice president of the International Martial Arts Federation. He founded the Gabon Martial Arts Association in 1992 and served as its first president. In the 1990s, after winning multiple gold medals in international wushu tournaments, he made a debut in films. Franco-Gabonese director Samantha Biffot's documentary The African Who Wanted to Fly (2015), which traces Bendza's story, was selected for screening at several international film festivals, such as the 2017 Africa Movie Academy Award, and received several awards, including the Special Jury Prize at the 10th Escales Documentaires in Libreville. Today, he is on a mission to become the intermediary between the Chinese and African film industries.
His filmography includes:
2021 Ebola Fighters
2021 Ark Peace
2020 Vanguard
2019 Instantly Start
2018 Vixen
2017 China Salesman
2016 Ultimate Hero
2013 Wing Chun Xiao Long
2012 Chinese Zodiac