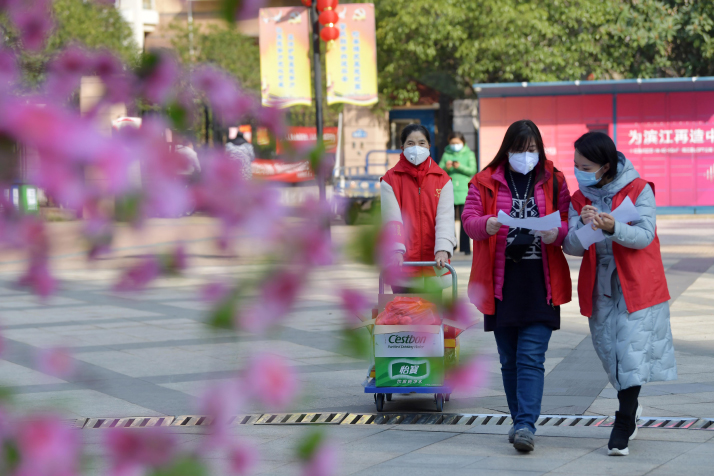 Community workers in Nanchang, Jiangxi Province, deliver life necessities to residents in the community on February 5 (XINHUA)
On March 18, Wuhan, capital city of Hubei Province, the epicenter of the COVID-19 outbreak in China, reported no new infected cases for the first time. The heartening achievement was the result of the unremitting and joint efforts of all the people in the country. Among them, community workers have been an important strength.
During his visit to Wuhan on March 10, President Xi Jinping talked to community workers, volunteers, and residents, in addition to COVID-19 patients and medical personnel. He thanked all those working at the community level, calling their work the key to containing the disease, and spoke highly of the contribution of the people of Wuhan after the city, with a population of around 10 million, was locked down.
The positive trend in containing the disease could not have been achieved without the sacrifice, devotion, perseverance and hard work of the people of Wuhan, he said.
Another front
Jia Yumin never thinks of herself as brave. She was among the first batch of citizens in Wuhan to take protective measures. Following her husband's advice, she wore a mask on her way to work, despite feeling out of place on the subway full of passengers who were yet unaware of how serious the epidemic could be.
Her family was busy with their own challenges at the time. Her father was in pain from a failed surgery and had come to Wuhan from her hometown in north China for more appropriate medical care. Her younger brother and his family had also arrived to help take care of the father. They were all stuck in Wuhan in her home when the city was announced to be locked down on February 23 to prevent further spread of the epidemic.
Anxiety arose among them as they learned that the city's hospitals were flooded with patients desperate to get tested for the virus, so medical care for their father was difficult. In addition, the measures applied in their community to contain the epidemic escalated to the point where no entry or exit without a pass was allowed.
Yet, when Wuhan University, where Jia works, called on its employees to participate in the community service work to help prevent the community spread of the disease, she volunteered.
"We can't all stay at home; some of us have to get out and do the necessary job," Jia told ChinAfrica.
A member of the management of the university's School of Foreign Languages and Literature, she was appointed head of a five-member team. Their duties ranged from routine patrolling in the neighborhood and reporting problems to delivering food, vegetables or medicines to people in a residential area where many retirees of the university live.
An important task for them was to take care of the elderly, especially those living alone, who were among the most vulnerable in the city. One case they handled was a retired lady living alone who broke a leg. The team took her to hospital for treatment and returned her for recovery. They also helped to find a nurse to take care of her at home.
After joining the team, Jia chose to live alone in another apartment so that she would not infect her family if she got infected. In the first days, she felt lonely, and missed and worried about her family when she was off duty. It was her family's full support that helped her overcome the low mood. Her team later expanded to 20 members as more colleagues volunteered to take part, which gave her more strength to do her work better.
The past two months have seen numerous laypeople like Jia join the fight against COVID-19 at the community level in Wuhan and across China. While doctors and nurses were saving lives of the infected, efforts in communities were essential to prevent the spread of the disease.
"Containment in communities is, in a sense, decisive," said Zhong Nanshan, a renowned Chinese respiratory expert, in an interview with China Central Television.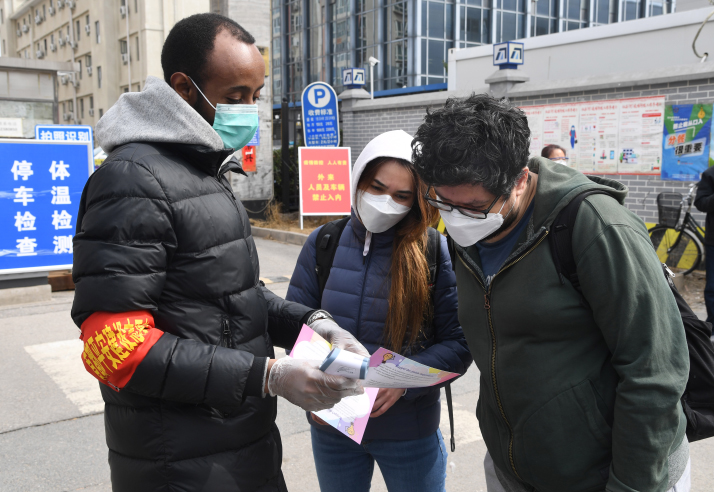 Nigerien volunteer Ali. A (left) introduce prevention measures to foreign residents in his neighborhood in Beijing on March 12 (XINHUA)
Volunteer aid
The tasks were challenging for China's 4 million community workers in 65,000 communities. They needed to know the health state of each resident in their community, identify possible patients and ensure to take appropriate measures, such as taking temperatures and preventing gatherings. In sealed communities, community workers needed to ensure a supply of daily necessities and respond to special requests such as buying medicine for patients with other diseases.
To reduce the workload and ease the pressure at the community level, aid was organized by government offices, public institutions, state-owned companies and universities, among others, to send staff members to join community workers. In Hubei, over 580,000 such people were added to the prevention and control force in urban and rural communities of the province.
Countless individuals who volunteered to take part was another important source of aid. Among them were many Africans staying in China during the epidemic.
Nigerien Ali. A, who has been in China for 11 years, volunteered to help in his neighborhood in Beijing. Wearing a red armband, which identified volunteers, he measured the body temperature of residents entering or exiting the residential area.
Proficient in Chinese, English and French, he also helped to explain prevention and control measures to the many foreigners living in the neighborhood by translating Chinese information updates and posting it on the neighborhood's English social media group dedicated to foreigners.
Ali sees his community in China as his second home. He was very moved when information was provided to the neighborhood in English. The Chinese Government protects not only their own people, but also foreigners living in China, he said.
In Tiancun Village in Shijiazhuang City, north China's Hebei Province, Gina Kime from the Democratic Republic of Congo, who is married to a resident of the village, joined a team of 40 volunteers to help contain the disease. Her tasks in the team range from distributing leaflets on the streets and advising villagers who loiter outside to wander around to go home, as well as delivering masks to the elderly who live alone and maintaining hygiene in the village. Kime's work proved highly effective.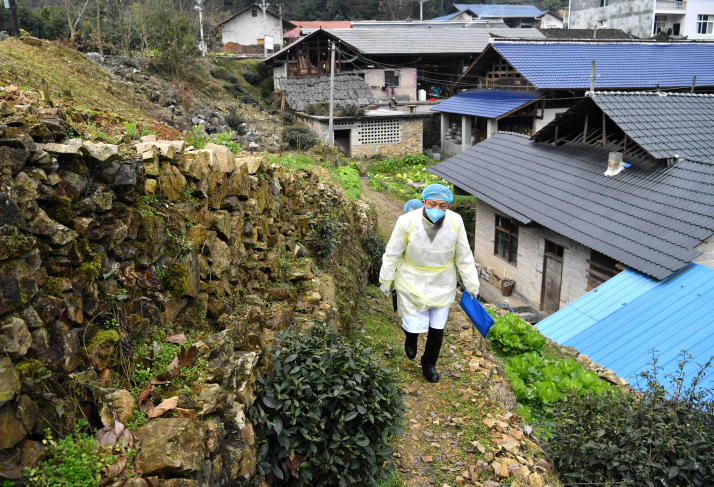 Luo Caoran (front) and his wife, employees of the health department of Enxuan County of Hubei Province, on an epidemic investigation trip to a mountain village on February 13 (XINHUA)
Concerted efforts
Tian Renzhi, Director of the Tea Industry Promotion Center of Hefeng, a county of Hubei, for almost two months, had joined community workers and worked in a camp at the gate of his housing estate, ensuring prevention and control measures were strictly employed.
About 500 residents lived in the community, only a fraction of whom were given a pass to exit for necessary work. The passes were numbered and each of their entries and exits was recorded. Others were not allowed to go out unless for medical treatment, in which case they were escorted and handed over to the next checkpoint about 100 meters away at either end of the street.
"What we are doing may seem to be overreaction, but we need to be very cautious as part of joint efforts across the province," Tian told ChinAfrica. Although the risk of infection was low within the county, prevention of infections from outside the county became the focus of the next phase of the containment work.
Apart from keeping an eye on the flow of people, their duty also included ensuring supply of daily necessities during the period of lockdown. Usually residents placed orders online and collected their delivery at the gate of their residential community, but assistance was needed for older people who are not tech savvy.
Tian said all public services in the county, apart from hospitals, had joined the fight with most of their resources allocated to prevention and control missions similar to his. "For our center, 90 percent of the staff are allocated to the fight, with the other 10 percent left to keep the center running," he said.
Located in a mountainous area, the county is known for fine quality tea, and tea planting and processing is an important source of income for locals. Tian said they had just approved over a dozen processing plants to resume production, a good start for the county's over 1,000 processing plants that have stopped operation because of the epidemic. "They must have the necessary disease prevention and control materials and procedures to resume production," he said.
The center also sent two of its staff members to help with the epidemic containment efforts in villages of the county that are short of people familiar with disease prevention and control methods.
Thanks to such silent efforts of ordinary people like Tian, a positive trend appeared in the battle against the epidemic. But while China is close to overcoming the threat of COVID-19, the disease, announced by the World Health Organization as a pandemic on March 11, is developing quickly in the rest of the world. The test for China will continue as incoming cases from outside are identified on a daily basis.
(Comments to hufan@chinafrica.cn)