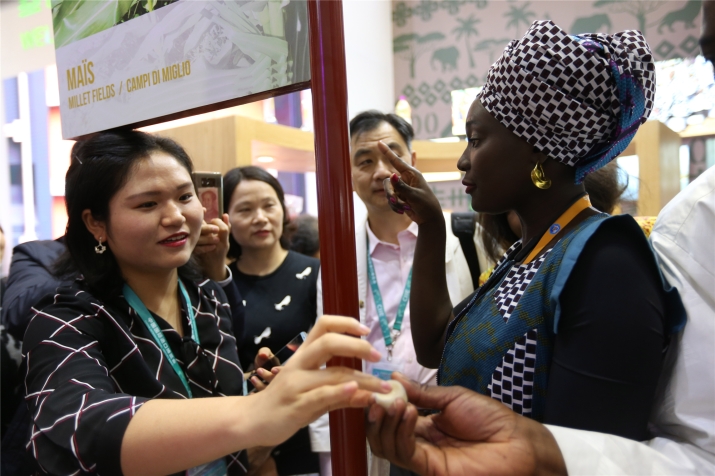 A Chinese buyer tries out skin care products from Senegal at the First China International Import Expo in Shanghai in November 2018 (ZHANG JIAYANG)
At the beginning of 2018, the World Bank's report Africa's Pulse, a biannual analysis of the state of African economies, intimated that the economic growth in Sub-Saharan Africa would continue to recover steadily in the years ahead. The report forecasted that the growth momentum would pick up to 3.1 percent by the end of 2018 and firm to an average of 3.6 percent in 2019-20 - with considerable variation across countries.
As 2018 comes to an end, it's clear that the continent registered remarkable growth; but it might not reach the target due to the dip in oil prices (for the oil producing African countries) and lack of structural transformations that would create more jobs and reduce poverty by deepening investment in agriculture and developing agricultural value chains to spur modern manufacturing and services.
Pointing out specific economic activities in various African countries, the report indicated that Nigeria would experience a slower recovery than previously anticipated due to the volatility in the oil sector and continued challenges in the non-oil industrial sectors. The growth forecasts for South Africa and Angola - ranked the second and fifth largest economies in Africa respectively by the World Bank - were revised slightly upward, on the expectation that slowing inflation and improving sentiment would help sustain the ongoing recovery in domestic demand.
Mixed bag of economic fortunes
For the non-resource-intensive countries, mostly in Sub-Saharan Africa, Africa Pulse indicated that the growth prospects in most of these African countries were positive and were pegged to infrastructure investment with considerable progress expected to be recorded in the West African Economic and Monetary Union, led by Côte d'Ivoire and Senegal. In East Africa, growth prospects were on the upward spiral owing to an improved agricultural sector due to increase in rainfall and a rebound in private sector credit growth. Growth in Ethiopia was expected to remain the highest in the region, as government-led infrastructure investment continues, supported by China.
Economic analysts are predicting a mixed bag of economic fortunes for the African economy in 2019 with modest recovery supported by improvement in the commodity prices that is expected to gradually strengthen domestic, regional and continental demand for goods and services. The African Development Bank economic outlook report analyses the growth prospects of the continent from a five-region perspective.
North Africa is expected to average a growth rate of 4.6 percent in 2019 based on oil production and increased agricultural productivity. Overall, growth in the North Africa region in 2019 is expected to be fueled by new high value-added sectors such as electronics and mechanics, as well as private and public consumption. North Africa's economic outlook remains positive with anticipated growth rate of 4.6 percent in 2019 compared to 4.1 percent recorded in 2017.
East Africa remains a key driver of the continent's aggregate growth. In 2017, the region recorded a GDP growth rate of 5.9 percent − above the continental average of 3.6 percent. The region's economic outlook for 2019 remains positive with expected growth rate estimated at 6.2 percent in 2019. Southern Africa region which grew at 1.6 percent on average in 2017 and 2 percent in 2018 is expected to experience a growth rate of 2.4 percent in 2019.
West Africa experienced stagnated growth of 0.5 percent in 2016, rebounding to 2.5 percent in 2017. With a backdrop of an expected growth rate of 3.8 percent in 2018 the prospects for growth for the region in 2019 is 3.9 percent. Central Africa recorded 0.9 percent growth in 2017. The outlook for 2019 is more encouraging, fueled by rising world prices for raw materials and domestic demand. The real GDP growth in Central Africa is expected to reach 3 percent in 2019.
China's role in Africa's growth
It is clear that Africa's economic outlook in 2019 and prospects for growth hinges heavily on solid partnerships with countries like China, who have demonstrated their desire to work closely with African countries on key areas of the economy such as infrastructure development. The year 2019 will continue to witness debates on the role of China in economic growth and development of Africa.
Just three years ago, an online search found more than 50 million articles on Sino-African relations focusing on Chinese investment in Africa, including the standard gauge railway in Kenya, solar power in Malawi, oil production in South Sudan, Addis Ababa-Djibouti railway line, coastal railway line in Nigeria, Bagamoyo port in Tanzania and Chad-Sudan railway.
Why have Chinese investments in Africa been on an upswing?
It's because China saw the development gap on the continent and it has been able to fill it by forging solid economic partnerships with Africa. The benefits of China's investments for African development run far deeper than a mere mercantile relationship based on extraction and export of basic commodities. As we enter 2019, Africa is definitely set to benefit increasingly from its relationship with China. China's key initiatives that will drive this relationship are the Belt and Road Initiative, Forum on China–Africa Cooperation (FOCAC) and the recently held China International Import Expo (CIIE), which aims at opening the Chinese market to imports from Africa.
On the Belt and Road Initiative, the Chinese Government will be extending its support to have more impact on the continent's infrastructure-led growth with more projects being undertaken in building of gas and oil pipelines, shipping lanes, railways, roads, ports, economic corridors, among others. In fact, without the support of the Chinese, some of the life-changing mega-infrastructure projects that are visible in Africa today would have been nonexistent. At the FOCAC Beijing Summit held in September 2018, Chinese President Xi Jinping announced that China will offer Africa $60 billion for infrastructure development in line with the Belt and Road Initiative on the continent.
China has been at the forefront of supporting Africa's industrialization and joins African countries in raising global awareness on industrialization challenges marked by the annual Africa Industrialization Week, organized by the Department of Trade and Industry of the African Union Commission.
With the advent of CIIE, Africa is also expected to increase its exports to China to ameliorate the trade imbalance. CIIE offers African countries an opportunity to tap into the Chinese imports market for agricultural and manufactured goods. According to figures from the Ministry of Commerce of China, China remains Africa's largest trading partner with trade volumes increasing 14.1 percent year on year to $170 billion in 2017. CIIE is expected to open markets for African exports by increasing the aggregate trade, lowering the trade imbalance, transferring technology and increasing the balance of payments, thus fueling the continent's economic growth. Therefore Africa stands to benefit immensely from its engagement with China in 2019 and the foreseeable future.
(Comments to niyanshuo@chinafrica.cn)