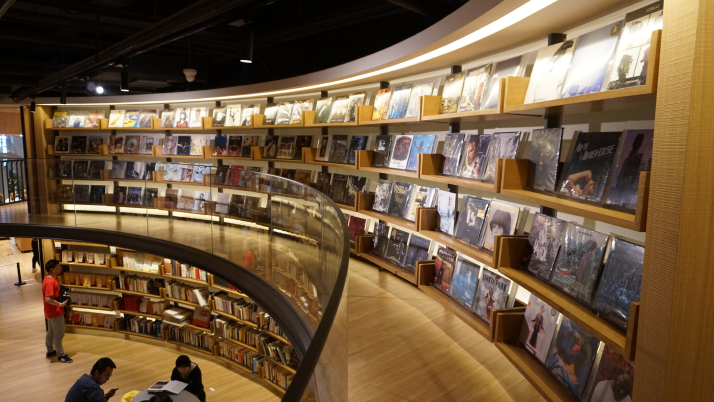 A corner of Xiaosong Island in Beijing (LIU TING)
Gao Xiaosong, a famous Chinese musician, film director and writer, still remembers the biggest dream of his childhood. "My dream was to have a place where I could read the books I like, listen to the music I love and watch my favorite films," he said.
Early this year, the 50-year old man eventually realized his dream. In January, his bookstore Xiaosong Island opened its door to the public at Chaoyang Joy City, one of the busiest shopping malls in Beijing. With an area of 350 square meters, Xiaosong Island is located on a circular space consisting of two floors in the Joy City. The first floor houses more than 14,000 books selected by Gao, covering subjects such as literature, history, philosophy and art, while the second floor displays Gao's favorite 108 legendary music records. Visitors can also enjoy the music in the audiovisual rooms on the same floor.
The bookstore became popular among readers soon after its opening. To maintain a sound reading environment, only 200 readers are allowed to enter the bookstore per day, which opens between 10 a.m. and 10 p.m. from Tuesday to Sunday. The bookstore is so popular among the people that now they have to reserve seats at least a week in advance.
Diversified development
Traditional bookstores mainly sell books. However, owing to the rapid development of online book platforms such as Dangdang and Amazon, as well as the emergence of digital books, more and more traditional bookstores are finding it difficult to remain in business. However, in some big cities in China such as Beijing and Shanghai, bookstores like Xiaosong Island, popularly known as independent bookstores, are enjoying healthy development.
These independent bookstores adopt an operation model that provides diversified services. They don't just sell books; some of them also serve as a library, café, gallery, art salon and art shop. Some independent bookstores have become the landmarks of their respective cities owing to their unique architectural designs, attracting not only readers, but also tourists.
Librairie Avant-Garde is an example of a traditional bookstore that has transformed itself into a diversified operation. Founded in 1996 in Nanjing, east China's Jiangsu Province, the bookstore, previously noted for its stacks of academic books, has deve­loped a unique operation model featuring academic books, art salon, café, gallery, film, music, creative industry, lifestyle and fashion, providing readers with diversified products and services.
In Librairie Avant-Garde Wutai Mountain Main Bookstore in Nanjing, visitors are first greeted by a sculpture The Thinker standing on the left side of the postcard area. Walking through a slope with shelves of books on both sides, visitors can see a large space with books. The central part of the space is divided into a lecture area and readers' seats. Here, people can also visit the creativity area, art and coffee area and salon area. It is not a place just for selling books, but a public space with books as its core and basic part.
Qian Xiaohua, Founder of Librairie Avant-Garde, started to turn his bookstores into creative art areas in 2008. So far, the brand has developed more than 5,000 kinds of creative art products. "Creative products account for 30 percent of our total sales value, and contribute over 40 percent of our profits," said Qian.
In the café area of the bookstore, readers can enjoy coffee, milk tea and cookies, and can read books on delicacies, lifestyle and art. In addition, the bookstore also serves as a venue for other organizations to hold activities such as art salons, book launch ceremonies, art exhibitions and performances, which, according to Qian, could not only promote book sales by attracting more people to the store, but could also increase revenue.
The transformation turned out to be successful. In 2013, CNN ran a report on the development of Librairie Avant-Garde, calling it "China's most beautiful bookstore;" in 2014, BBC listed Librairie Avant-Garde Nanjing as one of the 10 world's most beautiful bookshops; in 2015, it was honored by The Guardian as one of the world's 12 most beautiful bookstores; and in 2016, the National Geographic selected Librairie Avant-Garde Nanjing as the only Asian entry in its list of world's top 10 bookstores.
Librairie Avant-Garde Nanjing, housed in a renovated underground garage, has become one of the city's important landmarks because of the reading space combining architectural uniqueness and a human touch. Today, Librairie Avant-Garde has 12 branches in Jiangsu, Zhejiang and Anhui provinces.
Operational ingenuity
The value of an independent bookstore lies in its nature of brick-and-mortar space and uniqueness. In this context, it is important for different independent bookstores to develop in different ways. In recent years, many independent bookstores have maintained rapid development due to their operational ingenuity and differentiation.
Beijing SDX Joint Bookstore started a 24-hour operation at its headquarters in Meishuguan East Street in Dongcheng District of Beijing on April 23, 2014, which also marked the World Book and Copyright Day. In collaboration with a café, the bookstore offers reading space, food and entertainment services 24 hours a day, besides selling books. According to Fan Xi'an, General Manager of the bookstore, readers of all ages can be seen in the bookstore from 9 p.m. to 11 p.m. But from 11 p.m. to midnight, most readers are under 50 years old. After 3 o'clock in the morning, readers are mainly middle school and university students, between 16 to 30 years old. Many of the readers who spend time at the bookstore at night are salary earners. The 24-hour operation mode has not only attracted a varied reader group to the bookstore, but also increased its sales. In 2014 when the bookstore first started the round-the-clock service, its turnover increased by 58 percent year on year. In 2016, its sales reve­nue stood at 23 million yuan ($3.33 million), a year-on-year increase of 7 percent, with the profit reaching 3.1 million yuan ($449,000).
On April 23, 2018, SDX Joint Bookstore launched another 24-hour branch in Sanlitun. This is also the fourth local chain store of SDX, after the headquarters in Meishuguan East Street, Haidian Branch and Fengtai Administrative Service Center Branch.
Readers' increasing demands have also given an impetus to the development of independent bookstores in China.
The Bookworm in Sanlitun in Beijing is famous for its large number of foreign language books. It has 16,000 copies of books, half of which are English books, in addition to numerous English magazines. Every weekend, the bookstore holds activities such as reading salons, drawing numerous readers. Its annual event, the Bookworm Literary Festival, attracts dozens of reputed writers from home and abroad. In addition, the bookstore also serves as a restaurant offering Chinese and foreign food.
"Independent bookstores have developed very fast in China in recent years because of their creative adaptation," said Leung Man-tao, a famous Chinese writer and TV host. "Though e-commerce is eroding the sales of traditional brick-and-mortar bookstores, independent bookstores with unique features will never die."
(Comments to niyanshuo@chinafrica.cn)